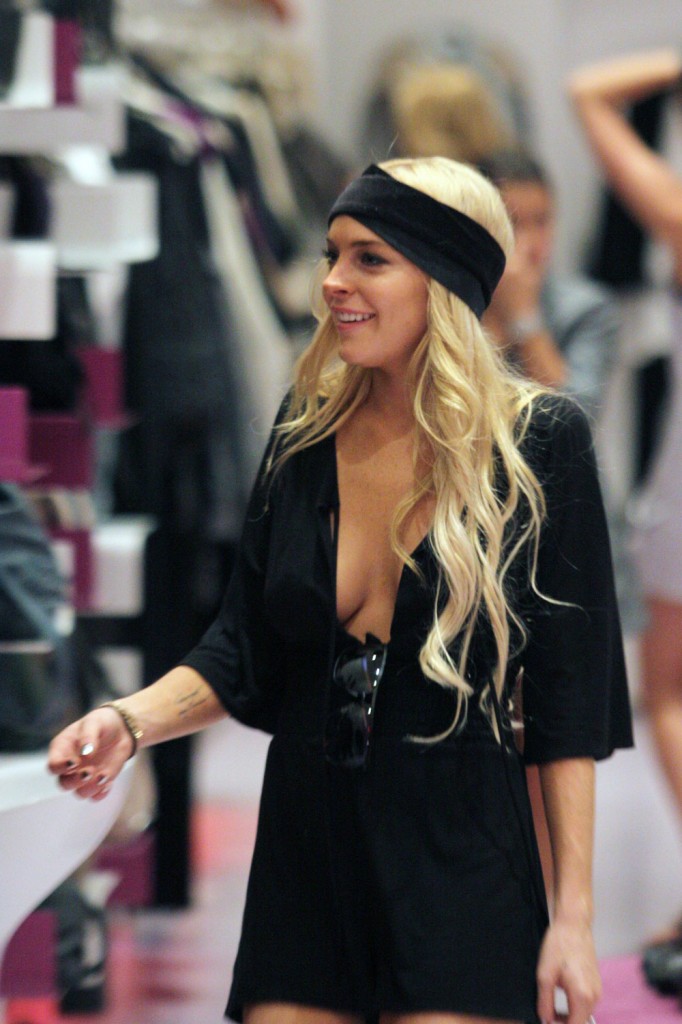 Even when I'm reading an actual report or gossip item about Lindsay Lohan, I struggle to understand what she's doing. But Lindsay Lohan in her words, or rather, her own cracked-out, illiterate, booze-and-coke-fueled Twitter rants are totally incomprehensible to me. But she's at it again. Just consider them little drops of crack sunshine to make your tension headache throb into your eyeballs.
First, in a story we did not cover from last week, Lindsay's insane Twitter drama was taken to a new level when Samantha Ronson went to Las Vegas without her. It seems Sam went to DJ at the Venetian at an event to promote Justin Timberlake's line of tequila. As we know, Justin Timberlake hates Lindsay. So Lindsay wasn't invited for that, and probably several other reasons. So Lindsay spent the night tweeting away her own her own self-perpetuating drama. As Lainey points out, the drama always starts when Lindsay can't get ahold of Sam. Then we get tweets like "ur boyfriend/girlfriend is in vegas, dont invite you-are sweet, but then start getting defensive before they leave to go 'bartend' for no r." Ugh.
So the latest drama went down last night. The timeline the Huffington Post gives is "some point between 1:30 Wednesday afternoon and 7:30 am on Thursday." Lindsay went on the attack, whining about (I think it's whining) "errors" and "cheats". Oh, crack dramz. I'm going to just put up some of my translations:
* "For their not only COMPLETE, BUT SUBSTANISAN" = I think Lindsay is saying that she completely knows Sam cheated on her, and her fears have been substantiated. Or Lindsay could be trying to contact her dealer and get the good stuff from the Republic of Substanistan.
* "can you make an attempt to not ruin ANTHI" = Sam is obviously cheating on Lindsay with a dude named Anthi, which is a cute nickname for "Anthony".
* "for being a friend before a sell-out… the term "self out" was coined from ME and I gave them sooooooo much insight" = Lindsay is absolutely right, the term "self out" was coined in Maine.
* "you JUST told me that your friends are worth more than i am 2 your family & that i'm gross" = Lindsay is gross.
At one point I was thinking about calling these Lindsay's "suicide tweets" but I thought it would be too … morbid, and too honest. This girl is such a trainwreck. But I also think she's got a whiff of Amy Winehouse in her too – meaning that Lindsay will survive to crack tweet another day. She's like a cockroach.
Thanks to D-Listed for the screenshot of Lohan's Twitter account, below. Lindsay Lohan is shown shopping with her mother in Soho on 9/8/09. Credit: WENN.com