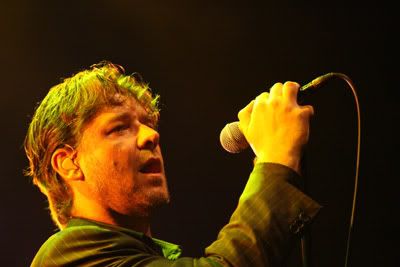 Swigging from a bottle of port and smoking a cigarette in a non-smoking theatre, Russell Crowe took to the stage with his band, The Ordinary Fear Of God, in Auckland, New Zealand Friday night. Fans, especially women, loved his performance, and praised his ability as an entertainer and singer. Even critics said he has a decent voice, which "has an earthy, roots-rocker sound." At least one reviewer thinks his songs are amateurish, though, which is probably to be expected:
So far, so stunningly average – but Springsteen, Mellencamp and Costello – even at their worst – are all capable of decent writing.
Crowe's songs are close to embarrassing – Mickey, about his mob-connected valet's zest for life; Raewyn about the suicide of his aunt – performed with passion sure, but ultimately dull.
The Ordinary Fear Of God is a band comprised of decent musicians, mariachi trumpet fills combined with stinging six-string solos and rock-steady rhythms. But too often I was reminded of the free concerts I attended at high school, a Youth Group or Christian-oriented band of perfectly decent musicians.
The songs were pedestrian and clearly an agenda, outside of music, was being pushed.
Ironically, Crowe – as an actor – portrays characters in his other job, but in this stage version of himself he seemed so self-conscious, so dedicated to wanting to be a down-to-earth musician, a hack just hamming it up (and drinking a lot while he was at it!), that I'm convinced I saw some of his greatest acting in delivering such hackneyed songs with a straight face.
Even if he's getting bashed for it, at least Crowe is pursuing his dream to be a singer and is trying to be humble about it.
Here he is at the show. There's also a picture of a blonde Lucy Lawless at the show with Allan Poppleton and Erica Takacs.