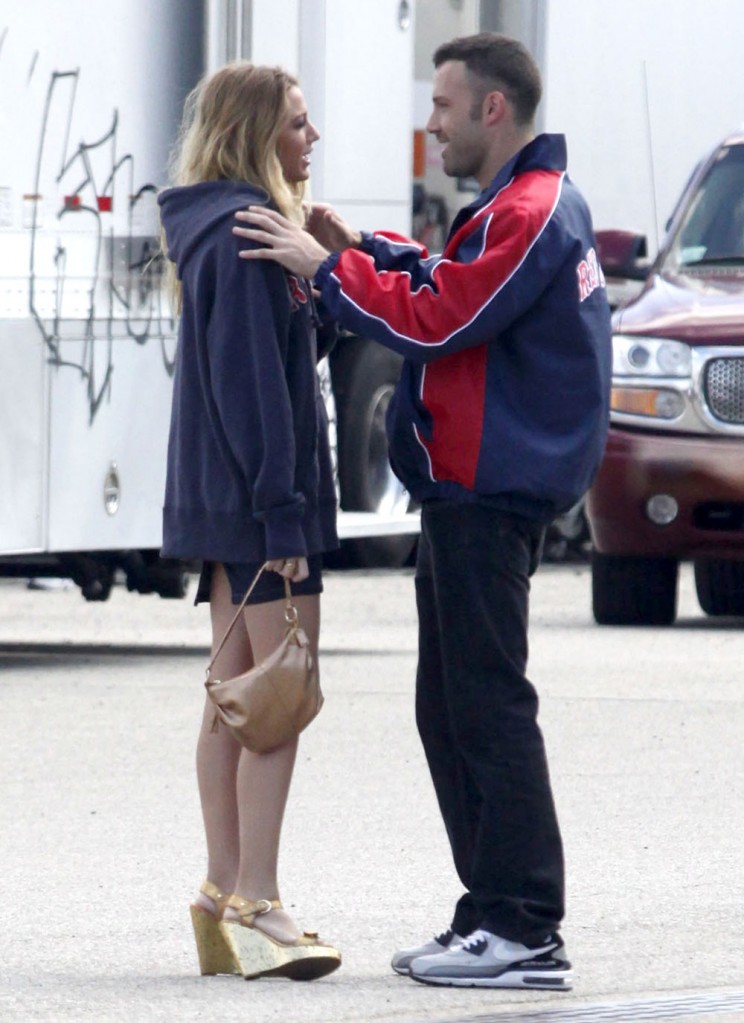 I know a lot of people don't really care for, or have any kind of strong feelings about Blake Lively, star of Gossip Girl. She's been growing on me the past few months, though. Not that I think she's any kind of great actress – she's not – but I've started to think she's one of prettiest girls occupying the current Young Hollywood. Blake's got fashion sense too – I love seeing her on the red carpet. Blake has been dating her Gossip Girl costar Penn Badgley for more than a year. There are the occasional engagement rumors about the two, but I tend to think they're both too young – both are 22 years old.
With her hit television show, her red carpet prowess, and her beauty, Blake is branching out into films. Last month she was hired for a supporting part in the film The Town, shooting in Boston and starring Ben Affleck and Jon Hamm. It's a film about a small crime team and the FBI, with a dash of betrayal or something. It's based on Chuck Hogan's novel Prince of Thieves. Affleck is the director too – and he cast Blake as his character's "troubled ex-girlfriend". Now both In Touch Weekly and Star Magazine are reporting that Affleck has great affection for his young costar – and it's pissing off Affleck's wife, Jennifer Garner.
Ben Affleck knew exactly who he wanted to get frisky with: Blake Lively! [Ben]… handpicked Blake "because he thinks she's beautiful," an insider tells Star. "Ben wanted Blake for the role, and he pushed for it."

But not everyone's happy with the choice. Ben's wife of four years, Jennifer Garner, feels threatened by Blake, says the insider. "She's truly worried."

And she should be. After filming a steamy sex scene on Sept. 1, the way-too-friendly Ben and Blake went out to eat together.

"People on set are saying he's acting like a lovesick teenager," says the insider. "He just lights up whenever she's around; he's practically giddy. He's certainly not acting like a married man."

Ben had been looking forward to working with Blake, reveals a friend of the Affleck family. "One of the first things he told me was, 'Blake Lively is so much fun!' And when I asked about his family, he talked about missing the kids, but didn't mention Jen at all, which was really unusual."

Jen has been sensing a distance between her and Ben – and it's not just because he's been in Boston, 3,000 miles away from L.A. Ben feels Jen is more preoccupied with being a mom than a wife, says the insider.

"He's been complaining that Jen isn't the same sexy, fun girl he married. She's always in mom mode, dressed in baggy clothes and a ponytail. He just wants her to dress up sexy sometimes and enjoy herself more."

Jen, on the other hand, thinks Ben cares more about his career than family, says another insider. Jen let him know exactly how she felt before he left for Boston. "She's sick and tired of being the only one invested in their marriage. He comes and goes as he pleases. Jen told Ben he needs to get more involved."

Instead, he's spending his free time with Blake – on set and off. "They go out a lot together and even meet up late at night to talk about scenes," says the first insider.

But Ben and Blake's flirtfest was broken up when Jen arrived in Boston with their two girls on Sept. 1. "Jen heard that Ben was getting too close to Blake and flipped out… She told him she was coming to keep an eye on him."

An insider wonders if it's too little, too late. "Ben has his priorities all mixed up. Sadly, his marriage is the last think on his mind."
[From Star Magazine, print edition, September 21 2009]
Meh. I'll buy that Ben and Blake were probably flirting, but that's probably about it. I actually think it's Blake who would know when to stop, not Ben. Blake seems really happy with Penn Badgley, while I still have a feeling Ben has that self-destructive streak in him, where he could easily get caught up and cross a line.
As for the Jennifer Garner part of the story, I was going to make the point that she and Affleck rarely seem to be in different cities very often, and perhaps she arrived in Boston because that's the way they had scheduled it. But In Touch Weekly claims – in a very similar report to Star – that Jennifer had to take time off from filming in Los Angeles to visit Ben in Boston. That's very interesting if it's true – and it might signal that Garner really is worried, or that she simply missed her husband.
In Touch's source also claims, "Jen trusts Ben, but there is a part of her that will always worry that he'll fall back into his former playboy ways… especially when he's working with a younger costar like Blake." Yeah, that's what I worry about too. Ben has a very self-defeating nature. The source also claims, "Jen is anything but fat, but she can't seem to lost the last remaining pounds she gained while she was pregnant. She seems self-conscious." Oh, for the love of God. She looks fine! Enough with this.
Ben Affleck and Blake Lively are shown on set on 9/1/09. Ben, Jen and their daughters are shown on 4/28/09 and Jen is shown out alone with little Serafina on 9/10/09. Credit: Fame Pictures