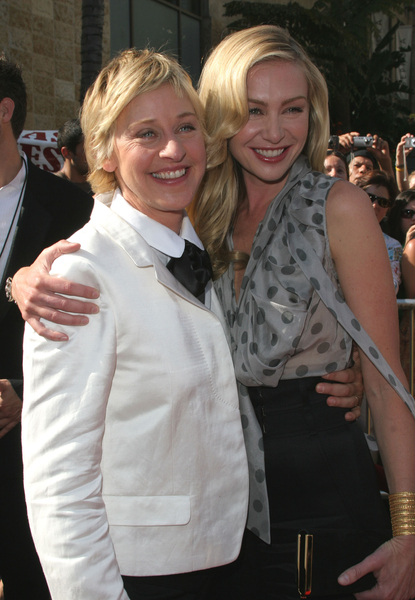 When the news of the Iggy the Dog story first came out, everyone was feeling sorry for weeping Ellen and the two little girls whose newly adopted dog seemed to be so abruptly snatched from them by the owner of the rescue agency from which Ellen adopted the pup. The owner of the Mutts and Moms agency, Marina Baktis, made a visit to the family of Ellen's hairdresser after they filled out an online application two weeks after Ellen broke her adoption contract by transferring the dog to them. Instead of working with the family to find a solution for how the dog could stay in his new home, Baktis snatched him up, clutching Iggy for over an hour before the cops came and checked his microchip, which still listed her as his owner. Baktis then absconded with the dog and turned him over to yet a different family after the scandal broke. People were outraged that a slavish attention to legalities and red tape could strip a rescued dog from a loving family who wanted him.
The tide gradually turned on Ellen when we all had more perspective on the situation and realized that she had broke the contract her partner Portia signed under which it was stated that they would return the dog to the agency if he didn't work out. Some people criticized her for openly weeping on television and bringing the whole media in on the situation, saying that she was abusing her celebrity status over a personal legal issue. A story also came out about another dog that Ellen gave away without notifying the original owner after she adopted him, and Howard Stern made the claim on his show that Ellen had regifted an incredible 9 dogs before, although this was never proven.
Now The Smoking Gun has all the e-mails exchanged between Ellen's partner Porti DiRossi, the agency owner, Marina Baktis, and Ellen's hairdresser who received the dog, Cheryl Marks. Baktis sounds perfectly reasonable in telling DiRossi and Marks that the dog was given to a new home in violation of the contract. She seemed willing to work with the new family to ensure that their adoption followed protocol:

Hi Cheryl,
We just spoke with Ellen and Portia. Iggy has to be returned to us today. You are more than welcome to fill out our adoption application online or in the store when you bring Iggy back. If all is well, we can proceed with his adoption to you and you will sign the same contract Portia did that states all of our covenants.

Our address is…

To expedite things, please come with your entire family including your dog. We do not adopt dogs to people we have not met.

I understand that you like Iggy, he's a great little pup but the way things were done was wrong. This is not your fault or mine. Portia signed a legal, binding contract that if she could not keep Iggy that he would be returned to rescue. She violated the contract she signed and broke our trust. We are more than willing to consider you as a home for Iggy but not without meeting you and not without our process being followed.

Sincerely,
Marina
Mutts and Moms
[E-mail from Marina Baktis to Cheryl Marks dated Sunday, October 14, from The Smoking Gun]



Baktis' actions afterwards don't jibe with her written willingness to work with the family. Ellen's hairdresser told TMZ that when Baktis came over she immediately honed in on the dog and didn't talk to them much at all. I remember reading that the agency required that there be no children in the home under 14, and this family had two pre-teen daughters. Maybe once they filled out the application Baktis realized that they didn't meet her agency's stringent requirements and decided to seize Iggy as soon as possible.
Neither party comes across particularly logical or "right" in this case, and although there was a contract and rules it doesn't seem like a dog should be removed from a good home if someone gives him away like that. Maybe the best solution would have been to tell the family that Iggy was with them on a trial basis. Their daughters were younger than required, but they were 11 and 12, not toddler-aged children who might grab and abuse a pet. You can tell that both sides just want the best for the dog but neither went about it the right way.
You can read all the e-mails between Di Rossi, Marks and Baktis on The Smoking Gun. Thanks to USWeekly for the heads up.