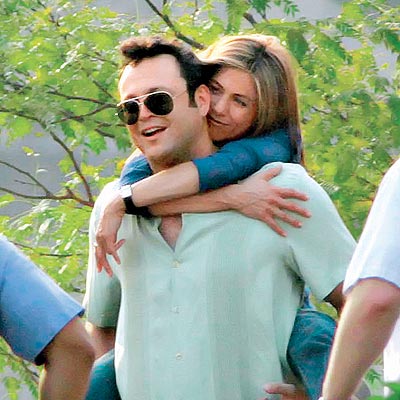 Ah, the old f*** buddy relationship. You have an ex that you're not quite romantically compatible with but the sex was great, so you fall back into old comfortable patterns when you both happen to be single. At least that's how it's supposed to work, but I always ended up getting starry-eyed and sappy the few times I tried that, and had to force myself to go hang out with my girlfriends and forget about whichever guy I was using to tide me over until Mr. Right popped up. Sometimes it's better than not getting laid, as long as you can keep the baggage out of it and realize that if the guy didn't come through for you the first few times, he's not going to change.
Star Magazine claims that Jennifer Aniston and Vince Vaughn are hooking up again through a series of secret trysts that they've managed to hide from the public. There does seem to be a small amount of real evidence to back this up, in that these two were seen out to dinner together. The secret hotel hookups, I'm not so sure about:
Jennifer Aniston and Vince Vaughn may have officially ended their relationship nearly a year ago, but behind the scenes, their connection is better than ever. The stars have been meeting in secret to enjoy lusty romps in the sack – which explains the still scorching chemistry they displayed when they recently dined together at the Beverly Hill Hotel bar Nineteen 12.

Vince initiated the sexy get togethers after the couple split, a friend of the stars reveals, "after making booty calls to Jen whenever he had been out drinking and felt lonely. Jen was totally opposed to it at first, because she wanted a clean break, but she eventually came around. Jen figures that they were always great friends, and they always had great sex, so why not." Adds an insider, "she likes keeping him at arm's length, that way they only have good times and laugh."

"They go to unbelievable lengths to keep their steamy meetings secret. Usually it's Vince who will come over to her house late at night. But they have also had a number of secret encounters in hotels that were incredibly hot. Sometimes they won't leave the hotel room for days, only opening the door for room service."
[From Star Magazine, print edition, November 5, 2007]
They spend days holed up in hotel rooms together, huh? I'm so sure if that was true, this would be the first we've heard about it. It sounds to me like they had dinner together and that's about it, but they could be hitting the sheets again. If there's any truth to this story, Star credits Aniston for handling it like a f*** buddy should. They say "There are no rules and no strings attached" to their relationship. But continuing to see Vaughn could be hurting Aniston's chances of finding a real partner. Star warns that "As long as she has Vince on the back burner, Jen doesn't seem to have her eyes focused on someone new."
It was a damn slow news week, and when Jen and Vince have dinner together, Star doesn't consider it that much of a leap to declare that they've been having enough enough lengthy sex sessions to rival Sting and Diddy's boasted prowess.
Thanks so much to a reader for typing in this article. (She would rather not be credited by name, but I cannot thank her enough.)
Header image is an old one of Vince and Jennifer, because there were hardly any photos of them together when they were supposedly dating and there certainly aren't any recent ones.