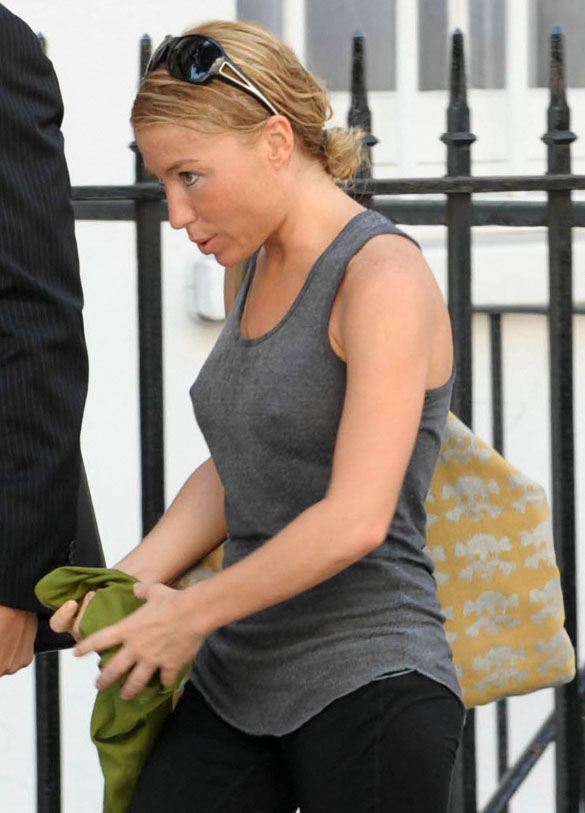 Tracy Anderson, Madonna's infamous scamming trainer, has stolen again. This time it isn't money; instead she's stolen the executive director of Madonna's Raising Malawi organization, Philippe van den Bossche.
Thanks to Madonna, Philippe met Tracy. They apparently fell in love and he had to quit his job. Not because it was a conflict of interest or anything professional, according to him. But because he must spend all his time focusing on his relationship. Focusing on Tracy. They've probably got to be around each other all the time so she can make sure he doesn't go above his 800 calories a day.
The boss of Madonna's Raising Malawi charity has quit after falling for the star's ubertrainer, Tracy Anderson. Executive director Philippe van den Bossche, who helped Madonna adopt her daughter, Mercy, is leaving the charity's Los Angeles headquarters to live with petite but perfect Anderson in New York.

Super-fit Anderson — who's credited with honing Madonna's sculpted body — told Page Six: "Philippe and I have been together for eight months, and things are great. I live wherever Madonna is, so Philippe is moving from LA to New York."

Anderson and van den Bossche became close during the Material Mom's trips to Malawi to adopt David Banda and Mercy. But his departure has left Madonna less than pleased. Van den Bossche told us, "She was disappointed, as it is hard to find the right people to run the projects you deeply care about. But Madonna is a great friend, and she's happy for Tracy and me.

"It was a hard decision to resign my position at Raising Malawi, but I feel it's time to concentrate on my relationship and my future, now that I've found the right person."
[From the NY Post]
Unfortunately, it sounds like this guy has fallen hard. And I'm guessing he forgot to do a little internet research first. Like the fact that Tracy took her ex-boyfriend/ex-business partner for hundreds of thousands of dollars worth of custom exercise equipment he built for her. She's left all sorts of financial disasters in her wake – leaving everyone else to clean it up.
Yet Tracy Anderson's former business associates and fitness students in Indiana can't stop talking about her. They say she sells herself with charisma and succeeds, time and time again, by giving the impression that she is already successful. Even when she was just starting out, Anderson hired a celebrity photographer for promotional photos, drove a luxury SUV through a neighborhood where her husband was thousands of dollars behind on homeowners-association dues, signed leases for businesses but didn't pay the rent, and lived in a meticulously maintained Noblesville subdivision but didn't pay the sewer bill. Former business associates say her studio was thousands of dollars behind in payroll taxes when she first traveled to London to sell Madonna on her fitness plan, but she stayed at a $1,500-a-night hotel. "With Tracy," says a former business partner, Glynn Barber, "it's all about perception."
[From the Indianapolis Monthly]
As Celebitchy pointed out, Tracy has also been sued six times and cheated and stolen from her clients. According to the Indianapolis Monthy's article about her, whether it's a husband or a dollar, if Tracy can steal it she probably will. Part of me feels badly for Philippe van den Bossche. He's clearly in love and has gotten taken in by a scam artist. On the other hand, it's not like he's some young dumb kid that doesn't know better. Tracy's reputation is legendary.
I'd love to say that someday this will all catch up with her. But it's amazing that Tracy keeps getting business opportunity after business opportunity, and keeps scamming people. Apparently the rules that apply to the rest of us don't apply to her.
Here's Tracy spotted out and about in central London on June 22nd. Images thanks to INF Photo.