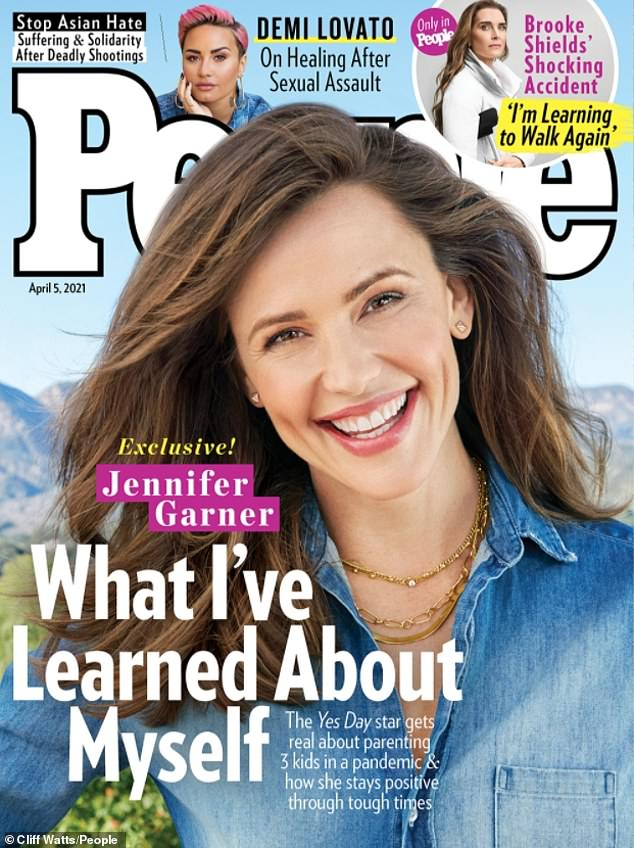 Jennifer Garner is on the cover of this week's People magazine. I like her styling in the shot but the interior shots, which you can see on their site, are much better. I guess the exclusive interview is to promote her new Netflix movie, Yes Day, which is currently streaming. I will not be promoting that movie, it made me see red. I don't know if I'm more offended by the mother being seen as incapable of fun because she's responsible or that her only desire is that her children recognize how much she does for them and love her in the clingy way a five-year-old does.
The excerpt People posted, however, talks about Jen as a creative pandemic mom. It also talked about how she's faring as single parent and how she handles her busy life, which she compared to living inside a blender, in a very bizarre analogy about getting things done.
Leave it to Jennifer Garner to get creative.

Like many parents, the actress, 48, had to adjust to sheltering at home in L.A. with her three kids, Violet, 15, Seraphina, 12, and Sam, 9, with ex-husband Ben Affleck, 48, during the pandemic.

The time at home also taught Garner a little bit about herself.
"I've learned that I'm pretty sturdy," she adds. "I'm okay when I'm in the house by myself. I'm okay when it's just the kids and me. I'm okay when they fall apart. I mean I have my moments, but pretty much, I'm really okay."

From balancing her busy acting career with her work for Save the Children and running her cold-pressed organic foods company, Once Upon a Farm, Garner has become a master of multi-tasking. "Like today, I saw an email from Once Upon a Farm's sales director… I emailed her back, 'Can we talk on the phone later? Because I need you to explain what this means,' " she says. "To me, it feels good to be learning something new. I learned this with Save the Children. Even if you feel stupid, and you're asking the same questions over and over. It feels good to be challenging myself."

As for the future, Garner hopes to continue acting as well and looks forward to traveling again for work. "I love being home with [my kids], and I've been so lucky to have the flexibility to be home a lot," says the actress, who will next be seen in the film The Adam Project. "But I miss the days of going on location and will be excited to just be like, 'Yeah, you want me in North Carolina? You want me in Budapest? You want me in Paris? Yes! I can do all those things.' I feel like I'll zip around a little."

As for her kids, the actress insists they don't even notice her life in Hollywood. "They're so much more used to Mom on Zooms with [Save the Children] coordinators helping kids in different states or Once Upon a Farm," Garner adds. "I do so many different things. Sometimes I feel like I work inside of a blender. I mean sometimes the lid of the blender flies off and you get a smoothie all over your kitchen. That happens too. It's not always pretty. But we get it done."
I like Jen, I really do. But I swear she speaks every thought she's ever had out loud. It's fine, but it's a lot. I think her work with Save the Children is wonderful and they've done so much for families during the pandemic. Plus Jen seems involved in both StC and her Once Upon A Farm food line, not just lending her name. So I'm sure she is busy. But in one breath she talks about being eager to "zip around" for work the minute COVID is over and the next she's talking about her life's blender lid flying off and half her work ending up on the counter. It could be Jen is speaking more about the moment, however. In the first part of the article, Jen described all the ways she tried to keep lockdown fun for her kids, which included silly videos and themed-restaurant nights, including a drive-in, replete with car trays attached to the windows for the burgers. Maybe Jen feels like she's in a blender much more so during the pandemic. I think we've all viewed our lives differently when every aspect of it happens under one roof. I don't know, either Jen or her life is exhausting, I can't figure out which.
I was interested in Jen's first comments above about being with the kids alone. I applaud the revelations that have come to her during this time. But the way she said she's learned she's "sturdy" and okay by herself in the house, it sounded as if this is the first time she's ever tested that.