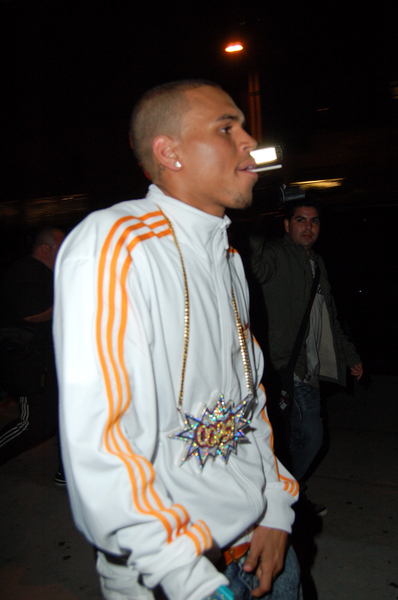 Poor Chris Brown. His half-assed arrogant non-apology on Larry King and his admission that he still loves Rihanna did nothing to win back the love of his life. The woman he battered hasn't ultimately forgiven him and he'll have to settle for groupies. Brown isn't going to give up without a fight, though. The woman beater who defended himself with the line "nobody taught us how to love one another" wants to show Rihanna he can still love her. He posted an now-deleted message about Rihanna on his Twitter and linked to a fan video chronicling the good times in their relationship. Aww, how sweet. The Tweet referenced in the article below, posted Tuesday September 15 that starts "MY HEART IS INCOMPLETE" has been deleted, but thanks to Tweleted.com we can verify that he did write that. Chris seems to be pissed off that people are paying attention to the things he writes, and tweeted a few hours ago "I AINT POSTIN S*** ELSE ABOUT ME(PERSONALLY)…. IM SO OVER ALL THIS BULLS***.." (Note that The Sun makes it sound like Chris made the video. He didn't, it was made by a fan)
The singer, who was sentenced to five years probation and six months community labour for assaulting the her, posted a message on his Twitter account today pleading for a second chance.

He wrote: "MY HEART IS INCOMPLETE… the part that is complete is my love for fans, career, friends, family, God. But I'm missing someone or something."

Brown posted a YouTube link of a version of his new track Changed Man that features snaps of him and Rihanna together, kissing and laughing.

He later added:: "Sorry all, just one of those days."

The Kiss Kiss hitmaker recently opened up about the attack in an interview with LARRY KING.

Brown admitted he found it "hard" not being able to contact his former girlfriend and deeply regretted the incident which took place after a pre-Grammys party in February.

He also confessed he would struggle to cope if Rihanna found love with a new man.
[From The Sun]
Rihanna gave Chris another chance after he beat her so severely she had to miss a performance at the most important awards show in her industry the next day. Those two were seen out several times, and even took a brief vacation together at Diddy's place. Ultimately Rihanna left his sorry ass. I really pray that she'll never go back to him. The kid did not change at all, and I sensed much more shame and sincerity from Kanye West for interrupting someone at an awards show than I got from Chris for beating the crap out of the woman he professed to love.
Here's how Chris can show Rihanna he's changed – he can volunteer at a shelter for battered women and see firsthand how devastating domestic violence can be. Chris bitched and moaned on Larry King about his manual labor community service sentence, and said " I could do a lot more to help the community other than picking up trash." He could do that on his own time instead of complaining that he doesn't get credit for it. There is still hope for that kid if he wants it, but I don't see him changing at this point. He just doesn't think he needs to. Chris wants Rihanna back because he can't have her. If she went back to him it would be more of the same, but she seems to have more sense than that.
Here's the fan-created video that Brown linked to from Twitter, writing "sorry yall, just one of those days." This is one of his new songs, "Changed Man." The lyrics include "Everybody hates Chris. They could never understand…. This ain't over."

Chris Brown is shown on 7/5/09. Credit: PRPhotos