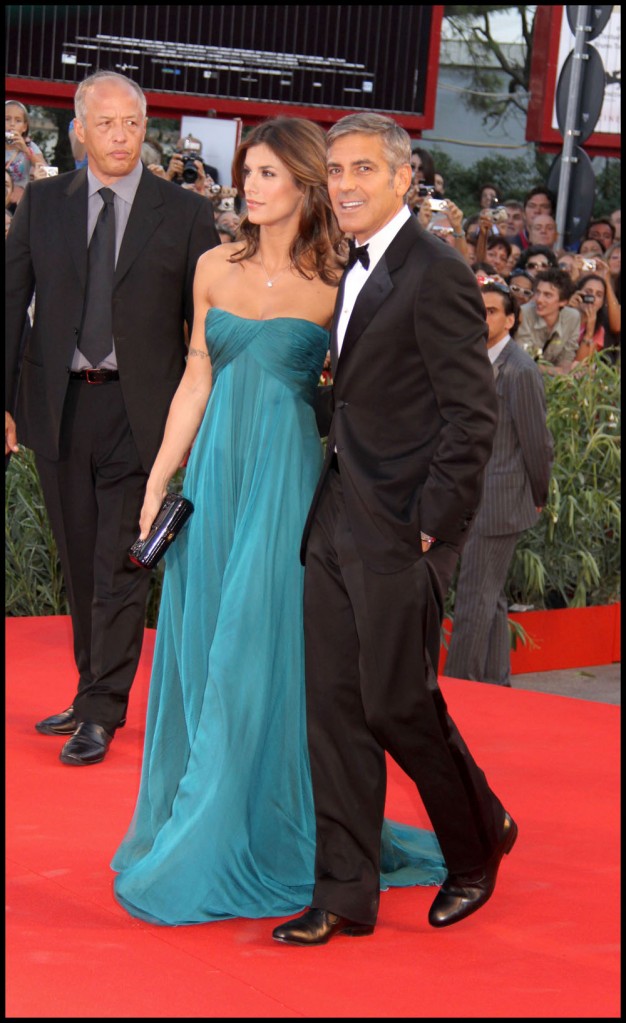 These pictures are from a few days ago, but here you go. George Clooney allowed his new "girlfriend" Elisabetta Canalis to walk the red carpet with him at the Venice premiere of Men Who Stare At Goats. Elisabetta is wearing a beautiful teal silk Roberto Cavalli dress, and looking very much like Cindy Crawford. She seemed to dominate the premiere, I think. All eyes were on her, and Clooney seemed to be "presenting" her to the world. You know what's funny? After Elisabetta showed up at this premiere, she hasn't been seen since! She didn't walk the red carpet for the Toronto premiere of Up In The Air, and there are only vague rumors of her being Toronto. Did Clooney lock her up somewhere? Hmm…
Elisabetta seems to be getting the "thumbs up" from Matt Damon in a new People Magazine interview, so I suppose Clooney must have let her out of the Toronto dungeon for a short time. Matt said, "She is a really, really wonderful woman…It's nice to see my friend so happy." Yeah… Matt's seen it all before. He's not holding his breath, waiting for Clooney to settle down. By the way, remember how Matt claims he started the latest round of "Clooney's gay!" rumors? I saw a short little clip on E! of Clooney on the red carpet saying that he planning something huge to get back at Matt. You know it's going to be epic. I just hope no one dies.
Finally, we have George discussing his hatred for social networking sites – he said this at a press conference in Toronto: "I would rather have a rectal examination on live TV by a fellow with cold hands than have a Facebook page." This isn't so surprising – George is rather famously anti-technology (in his personal life). Last year he did an Esquire cover interview where he and the reporter basically sat around watching YouTube videos, like the one for "2 Girls 1 Cup". It was a funny interview – and I really like George's line about Facebook.
Here are George and Elisabetta at the Venice Film Festival premiere of "The Men Who Stare at Goats" on September 8th, and George making some crazy faces at the Toronto Film Festival press conference for 'Up In The Air' on Saturday. Images thanks to WENN.com .