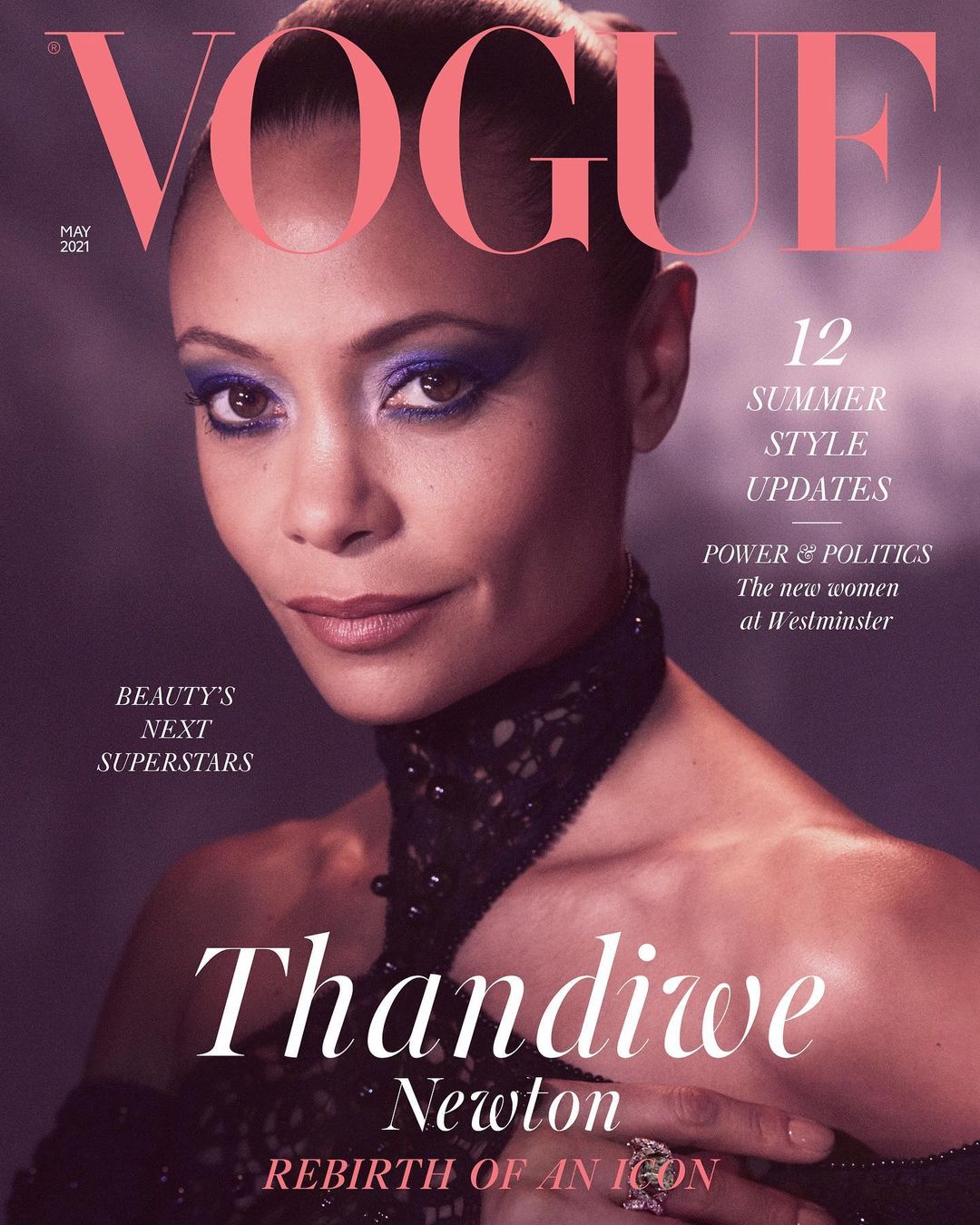 Thandiwe Newton, whom we got to know as Thandie Newton, has been working steadily since the early 1990s. But "steadily" would downplay the roles that she has taken on since the beginning of her career, most notably in my opinion with Gridlock'd along side Tupac. Thandiwe is starring in HBO's Westworld which is about to start filming its fourth season. She will also star in Reminiscence, with Hugh Jackman, out this year.
Now Thandiwe is reclaiming her name. While we know her as Thandie, she was born Thandiwe Newton. Thandiwe's mother was the daughter of a Shona chief from Zimbabwe and her father was a British man from Cornwall. Thandiwe says in a new interview in British Vogue that she silenced the "W" in her name so that she wouldn't be othered in school. She will now be using her full name as she doesn't seek to blend in but stand out. Below are a few excerpts from her interview with British Vogue:
On speaking out against abusers
"I have a seventh sense for abuse and abusers, which I believe is one of the reasons why I was rejected a lot in Hollywood. I'll talk about it until the cows come home, because I know I'll be helping someone."

She joined a community of survivors working for change
"When I started joining in I found myself around a lot more people of colour. Isn't that strange?" Well, because there are so many women of colour who've been abused, and who are the spine of their community or the spine of their family. Black women are truly the nexus where all of this overlaps. Think of what else has the potential to heal if we support and care for Black women."

On protecting her daughter Nico, 16, as she starts her career
"I went to every photoshoot with her. If there was an issue with the photographer, if there was inappropriate language I was on it, didn't give a f**k what anyone thought. When it was time for her to get an agent, I spent a month auditioning for one, even though I knew half of them."

On using her real name
"The thing I'm most grateful for in our business right now is being in the company of others who truly see me. And to not be complicit in the objectification of Black people as 'others', which is what happens when you're the only one."
"That's my name. It's always been my name. I'm taking back what's mine."
I've been a fan girl of Thandiwe since I first saw her in Mission Impossible II. I just thought she was so beautiful. Since then I have watched her star in several films and shows and was pissed off when she was killed off in Rogue. Thandiwe made the damn show.
It is shocking every time I read that Thandiwe was rejected in Hollywood, but when I look at her film credits, I am not sure why she hasn't received more awards from such an illustrious career. I do love that she is reclaiming her roots by reclaiming her African name. I can only imagine what it must have felt like to grow up in racist Britain where Thandiwe was basically forced to choose her British side. I also love how Thandiwe says she protects her daughter, Nico, from predators and that SHE auditions her daughter's talent agent despite knowing them all. That's some boss level sh*t.
I am loving this more outspoken, not taking anybody's sh*t Thandiwe. There is something beautiful about a woman who owns her power and is unapologetic about it. Thandiwe is definitely setting the tone for how she wishes to be treated going forward and I am here for it. I am intrigued by her new sci-fi movie, Reminiscence. I just watched the mini trailer and it seems sinister and I love those types of movies (I've included the trailer below). I also need to catch up on Westworld because I actually like that show and I loved Thandiwe's role as the robot prostitute gone rogue. It would seem that in the case of Thandiwe, art is definitely imitating life and I am here for it.