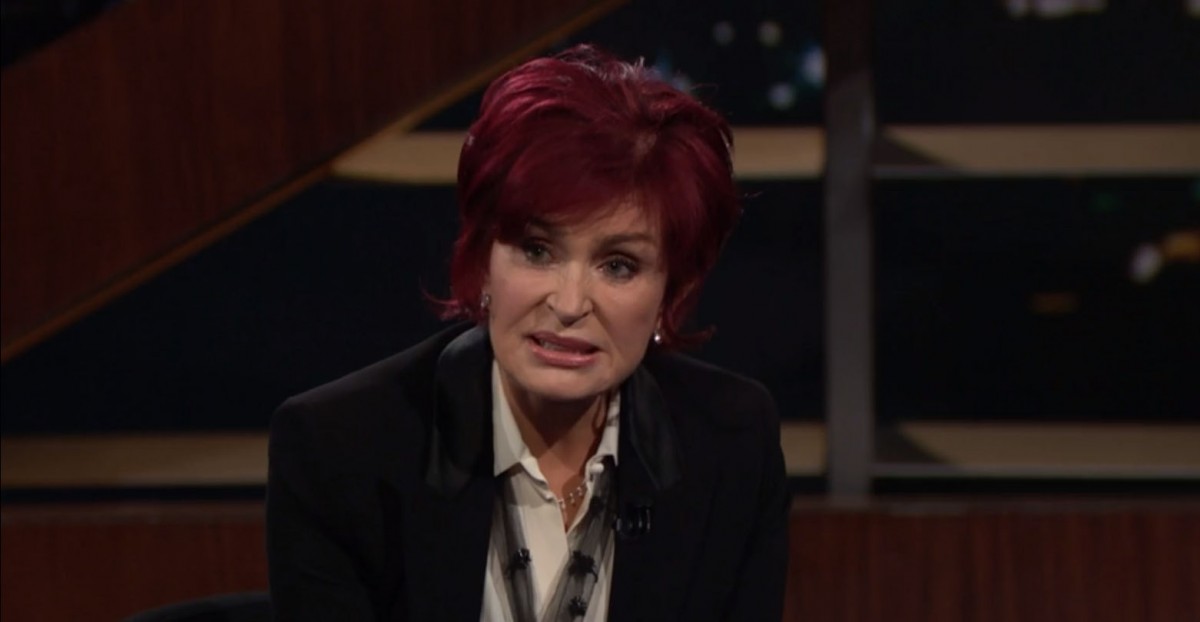 Sharon Osbourne has decided to continue her "I'm Not a Racist" tour. This time Sharon has enlisted the sympathetic ear of white supremacist apologist pretending to be an ally, Bill Maher. Sharon appeared on HBO's Real Time to discuss her exit from The Talk and her friendship with Piers Morgan. In a segment that was thirteen minutes too long, not only did Bill excuse Sharon's behavior, he and Sharon mischaracterized what Harry and Meghan said in their Oprah interview. Bill and Sharon both ignored the fact that Meghan said she was unprotected and suicidal and chalked Sussexit up to Meghan and Harry being unhappy. Sharon went so far as to say that Harry was "the poster boy" for white privilege (ignoring the fact that she too is a poster child for that same white privilege but I digress).
Sharon also called Harry an unsympathetic character, claiming he was mad that his father cut him off. Sharon completely ignored that Harry was afraid when his father refused to answer his calls after the Palace leaked his (Harry's) family's location, then pulled their security. At one point, Bill blithely gaslit Black and brown peoples' experiences by stating that (white) people are entitled to "disagree" with BIPOC's experiences, but that doesn't make them racist. Deep spiritual sigh. Below are a few excerpts from the vomit-inducing interview:
Osbourne: I'm angry, I'm hurt [but] I'm a fighter. I've been called so many things in my life. I'm so used to being called names, but a racist is one I won't take.
Maher: You have to agree with everything Meghan Markle says or you are a racist.
Osbourne: I'm trying to go back and think of the words that somebody who is meant to be an expert in woke language as acceptable today. Saying that it took away her feelings and that she's entitled to her feelings and she was stripped of those by Piers. That she was having mental problems because she's unhappy and that he was stripping her of her feelings which she's entitled to.

Maher: [Laughs] I'm sure when she got married to Prince Harry she thought it was going to be like a Disney movie like I'm marrying the prince.
Osbourne: No she said I felt like The Little Mermaid.
Maher: It's not glamorous and I'm sure the royal family was cold to her. Could that have been because of racism? Possibly. Also I think they're just cold. Some of it was racism and some she just took as racism. No, they're cold to everybody. Girl.

Maher reads quote from Elaine Welteroth: 'I think when you deny a woman, or a woman or color, their truth and their experiences, you're not just denying them, you're denying that of every woman and woman of color who sees themselves in this person's story.'

Maher: Doubting her, that's not the same as denying.
Osbourne: No it's not. She's entitled to her opinion, Piers is entitled to his.
Maher: I didn't agree with everything she said. She said Harry had the weight of the world on his shoulders. Really? He's sixth in line to the throne.
Osbourne: You know where they say white privilege? Right there, with Harry. He's the poster boy. He sits there and says daddy cut him off and he was boohooing about it. You can't feel empathy for that. You're a healthy bright educated young man. You can do whatever you want to do.
Maher: And they're living in a giant mansion next door to Oprah.

Maher: My point would be you can't judge everybody by their worst moment. Maybe you lost your cool. How about just 'I should not do that. I won't do it again.' We could all do better, but this idea and culture now that people need to educate and indoctrinate themselves. I'm sorry, I'm 65, you're 68. I know who I am. I don't need re-education. You've been around the world, you've been with the A-listers and rock and rock. Like you need to 'huh race tell me all about it.' It's fantasy.

Osbourne: It changes from day to day what is correct and what isn't. Elaine gave [White Fragility] to me. I read it and some of it is very informative and the other I don't agree with.
Maher: The idea in there is that you have two choices if you're white. You're either a racist or you're a racist and you don't know it.
[From Bill Maher on HBO]
Bill Maher is the most dangerous kind of tool for white supremacy. He pretends to be an ally yet he always ends up normalizing being a white supremacist apologist. Stating that you can't judge people based on what they do in their worst moment is absolute bullsh*t. When pressure is applied to a person, how they truly feel ALWAYS comes to the surface. I have had some moments where I have said some horrible things and I own them. They were what I felt at the time and even though my feelings have changed, it does not take away what I said.
I am also tired of white people like Bill and Sharon telling BIPOC that BIPOC are entitled to their "opinion" and racists are entitled to theirs. No Bill, BIPOC's experiences are NOT their opinion. It is their EXPERIENCE and neither Bill, nor Sharon nor Piers have the right to tell BIPOC that their experiences are unbelievable, especially when it took being brave to share them.
Disagreeing with a BIPOC does not make you a racist, but denying BIPOC their humanity and experiences of racism, whether covert or overt, is racist. I am tired of people like Sharon, Piers and Bill telling Meghan, a woman of color (and by extension other BIPOC), that she left the royal family because it wasn't a fairy tale and because she was unhappy. Meghan was literally maligned and bullied everyday for four damn years in the media, yet Bill, Sharon and Piers say she left because the job wasn't glamorous? F*ck out of here with that BS.
What is also laughable is how Sharon feels entitled to get her side of the story out (read whine) and we (the audience) are supposed to be gracious enough to listen despite seeing her behavior in real time. Yet she feels Meghan doesn't have that same right. Tell us why Sharon? Bill never addressed how Piers used his platform for FOUR YEARS to malign and bully a woman he met once. Bill did not push back on Sharon's lies, like never using the word "ghetto" (see below). Nor did Bill address how Sharon cussed at and disrespected her Black co-hosts on live TV. Bill instead brushed off the rumors about how Sharon bullied her BIPOC co-hosts behind the scenes with racist and homophobic slurs. Bill equated airing one's grievances about experiencing racism to "snitching."
Racists ignore what Meghan actually said and cherry pick her words so that they can avoid confronting their own biases. Unfortunately, people like Sharon and Bill will never educate themselves. They are the most dangerous kinds of white supremacists. They'd rather gaslight victims instead of taking accountability for their own actions. And like Bill admitted, they purposely avoid educating themselves and checking their privilege because that would mean they would have to change. Apologists like Bill and Sharon would also have to acknowledge that they play a role in perpetuating white supremacy through willful ignorance.
Here's a clip from the interview:

Tucker Carlson normalizes white supremacists for right-wing viewers.

Bill Maher normalizes white supremacists for liberal viewers.

The latter is much more harmful. pic.twitter.com/VhWEgUXlB3

— ChuckModi (@ChuckModi1) April 17, 2021
It also seems like Sharon is still attacking Black women for speaking out against the abuse they endured at Sharon's hands. Holly Robinson Pete's mother posted this on Twitter.
.@MrsSOsbourne is NOT going to call my daughter a "disgruntled" liar. Not only did you call her "ghetto" many times but you engineered her firing AND threatened me when I confronted you with "I have more money than you Dolores. I will sue you!" Stop lying/whining/ blaming Grow up https://t.co/VmbEZNfb6U

— DoloresRobinson (@DoloresRobinson) April 17, 2021
Sharon using the word "ghetto"
6. After @hollyrpeete said last week that Sharon Osbourne referred to her as "ghetto," not only did Osbourne deny it, she denied ever using the word except to refer to Nazi Ghettos.

But in 2011, she referred to @LeahRemini as "ghetto," because of the way she talks. pic.twitter.com/EfScyegqso

— Yashar Ali 🐘 (@yashar) March 16, 2021
Bill Maher recently had Megyn Kelly on complaining about Black 'victimhood' and how hard it is to be rich white millionaires in woke america.

He continued his Mayonnaise Tears Tour with Sharon Osbourne complaining about cancel culture.

Racism needs to be canceled.

— Bishop Talbert Swan (@TalbertSwan) April 17, 2021