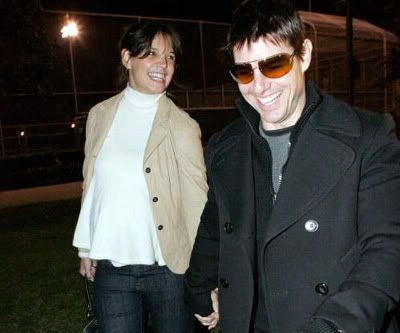 We have no clue if Independence Day has some significance to the cult of Scientology, although the movie of the same name certainly has some parallels with their belief system. Rumor has it that Tom and Katie plan to get married on the Fourth of July according to the magazines Celebrity Living and Star:
The celebrity couple will marry this summer, On July 4, according to another published report. Hollywood star Tom Cruise and his pregnant fiance Katie Holmes have finally decided on a date for their wedding.
[The Post Chronicle] reported earlier in the month that Tom and Katie are set to tie the knot on July 4 at the Scientology center in Los Angeles, according to Celebrity Living. The latest issue of Star magazine confirms this report.
An insider tells the magazine: "The dynamic duo will tie the knot at the Scientology centeR in Los Angeles in a four-day celebration. This is going to be a four-day bash; the biggest Tom has ever given."
This isn't the first time we've heard about upcoming wedding plans for the two, so take this for the rumor that is is. We are still waiting for news of Tom's ex, Nicole Kidman's supposed upcoming wedding to Keith Urban. It is a smidgen more substantial now that two gossip rags have jumped on the news.
Here are pictures of Katie and Tom out last night.
Pictures [via]