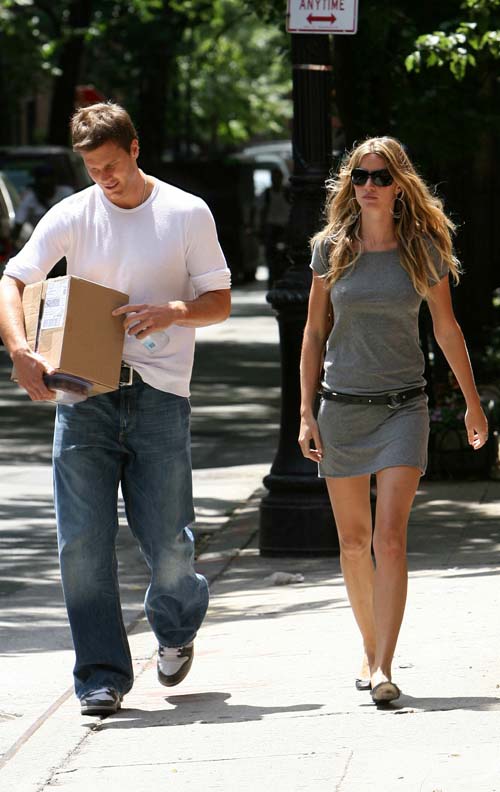 New dad and NFL star Tom Brady and his girlfriend, Brazilian supermodel Gisele Bundchen, may be on the outs. The two were seen having a public spat in NY over lunch, with Gisele walking out, looking pissed.
The pair were dining at Extra Virgin in New York City when things turned sour on October 8. "She was clearly more upset than he was," says an eyewitness. "She got up from the table and stormed out, leaving him sitting there."
[From In Touch, print edition, November 5, 2007]
Along with that argument, there's more evidence that Bundchen is upset with Brady. She is said to be livid over the fact that he sent flowers to his ex girlfriend and the mother of his baby, Bridget Moynahan. Bundchen is even said to have called Brady a "wuss" over the incident and to have postponed their planned wedding:
The couple's relationship has been strained since the New England Patriots quarterback began having a "sudden attack of conscience" about breaking up with former girlfriend Bridget Moynahan, who gave birth to his son, John, in August, say sources.

Gisele berated Tom for his concern about Bridget, calling him a "wuss!"

"First, Tom told Gisele that he was upset about Bridget doing an interview about having their child because she didn't tell him about it. Then, Gisele discovered that Tom sent Bridget flowers congratulating her on the article! a close source told The Enquirer…

Since the indicent, Gisele, 27, has been furious with 30-year-old Tom.

The two have put their plans for a winter wedding in Rome on hold, says the source.
[From The National Enquirer, print edition, November 5, 2007]
The article goes on to talk about the same "screaming match" that In Touch reported, citing Gawker as the source.
The Enquirer mentioned that Tom sent Bridget flowers after the OK! article, and it may have been as a thank you to her. Bridget didn't do an interview with OK! and just agreed to pose for pictures. Maybe Tom was grateful for that, and sent her the flowers because he was relieved she didn't dish any dirt on him.
Gisele Bundchen is not know for being a super nice person, and maybe some of the luster has gone out of her relationship with Tom. Now that the dust is settling, he might be realizing that he had a pretty good thing with the mother of his child and that he gave it up for another gorgeous woman with a less gracious personality.
Header picture is an older one of Tom and Gisele together.
Update: We were wrong about Gisele's personality, according to one anonymous tipster. She said that if we wanted to pick on someone we should chose Madonna, because she is definitely full of shit, but Gisele is super nice:
Just wanted to know where you get your info…I read an article where you stated Giselle is not known to be a nice person. i have worked with her, numerous times, and everyone LOVES her. She is super nice, down to earth, doesn't act like a model and talks to everybody.

The bitchiest person, is Madonna…even though she trumphets [sic] BS PR about how wonderful she is.
Sorry Gisele! We're just jealous that you're so gorgeous and that your boyfriend is awesome. We are striving not to talk smack about people who don't deserve it, and it seems like you definitely don't. You also dated Leonardo DiCaprio, which makes us extra catty.