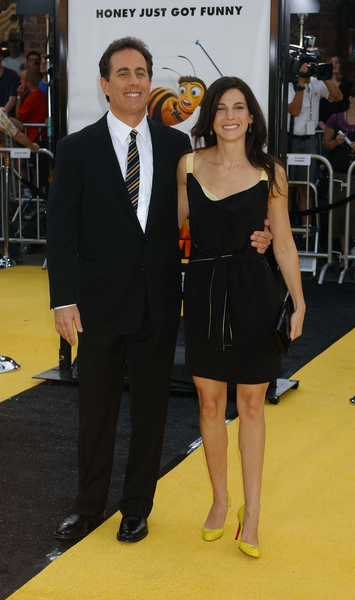 Jessica Seinfeld wrote a book called "Deceptively Delicious" about sneaking vegetables into your kids' food. It's pretty popular, she got a special on Oprah, and more kids are eating butternut squash mac and cheese as a result. Unfortunately, another lady named Missy Chase Lepine wrote pretty much the same book, called "The Sneaky Chef," a few months before Jessica Seinfeld, and now Seinfeld is being accused of plagiarism. Though she denies the charges, it seems like there's a pretty strong case against her: some of the recipes and phrasing are nearly identical. Celebitchy wrote a great article comparing the two books.
Well Jerry Seinfeld seemed to think it was a good idea to brand Lepine a "whacko." Even if Jessica Seinfeld is totally innocent and never saw the other book, Lepine is certainly not a whacko for noting the remarkable similarity between the two. But Seinfeld seems to think it's a good idea to slander other people who I'm guessing are already feeling pretty litigious.
Jerry Seinfeld turned his wife's recent cookbook controversy into a comedy bit Monday night, telling David Letterman he and Jessica Seinfeld are paying no mind to the "wackos."

"One of the fun facts of celebrity life is that wackos will wait in the woodwork to pop out at certain moments to inject a little adrenaline," he said on CBS's Late Show Monday night.

The former Must-See star, 53, who was on the show to promote his Bee Movie, couldn't help but chime in on what he's dubbed the "vegetable plagiarism" controversy surrounding his wife Jessica's best-seller Deceptively Delicious – namely, claims that some of the recipes weren't hers.

"If you're any good as a woodwork wacko, you're patient. You pick your moment and then you spring out and go wacko," Seinfeld told Letterman. "There's another woman who had another cookbook. And it was a similar kind of thing. My wife never saw the book, read the book, never used the book. But the books came out at the same time. So this woman says 'I sense this could be wacko moment,' so she comes out and accuses my wife.
[From People]
I've pretty much decided that Jerry Seinfeld is a jerk. I was neutral before, then the whole "defending Scientology" thing made me edge a little towards dislike. Being married to a plagiarizer didn't help things but her actions weren't his fault. But calling a totally innocent person a whacko because your wife seems to have stolen her stuff pretty much makes you a jerk. I'd make a "Jerk store" joke, but it'd only be funny if you watched "Seinfeld." Actually it wasn't even funny then. So he's pretty much just an ass.
Picture note by Jaybird: Header image of Jerry and Jessica Seinfeld at the "Bee Movie" Los Angeles Premiere on October 28th. Image thanks to PR Photos.