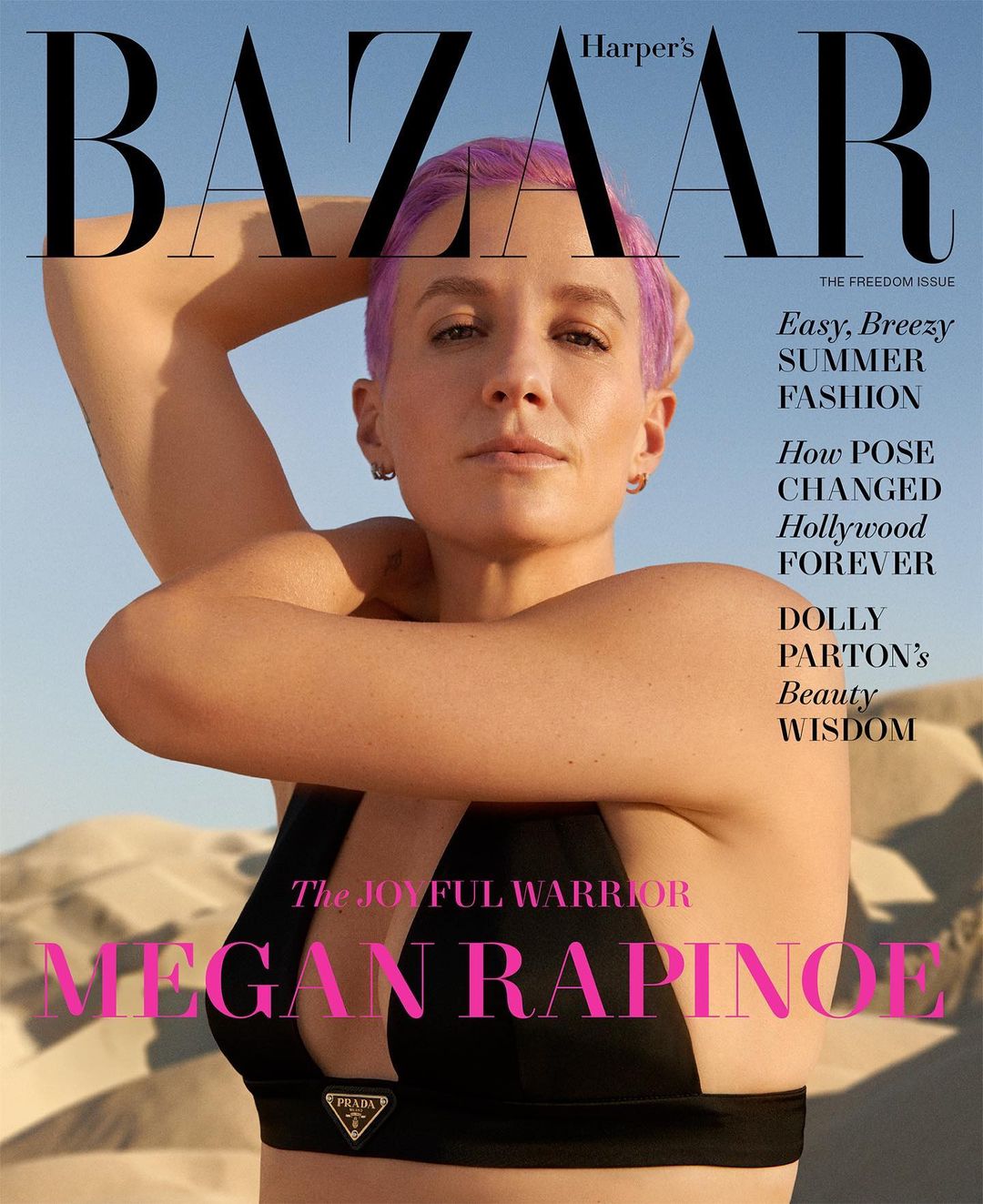 Megan Rapinoe covers the latest issue of Harper's Bazaar. The cover profile made me cry. Pinoe is just one of those people for me – I admire her so much and I find her so inspirational and just… righteous. She's such a powerful and effective advocate for herself, her sport and her community, and she also happens to be an incredible ally across the board. She also looks amazing with pink and purple hair! I loved how Bazaar photographed her and the cover profile is badass. Some highlights:
On her mom: "[When I got a tattoo for her,] She would be like, 'Oh, my God, you shouldn't have done that.' But she'd really secretly be like, 'Oh, my God, I love it so much.'  We didn't have any kind of progressive language around expressing your identity. But from a young age, my mom really understood me. I think she knew that I was a little bit different. My mom is one of eight kids from a very poor family. They got made fun of all the time; they didn't have any money, and wore sh–ty clothes and whatever. She instilled this empathetic view in us."

Her empathy stems from her sexuality: "One of the greatest gifts I've been given is to be gay and to have this perspective." When I asked her what keeps her up at night in a post-Trump world, she answered without hesitating: "Voter suppression. Holy sh-t!"

Whether she thought U.S. Soccer would be forced to reconsider equal pay following the USWNT's 2019 success: "I really did to be honest." The lesson: "You can't overachieve discrimination."

U.S. Soccer claiming paying women their back-pay would bankrupt them. "I'm sorry that you practiced gender discrimination and didn't budget that in. But they're going to need to reallocate. Money is the way our society shows people, especially in sports, how we value them. We know exactly what's in a contract every time a man signs it. We never know what women make. Why is it? Because they're not something to be proud of. We need to change that narrative."

She's so proud & supportive of her gay teammates too: "Often the stories we hear about LGBTQ, it's so much about the struggle, that it's going to be hard to come out. It's really important to show the beautiful joys of being gay."

On being civically engaged: "We need to be really focused. It's our responsibility to be civically engaged. Ultimately we choose what kind of system we want to live with. And we don't have to live in this type of system anymore."
There's a lot in the piece about the US Women's National Team's ongoing lawsuit and negotiations with US Soccer. I cannot believe the stonewalling they're getting, and it's still mind-blowing to me that US Soccer will spend millions – literally, millions of dollars – on lobbyists, lawyers and assorted misogynistic experts to all mansplain why female soccer players should be paid less than the men for playing for their country. And then the same bros will cry poverty and cry about bankruptcy when it comes to paying the women what they're owed. It's especially galling because the women WIN. The American men do not. The American women are the gold-standard for every other country's women's national team, and even the USWNT can't get even a third of what they're asking for. It f–king sucks. Also, this is a total downer but I would buy a t-shirt that reads "You can't overachieve discrimination." It's true. You can achieve and succeed and be amazing, but sometimes that won't be enough to overcome discrimination.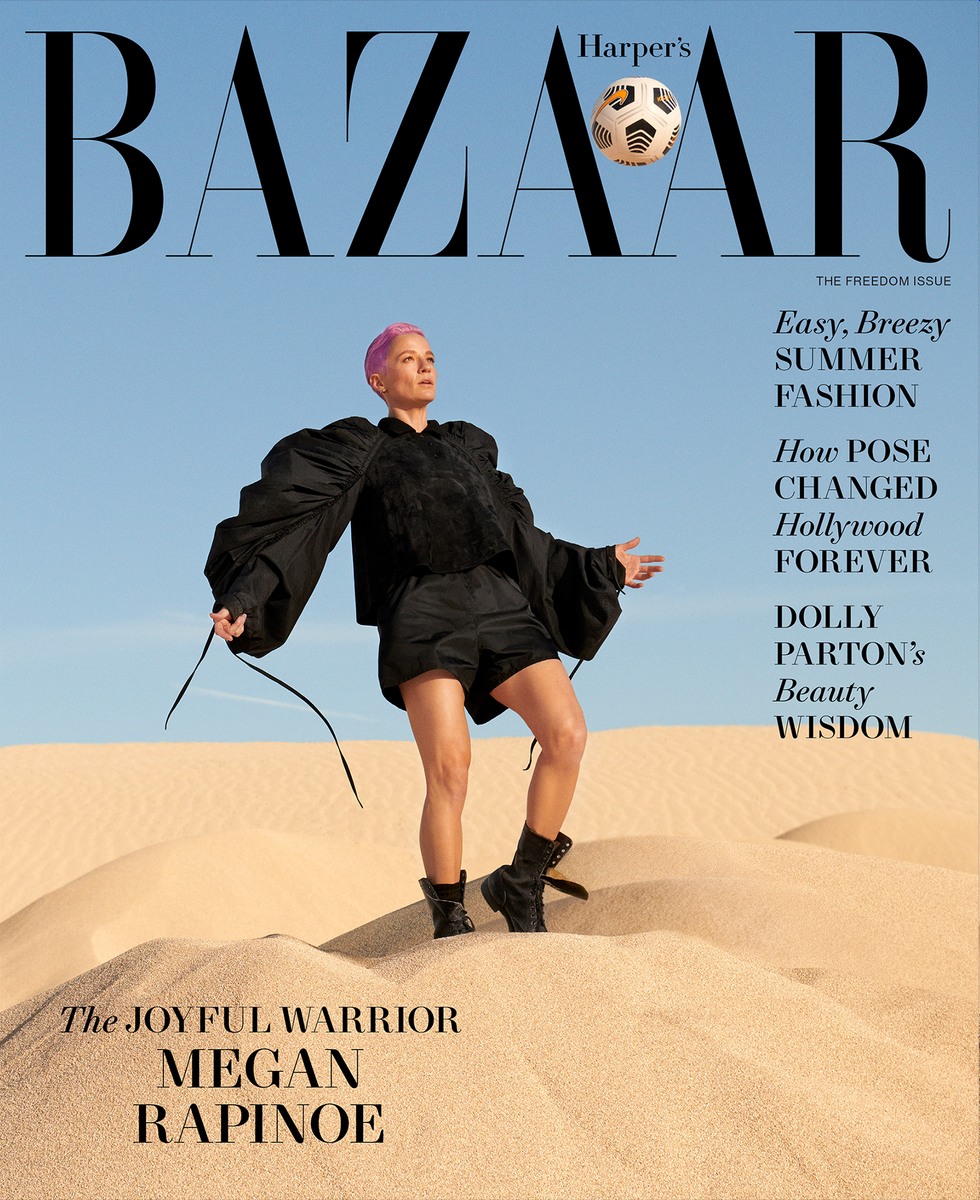 Covers courtesy of Harper's Bazaar.