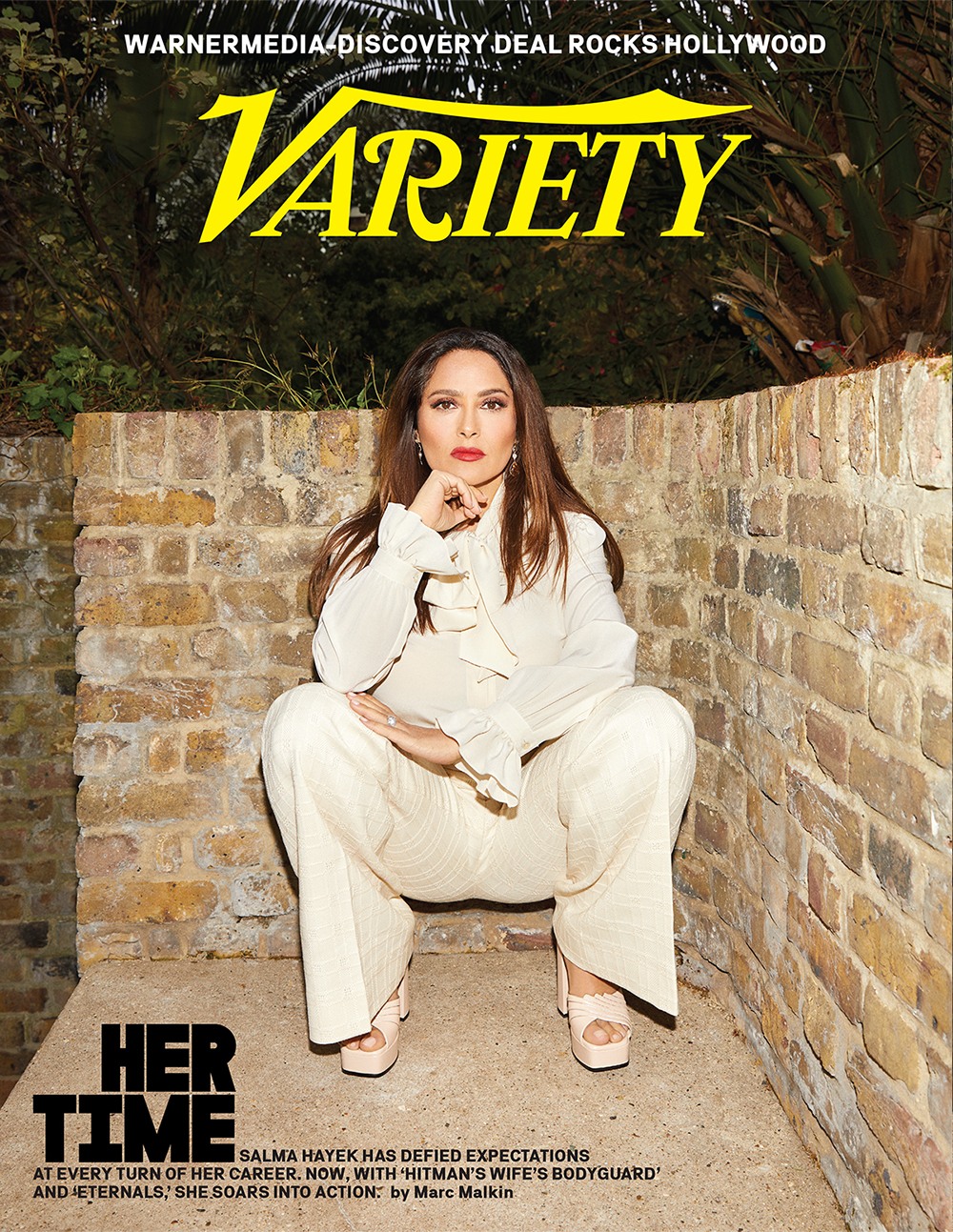 Salma Hayek covers the latest issue of Variety to promote some of her upcoming films, mainly The Hitman's Wife's Bodyguard (coming out soon) and The Eternals (coming out later this year). She also went back to work recently on House of Gucci, where she plays a supporting role as a clairvoyant who helped Patrizia Reggiani orchestrate her husband's murder. I would pay money to watch Salma and Lady Gaga interact, so that's good casting. Salma also chatted with Variety about how she had a really bad case of Covid-19, so bad that she almost died. Some highlights from this piece:
She contracted Covid early in the pandemic: "My doctor begged me to go to the hospital because it was so bad. I said, 'No, thank you. I'd rather die at home.'" Hayek spent about seven weeks isolated in a room of the house. At one point, she was put on oxygen. She still hasn't fully regained the energy she once had.

Being typecast in her early days: "They wouldn't even give me the auditions. We tried really hard. I said I know I can do drama, but what about romantic comedies and action comedies? For them, it was like, 'Oh, no, she's just like a sexy Mexican.'"

She was shocked when she was approached for The Hitman's Wife's Bodyguard: "I didn't trust him. At the beginning, I said, "Oh, he's just exaggerating. He's just being nice." But then when we started talking about it, he told me the storyline, and then I realized, "Oh, my God, this guy is not only for real, but he also wants me involved in the process. Then I said, "Let's make it really interesting and talk about menopause in a funny way." Imagine if you have a character that's already crazy and then add those hormones.

Whether she ever thought she would be an action star during menopause: "No, never. But I did think I would do action and comedy. I remember there were two big comedies I auditioned for the lead. Afterwards, the directors told me that I was the best audition and that I was better than who they cast and that they regretted it. But at the time, they knew the studios wouldn't have gone for a Mexican as the lead….I got a lot of satisfaction with them coming to me and telling me because I thought it was very courageous of them. And I thought it changed something. It changed something in them. It made [me think that] maybe the next generation or the next girl that comes in was going to get a better shot because of it. But nobody really looked into my value. If you are a woman and you are in a movie that is very successful and they say you are their favorite character, they will still give all credits of the box office to the guy. They don't count who you're bringing into the theaters.

On The Eternals: "It never crossed my mind to be in a Marvel movie. I guess that I thought that boat had sailed, and it was an absolute shock. All of a sudden, I got a call: "They want to talk to you about a new franchise." And I was like, "What?" And I said OK, but they don't tell you any information until you're on the call. It's kind of hard to be an action hero if you're Mexican. It's really hard to be an action hero if you're a Mexican and a woman. But to be an action hero, being Mexican, a woman, and my age, it felt like they were punking me. And then the worst part is that I was one of the first people they cast. I had to keep my mouth shut for so many months. I couldn't tell a soul. And I couldn't wait for the day that I could say it.

On feminism & female power: "My husband is very feminist, and he does a lot of studies on this. I remember a long time ago that he told me that women have a harder time asking for a promotion or for a raise. They really try to justify it. Men normally ask for it prematurely. It has to do with self-esteem and with systematic and constant sexism. It takes women a lot of courage to ask. They're afraid they're going to get fired. So if it's going well for you, if you see the change, it's good to say that it is happening for us. I know that it's not happening for every woman, but it gave me courage when I saw it happening for other women, even if it was not happening to me."
I mean, she's right? For years, Hollywood didn't know where to "put" Salma and she was typecast as always the "sexy Latina." To see her change that perception over the course of her career has been remarkable. And it's really cool that she's now the (menopausal) lead in a Marvel superhero film with Angelina Jolie and Kumail Nanjiani. What she says about women asking for raises is dead-on too, and there's more data on that than just "my husband researched it." Men asks for raises often and early and women rarely do.
Cover courtesy of Variety, additional photos courtesy of Avalon Red.