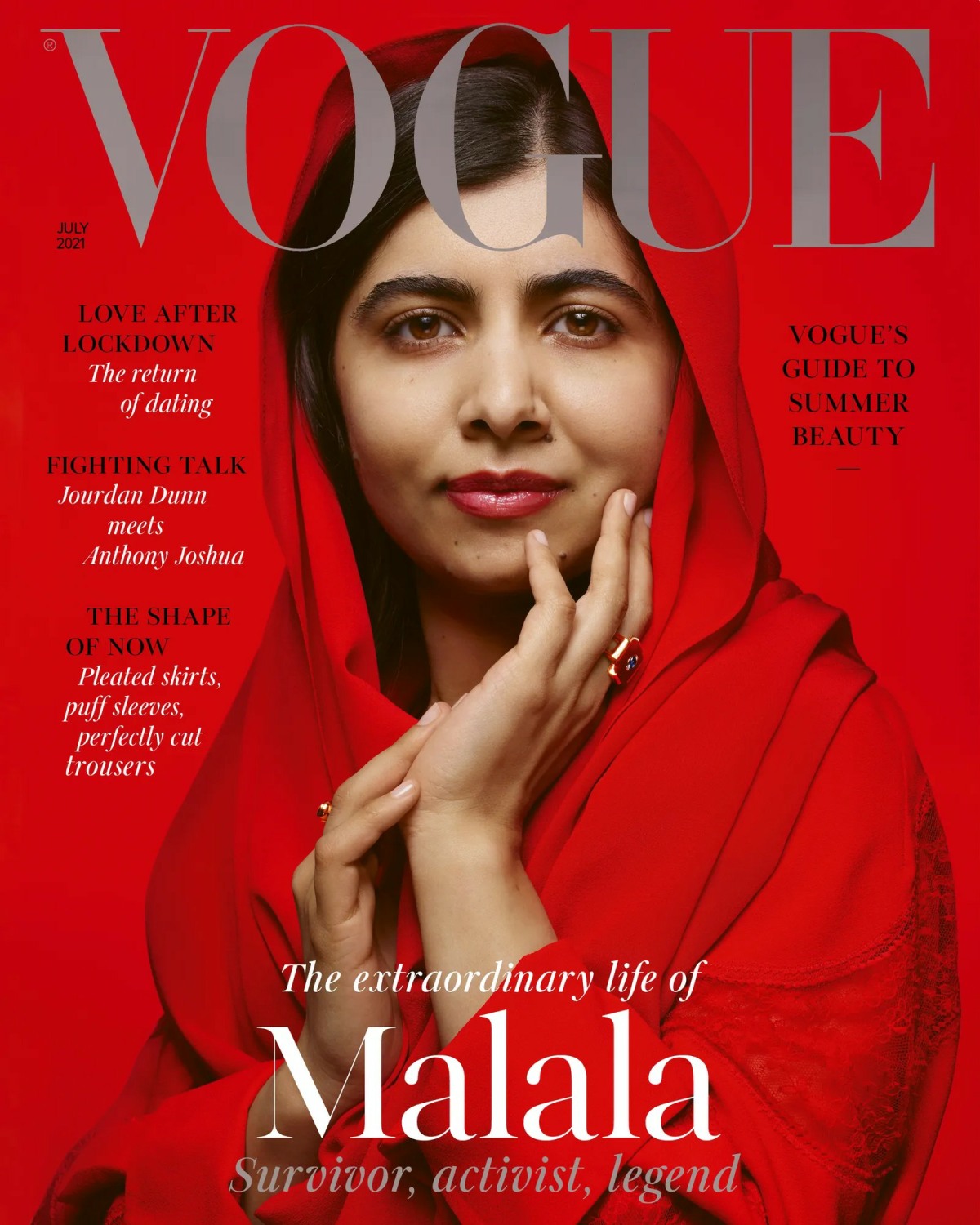 Malala Yousafzai covers the latest issue of British Vogue and the magazine absolutely did right by Malala in every way. The cover and editorial is so beautiful, elegant and colorful. She looks incredible in every photo. The interview is wonderful too, it was a real pleasure to read. Malala is very funny and in some ways, just a regular young adult (she's 23) and in other ways, she's one of the most inspirational people in the world. She balances both of those sides of herself really well, and she moves between both throughout the interview. She talks to British Vogue about her university life at Oxford, deciding what was next for her post-university, and whether she actually sees herself getting married at some point.
She worries about what's next: "This is a question I have for myself every night. Lying awake in bed for hours thinking, 'What am I going to do next?' Where do I live next? Should I continue to live in the UK, or should I move to Pakistan, or another country? The second question is, who should I be living with? Should I live on my own? Should I live with my parents? I'm currently with my parents, and my parents love me, and Asian parents especially, they want their kids to be with them forever."

Her headscarf: "I wear it more when I'm outside and in public. At home, it's fine. If I'm with friends, it's fine." The headscarf, she explains, is about more than her Muslim faith. "It's a cultural symbol for us Pashtuns, so it represents where I come from. And Muslim girls or Pashtun girls or Pakistani girls, when we follow our traditional dress, we're considered to be oppressed, or voiceless, or living under patriarchy. I want to tell everyone that you can have your own voice within your culture, and you can have equality in your culture."

She was a doom-scroller. "I had a secret Twitter account for a year before I joined officially, and I had, like, 4,000 followers or something. I was doing really well."

Her multi-year partnership with Apple TV+ and the launch of a production company, Extracurricular. "I want these shows to be entertaining and the sort of thing I would watch. If I don't laugh at them or enjoy them, I won't put them on-screen." So alongside documentaries on serious issues, such as girls' education and women's rights, she wants to make comedies. "I come from a different background, and I also wonder, if a woman from a valley in Pakistan had made South Park, what would that look like?"

Hashtag activism: "Right now we have associated activism with tweets. That needs to change, because Twitter is a completely different world."

Her university life: "I was excited about literally anything. Going to McDonald's [a sweet chilli chicken wrap and a caramel frappe is her go-to order] or playing poker with my friends or going to a talk or an event. I was enjoying each and every moment because I had not seen that much before. I had never really been in the company of people my own age because I was recovering from the incident [the Taliban's attempt on her life], and travelling around the world, publishing a book and doing a documentary, and so many things were happening. At university I finally got some time for myself."

She enjoyed socializing & studying: "At school in Pakistan I was the A* studen. But when I joined Oxford, I remember the first few tutorials, I was really sad. All of a sudden, you become an average student in Oxford, and you're competing with some of the brightest minds, literally, in the world. I decided that if I got a good 2:1. I would be very happy. You know, there's a saying: there are three things at Oxford, sleep, socialising and study, and you can't have them all. Socialising was my one."

She isn't sure if she'll ever marry. "I still don't understand why people have to get married. If you want to have a person in your life, why do you have to sign marriage papers, why can't it just be a partnership? My mum is like, 'Don't you dare say anything like that! You have to get married, marriage is beautiful.'" Meanwhile, Malala's father occasionally receives emails from prospective suitors in Pakistan. "The boy says that he has many acres of land and many houses and would love to marry me… Even until my second year of university. I just thought, 'I'm never going to get married, never going to have kids – just going to do my work. I'm going to be happy and live with my family forever.' I didn't realise that you're not the same person all the time. You change as well and you're growing."
Out of everything that has happened to Malala and everything that she's already done with her life, I bet the "I don't want to get married" thing was the thing that sent her parents over the edge more than anything else. Pakistani and Indian parents have very strong feelings about their children absolutely needing to get married. And yes, maybe she'll change her mind and maybe she won't, let her figure that out on her own! She's 23, she doesn't need to have any of it figured out at the moment.
Her university life sounds like her own haven, and one of the best things that's ever happened to her. She got out of her shell, she lived away from her parents, she made new friends, and she just got to be a regular teen/young adult. She even tells Vogue that in her personal essay/statement when she applied to Oxford, she didn't mention her Nobel Peace Prize!! Can you believe that? I friggin' love her. I mean, I'm sure the Oxford entrance committee (or whatever they have) was like "oh this application is from someone named Malala… WAIT!"
Cover and IG courtesy of British Vogue.