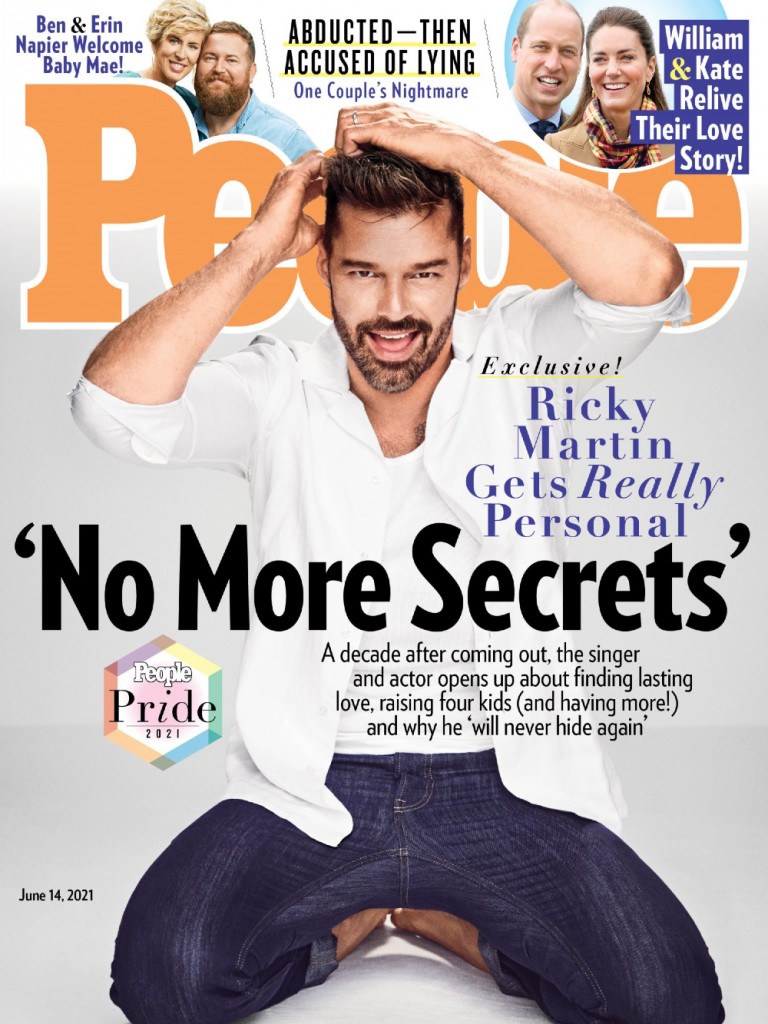 Happy Pride month y'all! People's annual Pride Issue chose none other than Latin pop royalty Ricky Martin as their cover. Ricky has new music coming out! His first single from his new album, Play, drops June 10. He promises it's going to be up-tempo dance music and I could not be more excited. I love danceable Ricky music.
Ricky came out as a gay man in 2010. He's a father to pre-teen twins sons, Mateo and Valentino, and daughter, Lucia, and son, Renn, both of whom he welcomed with his husband, Jwan Yosef. In this latest issue of People, Ricky, whom we know as the swivel-hipped crooner who lives la Vida Loca, admitted that he's actually quite insecure. He said despite the persona he's been bringing to the stage since Menudo, he is still socially awkward.
It's been over two decades since Ricky Martin arrived into American pop culture, Venus in leather pants on a clamshell. An approachable raconteur, he shook up the American pop establishment at the 1999 Grammy Awards with a thrust of his hips, a wave of his hands, and the invincible chorus of "Livin' La Vida Loca" pulsing at 180 beats per minute. Women wanted him. Men wanted him. Madonna wanted him. (They recorded a duet.)

"But I'm really insecure, to be honest," Martin admits, getting comfortable in his chair in a Los Angles hotel suite last month. He fiddles nervously with the hem of his silk shirt. "I'm super socially awkward but today, well the difference is that I know I'm socially awkward. So, I don't go anywhere that causes me anxiety. I'm at peace with performing in front of 30,000 people and feel like the king of the world. But then I walk into a small room at an intimate gathering, and someone will say, 'Hey Rick, sing a song for us!' and that creates such anxiety."
I'm glad Ricky makes this distinction because people do mistake performing for confidence. But the energy it takes to get up on stage in front of people is different than the energy it takes for social interaction. Ricky talked about his anxiety also being tied to his closeted homosexuality. Ricky wasn't just a popular singer, of course, he was a wildly attractive sex-symbol. But as Ricky was trying to figure out his sexuality, the public kept demanding an answer before he had one. Barbara Walters put him on the spot on national television, which turned into a defining moment for Ricky.
Martin lived with the question until he was 29. Then, in 2000, Barbara Walters asked it on national television. This was a year after the radio dominance of "Livin' La Vida Loca" and 10 years before he came out publicly on his website. "You could stop these rumors," Walters implored. "You could say, 'Yes I am gay or no I'm not.'" Martin was visibly stunned. He finally retreated, answering with "I just don't feel like it."

He says the moment still haunts him. "When she dropped the question, I felt violated because I was just not ready to come out. I was very afraid." Martin's entire body shifts. He clears his throat and takes a deep breath. "There's a little PTSD with that."
"A lot of people say, what would you do differently?" He wonders too. "Well, maybe I would have come out in that interview. It would've been great because when I came out, it just felt amazing. When it comes to my sexuality, when it comes to who I am, I want to talk about what I'm made of, about everything that I am. Because if you hide it, it's a life-or-death situation."
I can't forgive Barbara's tactics. There's no excuse for this kind of ambush in the year 2000. It is our job as a society to provide a world safe enough for people to feel they can live their truth, not to force them to admit it before they are ready.
Ricky said part of the issue with coming out before he did is there are not enough examples of LGBTQ mentorship in the Latinx community. Something he hopes to help correct. As is probably pretty obvious, I adore Ricky. I'm thrilled he's on the cover of People and out there living his best life. And bless him for trying to make so many others lives better along the way.
Look who's hanging out with Ricky!
Ricky Martin and Dr. Fauci surprises us at the #LatinAMAs. ¡Entérate y únete a la conversación aquí! pic.twitter.com/x5GylTZvnI

— Telemundo (@Telemundo) April 16, 2021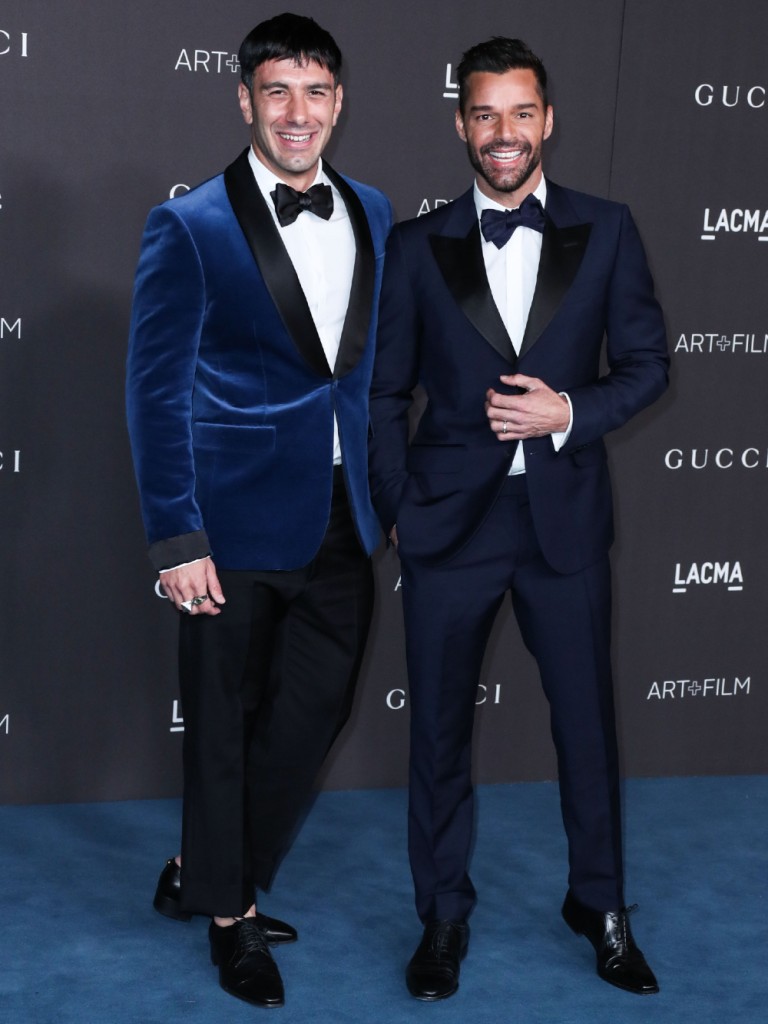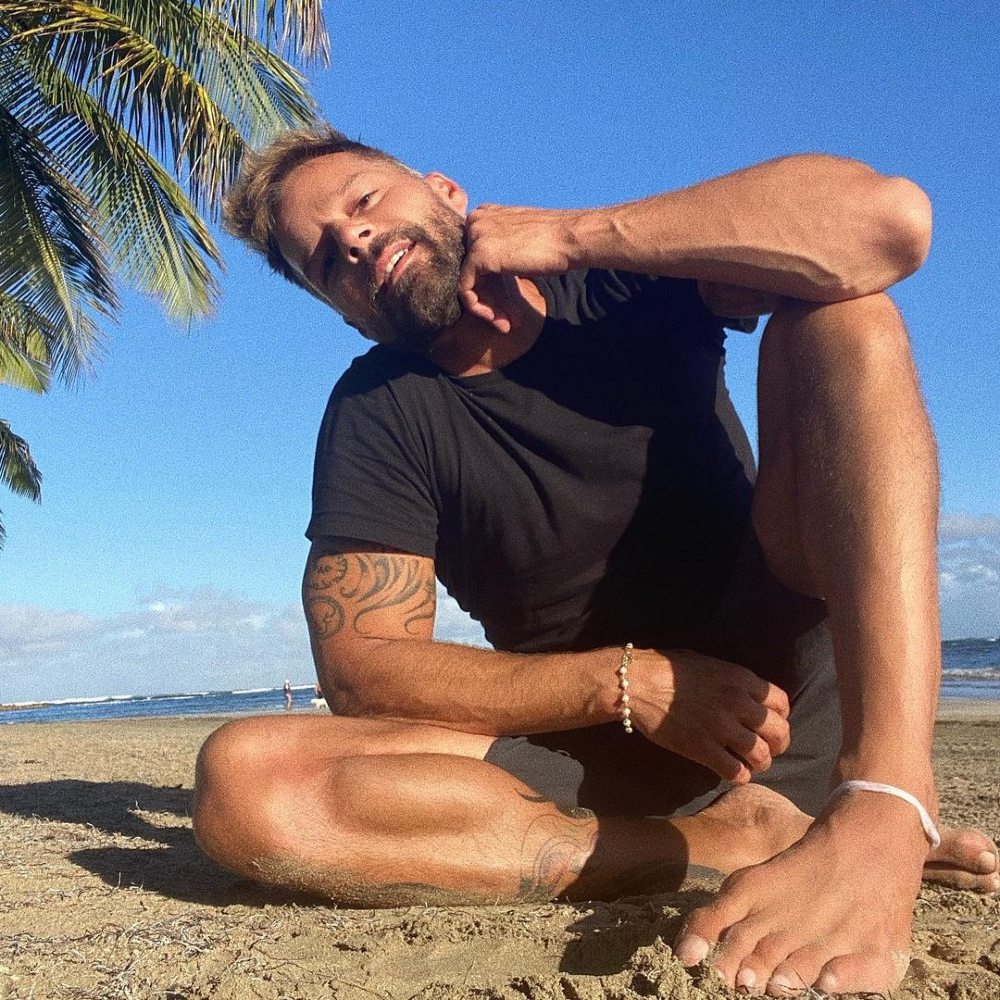 Photo credit: People, Twitter, Avalon Red and Instagram