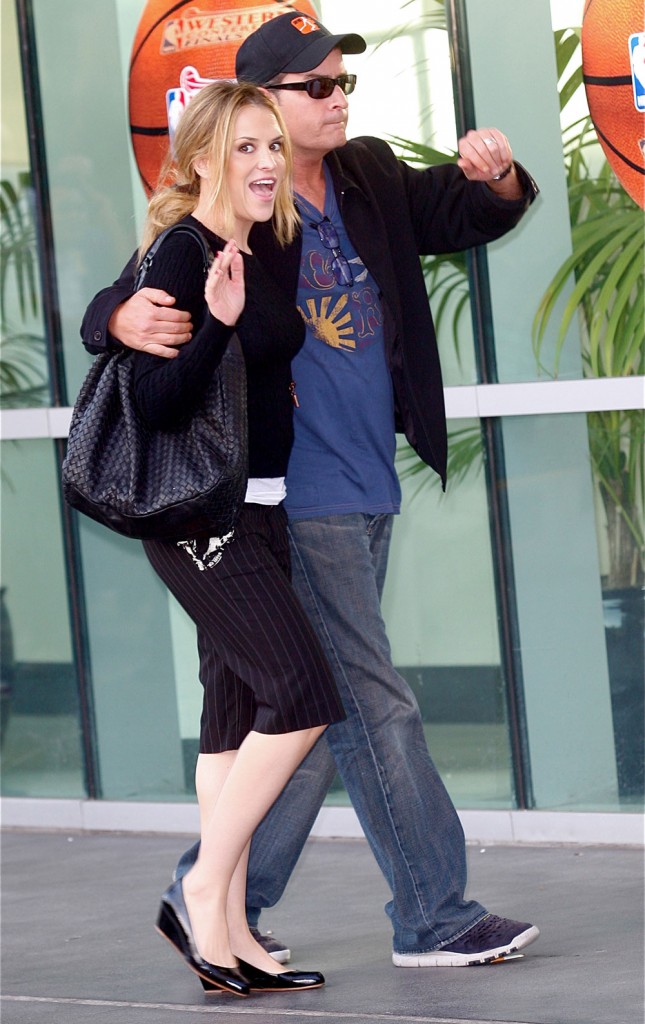 It's been a while since we've heard anything about exes Charlie Sheen and Denise Richards hating each other. Is the war over? Or is it now just a Cold War, based on coolly one-upping each other? Or does everybody get along now, for the sake of the kids? I don't know. But if Gatecrasher's little story is any indication, perhaps "the Cold War" theory might be right on.
Apparently, Charlie's current wife Brooke and Denise Richards both turned up at the same gifting suite at the Emmys. Not at the same time, thankfully. Denise was there first, and Brooke came in after. While Denise was able to leave with a fabulous diamond-and-gold necklace, Brooke pitched a fit when she was denied the same one. Brooke was even overheard bitching about how Denise had gotten one. Note – Gatecrasher refers to Denise as Charlie's first wife, but she was actually Charlie's second wife. Brooke Mueller is his third wife:
Brooke Mueller may be Charlie Sheen's second wife, but that doesn't mean she has to accept second best.

Mrs. Sheen 2.0 threw a fit at Kari Feinstein's Emmy Awards gifting suite over the weekend when she was denied her request of a diamond-and-gold Hershey's Kiss necklace – and offered silver instead. "I know [Charlie's first wife] Denise Richards was here earlier, and she has a diamond necklace," the furious Mueller sniffed. After being told that reality star Richards did, indeed, have the bling in her possession, Mueller sniped: "She's going down!"

Be fair, Brooke. You did get the man, after all.

Meanwhile, Demi Moore and Ashton Kutcher revealed their affinity for swag on Friday, when they sent their assistant to grab gifts for them at the Suite Life at Skybar L.A.

The P.A. wound up picking out nearly $3,400 worth of gear for her bosses. Says one onlooker, "The poor girl could barely walk, she was so laden down with bags!"

A rep for Moore insists the gifting suite offered to send the items and that "the bag and its contents were hardly worth thousands of dollars."

Mueller's rep also denies the claims.
[From Gatecrasher]
I don't really doubt that there's still some anger, resentment, bitterness and nastiness between the Charlie Sheen-Brooke Mueller household and Denise Richards, but even I think this story is a little weird. I mean, to get pissy about a free necklace? Really? And here's another question – why would Denise be considered more worthy of a necklace than Brooke? Brooke was actually the wife of an Emmy nominee. What was Denise doing there? I'm really asking, I'm not trying to be mean. I actually like both Charlie and Denise. They don't seem like good people, necessarily, but they both seem like they would be a lot of fun at a party.
Brooke Mueller and Charlie Sheen are shown on 5/21/09. Credit: WENN.com/Apega/Agent47. Denise Richards is shown on 9/18/09. Credit: WENN.com