Gwyneth Paltrow is selling jewelry on Goop. The line is called G. Label Jewelry Collection and is available on the Goop website currently. To announce the collection, Gwyneth posted the Instagram above in which she is wearing the Apple Circle Pavé Drop earrings priced at $1,450. The earrings are named after her daughter, Apple Martin, whom Gwyneth said inspired the collection and helped in the design process. Gwyneth also indicated this was all motivated by their mother and daughter tradition of getting a new piercing every year for Apple's birthday. Every year.
Gwyneth Paltrow and daughter Apple Martin share a special style tradition each year when the Goop founder celebrates her eldest child's birthday.

The lookalike mother-daughter duo get a new piercing on Apple's birthday, so it's no wonder Paltrow, 48, dedicated a design from her new Goop G. Label Jewelry collection to Apple, 17.

"Every year on Apple's birthday, we get a new piercing — it's this little tradition we have," Paltrow said on Instagram. "She was a big inspiration for this collection and helped me refine the designs. She'll definitely be 'borrowing' her namesake earrings."

In Apple's honor, the lifestyle guru and entrepreneur created the Apple Circle Pavé Drop Earrings for the line, a trio of hoops featuring 44 diamonds, retailing for $1,450. The sentimental earrings are one of six of the classic investment pieces Paltrow designed for Goop's debut jewelry collection.

"I don't differentiate between day and night. If I invest in a great piece of jewelry, I'm going to wear it all the time: I'll sleep in it, wear it on the red carpet and pick up [my son] Moses from school in it," she said

Jewelry has always held a special place in Paltrow's heart. When the actress looked back at her life through style in a Vogue video, she shared the heartwarming story behind the pieces she wore to the 1999 Oscars: Harry Winston diamond earrings and a matching choker necklace.

"I had borrowed [these] Harry Winston earrings and necklace for the Oscars, and then after I won, my dad, as a present, surprised me with them," Paltrow explained. "Now I'm gonna cry. So, that was very sweet."
In my short tenure as a gossip blogger, I have seen my share of photos of Gwyneth Paltrow. You know what I have never noticed about Gwyneth? Multiple piercings. Up until I clicked on these jewelry shots, I'd never noticed any upper ear piercings. Apple turned 17 last month, when exactly did this tradition begin? Because there's only one or two extra earrings in their ears and nothing in their noses. How many nipple rings does Gwynnie have? Also, I assume the nose and personal jewelry line will be the second rollout. Maybe Gwyneth can do a crossover and include a Christina Bar as a surprise in one of her vagina candles.
As for the G. Label Jewelry Collection, I like it. I can't afford it, but I like the simplicity of the pieces. I'd wear everything but the ear cuff and that's just because I am not a cuff person. Unlike Gwyneth, I do not sleep in my jewelry, and I frequently change mine out for day, night, diva, party, mood change, etc. But I also have very few investment pieces, so maybe my costume jewelry encourages switching it up more. I do like that Apple influenced the line and if she really did have a hand in refining the designs, good for her, she's got a good eye. I'm sure they have gotten pierced on a couple of birthdays, I just doubt it has been every year or they would both look like pin cushions by now. But I'm all for family traditions and those inspiring creativity. I also love the story Gwyneth told about her dad buying her Oscar jewels as a surprise.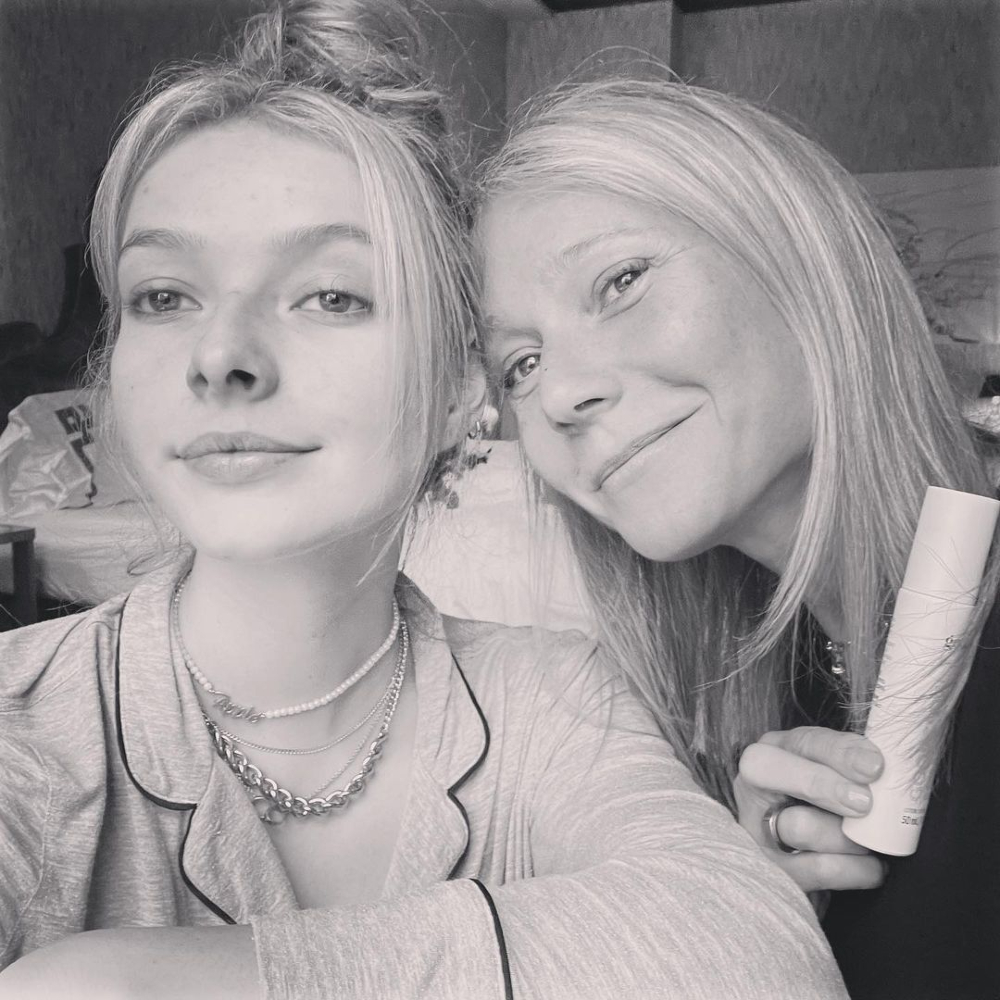 Photo credit: Instagram