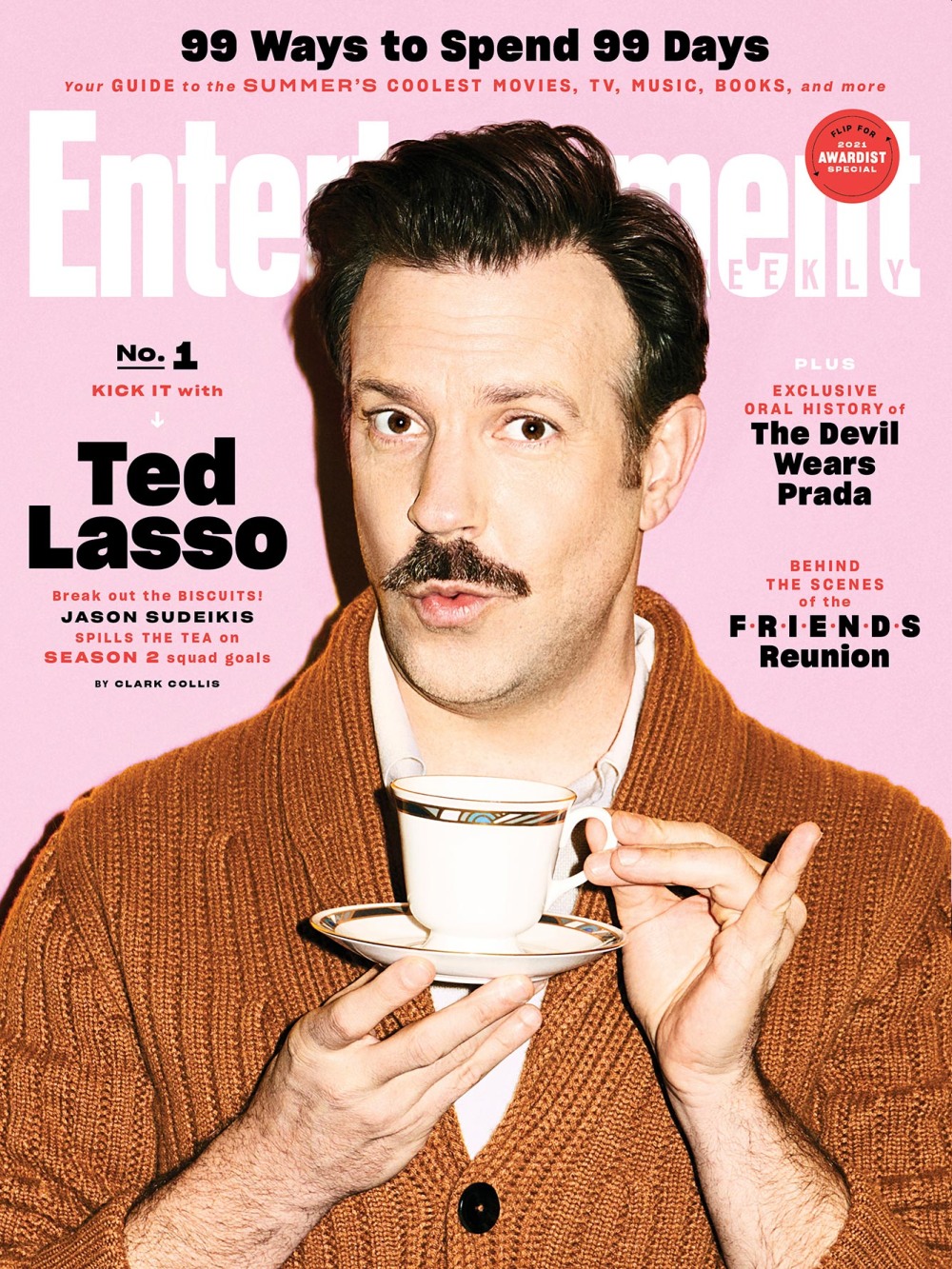 Jason Sudeikis covers the latest issue of Entertainment Weekly to promote Ted Lasso Season 2. The first season of Ted Lasso dropped last year when everyone was home in lockdown, and it became the happy comfort-show of lockdown, honestly. Jason Sudeikis is perfect as Ted Lasso, which is a character he created. He co-writes the show, he executive produces it and he's involved at every level. He keeps saying that he's always seen the show as a three-season arc, but who knows what will happen if Apple+ gives him everything he wants. Jason chats about that and other things with EW. Some highlights:
Ted Lasso started as a bit for NBC commercials: Sudeikis had such a good time playing Lasso that his then fiancée, actress Olivia Wilde, suggested he develop the character further. "Liv was like, 'You should do [a] TV show or a movie.'"

How the pilot came together: In 2017, Scrubs creator Bill Lawrence reached out to Sudeikis. "I was chasing Jason to do a project," says Lawrence. "He said, 'I don't want to do your thing, but do you have any interest in doing this thing of mine?' My ego was hurt for a second. Then I dove in." Sudeikis and Lawrence made the pitching rounds, but only the executives at Apple bit. "We pitched it to at least four places and three of them said it wasn't their cup of tea."

Sudeikis, unlike Lasso, loves tea: "With enough milk and sugar, I'll drink piss. Especially if it's caffeinated."

He's conflicted about the show's popularity because of the pandemic: "I would trade that for kids being able to go to school. But it's been profound. Not a day goes by when I don't receive a message from someone talking about how the show affected them."

Winning a SAG & Golden Globe for the role: "It got lost in people talking about my f—ing hoodie, but I reject the notion of winning something called a 'Best Actor' trophy. It's only a reflection of who I get to act with."

Whether he's like Ted Lasso: "I used to be like, 'Oh, it's me on a few beers.' I don't know, man – it's tough to live up to."

Season 2 is like Empire Strikes Back. "People go into their caves and face their s–t."

Whether Apple will send the money truck over to convince him to do more than three seasons: "It's called the iMoney truck. I mean, I don't know. The story that I know is the one that I wanted to tell, and so that's the one we're telling with the help of numerous people in front of and behind the camera, so it's by no means me typing every key stroke and saying every word. It's nowhere near like that. But the story that's being told – that three-season arc – is one that I see, know, and understood. I'm glad that they are willing to pay for those three seasons. As far as what happens after that, who knows? I don't know."
Part of me does think that Sudeikis should just do the show the way he wants to do it – three seasons and done – just because the show would suffer if Sudeikis just decided to do extra seasons for the money. That being said, there's so much comedy and pathos to mine from this set-up. Something I didn't know: Brett Goldstein – who plays Roy Kent – is one of the "British writer" hires for the show. That's amazing because he's soooo good as Roy Kent, I love that he's also writing some of the show too. And Hannah Waddingham (who plays "Old Rebecca" lol) sounds like she adores Sudeikis and the show. Anyway, I'm so excited for Season 2!! It premieres on July 23rd.
Watch #TedLasso stars @hanwaddingham, Juno Temple and @sarahnilestar marvel at how extraordinary @JasonSudeikis is!

Read our full @TedLasso cover story: https://t.co/Jv6zmpORyu pic.twitter.com/cU4rBngrsT

— Entertainment Weekly (@EW) June 11, 2021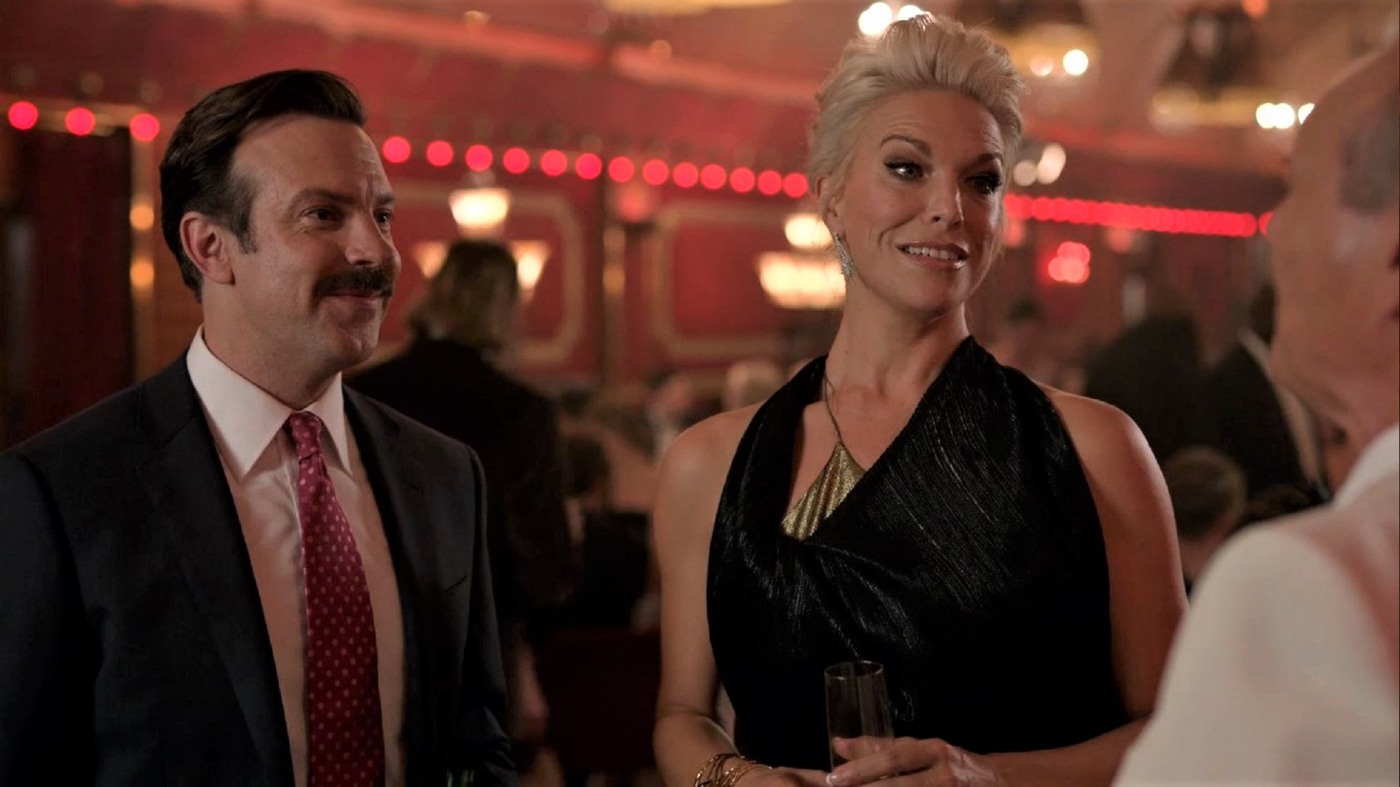 Cover courtesy of EW, additional photos courtesy of Apple+.