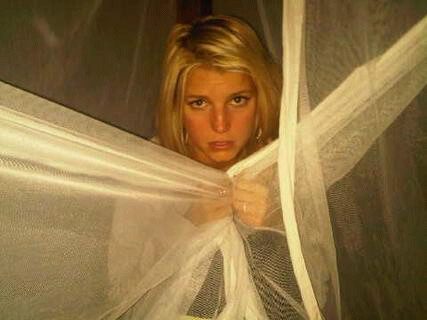 My new favorite quote (replacing last week's "future false accusations" from Eddie Cibrian's rep) is Jessica Simpson's new tweet from Uganda. Jess posted this picture of herself with some fly nets, and tweeted "WTF?!? Do I really have to sleep like this?" Ah, the entitled princess. God, I love her. She's dumb, but she's hilarious.
Jessica in in Uganda for her VH1 series The Price of Beauty. This is her first trip since her puppy Daisy was taken by coyotes. It also seems that Jessica's tragedy has made the cover of this week's Us Weekly. The cover uses the words: meltdown, tragedy, heartbreak, alone, killed, crying, and weight. God, that hits all of the sweet spots, doesn't it? They might as well just put a picture of Jessica with the words "Pathetic Girl Will Die Alone":
Jessica Simpson is moving on.

Days after calling off the search for her dog Daisy who was snatched by a coyote last week, the star, 29, is in Uganda, Africa, filming more of her upcoming reality show, The Price of Beauty.

"WTF?!?" she Twittered Wednesday after posting a photo of herself surrounded by protective fly nets. "Do I really have to sleep like this?"

Simpson, who is in Africa with pals Ken Paves and Cacee Cobb, is "focusing on work" after the loss of her 5-year-old maltipoo, a source close to the star tells Usmagazine.com.

"She's so happy just seeing the world and opening her eyes to what's out there," another source tells Us. "This is a good project for her."

The star is also set to visit Mumbai, India, for the show, which does not yet have a premiere date.
[From Us Weekly]
I like Jessica's optimism, and I think it's for real. That's why I've always adored her, honestly. She doesn't really wallow in sh-t, playing the "pity poor me" card month after month. She's not smart enough to play the media in any real way. While her friends are feeding quotes to the tabloids about how devastated and pathetic she is, Jessica just continues working and doing her normal, ditzy "WTF?!? Do I really have to sleep like this?" Lucille Ball thing, which I love. I'm rooting for her, bless her heart.
Header image from Jessica Simpson's twitter. Image of Us Weekly cover below via CoverAwards