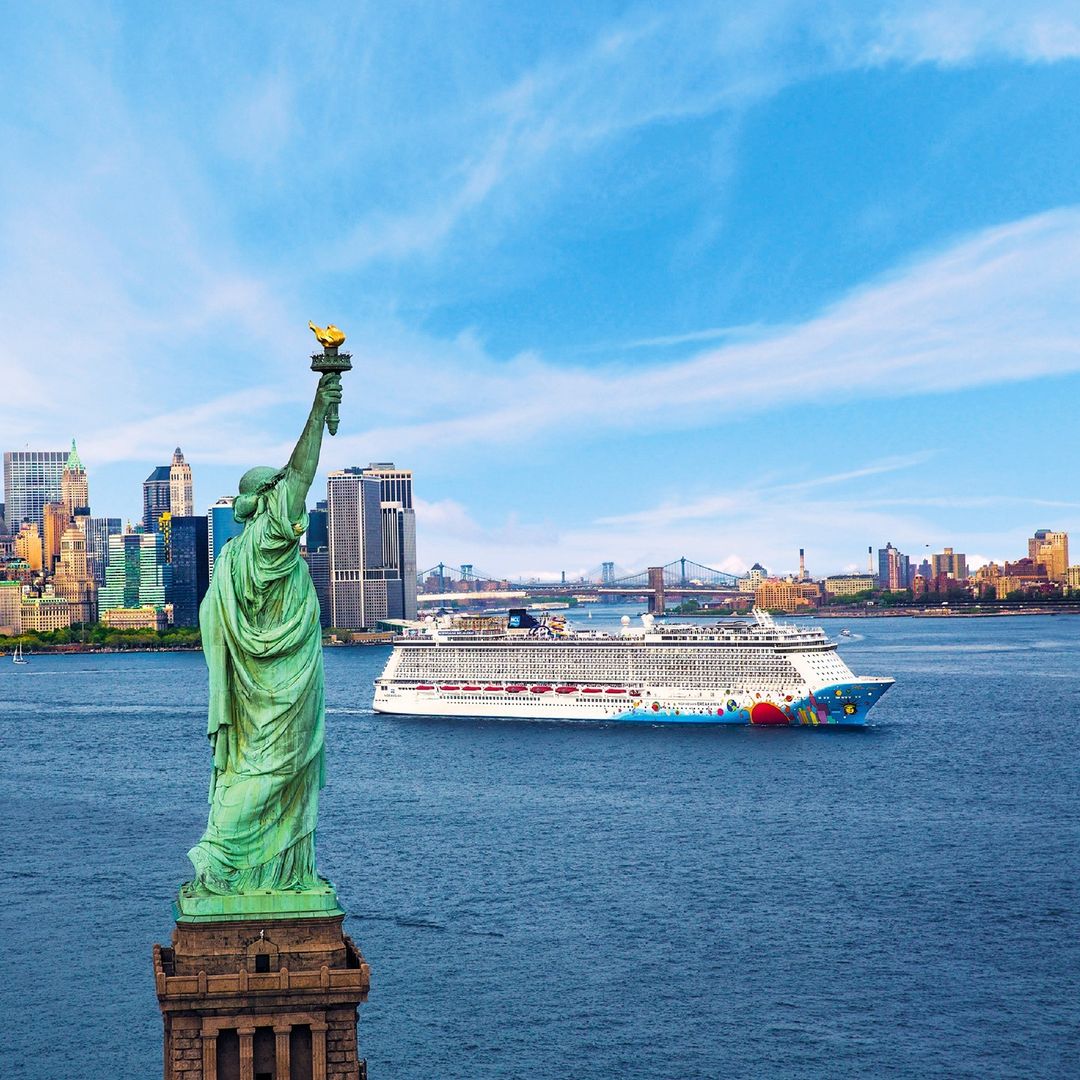 Last month a federal judge sided with Florida governor Ron DeSantis against the CDC. DeSantis sought to block the cruise lines from enforcing the Conditional Sailing Order set by the CDC, which recommended all eligible passengers and crew be vaccinated. At the time of the judgement, Norwegian Cruise Lines (NCLH) threatened to pull out of Florida. NCLH has now sued the state, stating that they must keep their crew and passengers safe from contracting coronavirus. The suit was filed Tuesday. NCLH states that they cannot afford to pay the up to $5000 a person penalties for each passenger they're asking to submit proof of vaccination. Below is more on the story from People:
According to court documents filed Tuesday, the powerhouse cruise line company is suing Florida Surgeon General Scott A. Rivkees "as a last resort after the State of Florida has indicated that it is otherwise preventing NCLH from safely and soundly resuming passenger cruise operations from Miami, Florida, starting August 15, 2021, in the way that this cruise line has determined will be best for all concerned — with the benefit of documentation confirming that all of its passengers and crew have been fully vaccinated against COVID-19."

The filing comes after the state's Gov. Ron DeSantis banned businesses from requiring COVID-19 "vaccination passports" or any other proof of vaccine from its customers. The law went into effect on July 1, according to Forbes.

Norwegian said in their filing that they're "duty-bound to protect the health and safety of its personnel and passengers [by] requiring proof of vaccinations, yet NCLH cannot afford to expose itself to prosecution by Florida and crushing penalties of up to $5,000 per passenger, as it would by requiring vaccine documentation in the present posture."

The company went on to allege that "Florida's Ban on vaccine verification poses imminent, substantial, irreparable harms to NCLH's business."

"No other port or jurisdiction visited by NCLH imposes any such Ban on vaccine documentation," Norwegian said. "Only Florida is bidding to constrain NCLH in this critical respect, yet the resulting threat imperils all of NCLH's employees, passengers, and operations around the world."

"Risk of exposure to COVID-19 will invariably tick up if NCLH is denied the ability to verify through documentation that all passengers have been fully vaccinated," the cruise line argued. "The inability to verify vaccination status will hobble NCLH's ability to attract, assure and protect passengers."
These Republican lawmakers would rather incite fear instead of protecting their constituency. It is so dangerous and I am furious. I am tired of these self-centered as*holes only caring about making a stand instead of protecting themselves and their fellow humans. This pandemic has definitely highlighted how disconnected many people are and how gullible much of the electorate is. It is scary that we have to live with these people. They are our neighbors, coworkers and family members. COVID is still an issue. My Uber driver told me her cousin died from COVID related pneumonia because she refused to get vaccinated and refused to be put on a ventilator. This sort of ignorance is killing people and I am tired. I am glad that NCLH is suing the state of Florida. These companies should not have to put their customers and staff at risk because dirt bag politicians are trying to win points. I hope the NCLH wins this lawsuit. People going on vacation shouldn't have to fear dying because other people are refusing to believe science.