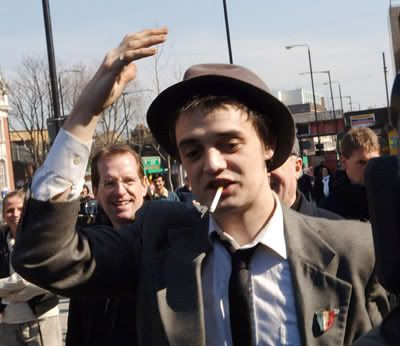 Pete Doherty wore his best skinny tie with a faded Irish flag safety-pinned to his lapel for his court appearance today. He showed up over an hour late to plead guilty to seven charges of drug possession representing the full range of his addictions including heroin, crack cocaine and marijuana. The charges resulted from police stops in December and January.
Doherty's lawyer asked for a six month delay to sentencing, with the judge ruling that he should return to court for a review on April 20th. When he left the courtroom, he got into a scuffle and kicked a BBC One reporter in the elbow:
It was when Doherty left the court – wearing his trademark trilby hat and a gray suit – that he allegedly kicked Barber in the elbow and knocked her microphone on the ground.
"It was total chaos here outside the court both when he arrived and when he left," Barber said on Radio One.
"Afterwards he leapt over the railings outside the court," she said. "All of a sudden he lashed out, kicking me in the arm that was holding the microphone."
Doherty then ran down the street pursued by nearly two dozen members of the media. He jumped over the trunk of a Jaguar sedan and into the driver's seat, nearly colliding with another car when he tried to pull out into the street.
Let us state the obvious that Doherty needs to clean up. He's probably afraid of losing Kate's affections if he does.
Two more pictures after the jump.