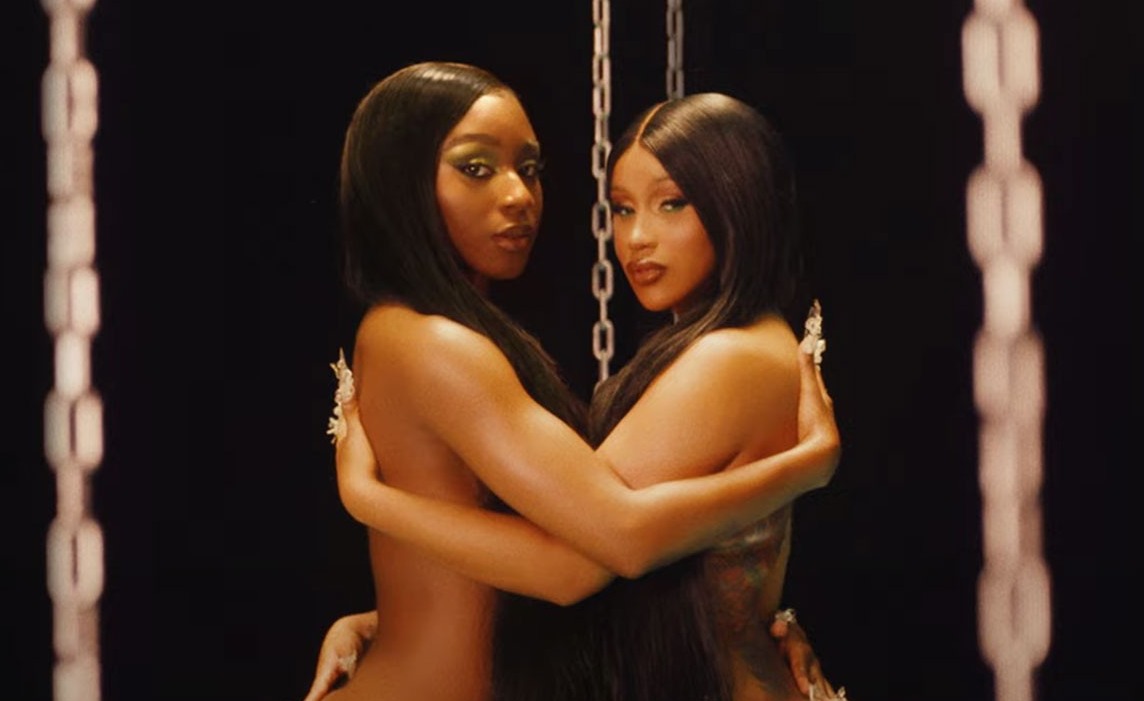 Cardi B loves women. She just does. She has a lot of female friends, she doesn't see her female peers as threats, and she is open to collaborating with all of the women in pop, rap and R&B. Cardi and Megan Thee Stallion broke a lot of brains last year with "WAP," and now Cardi has made a guest appearance on Normani's "Wild Side." Cardi drops in to rap, and in the NSFW music video, Cardi appears naked and cuddled up with Normani. It's a sexy video! And now she's being accused of "queerbaiting" fans because of it. Rolling Stone did a piece about how all of these artists, Cardi included, are queerbaiting these days. RS cited Nick Jonas, Ariana Grande, Madonna, Billie Eilish and Lil Nas X as other examples.
The RS piece is, I think, meant as some kind of explainer for Boomers who don't understand what queerbaiting really is. One of the first times I heard the term was, I think, in association with One Direction, and how certain guys (Liam, Harry) were doing certain gay-friendly things on purpose for profit, basically. I remember Taylor Swift being accused of queerbaiting too, especially around the release of "You Need To Calm Down". Anyway, Cardi isn't about that life and she tweeted out a statement:
Uuummmm @RollingStone queer baiting? You do know we was trying to hide a whole baby bump right ?Also I'm married to a man but I have express soo much about my bisexuality and my experiences wit girls .All of a sudden "queer baiting" is the new word & people use it to the ground ! https://t.co/M3kn4NyJBs

— iamcardib (@iamcardib) July 23, 2021
I don't like this new "queer baiting" word.I feel like it pressure artist to talk about their sexuality or their experiences that they don't feel comfortable speaking about.If a artist kiss a girl on a video does that means she gotta show videos & text wit wit other women?

— iamcardib (@iamcardib) July 23, 2021
Yes, I agree with this. I think concerns about queerbaiting are valid, and I appreciated the nuance of a lot of those conversations around Taylor Swift and "YNTCD" especially (since she did it during Pride too!!). But I think people shout "queerbaiting" whenever any artist is trying to show or represent their own bisexuality, queerness, or sexual fluidity. Sometimes it's not about monetizing a vague sense of queerness, it's about trying to represent your own authentic self or your own exploration of your sexuality. I don't know.
Photos courtesy of Getty, Normani's video.