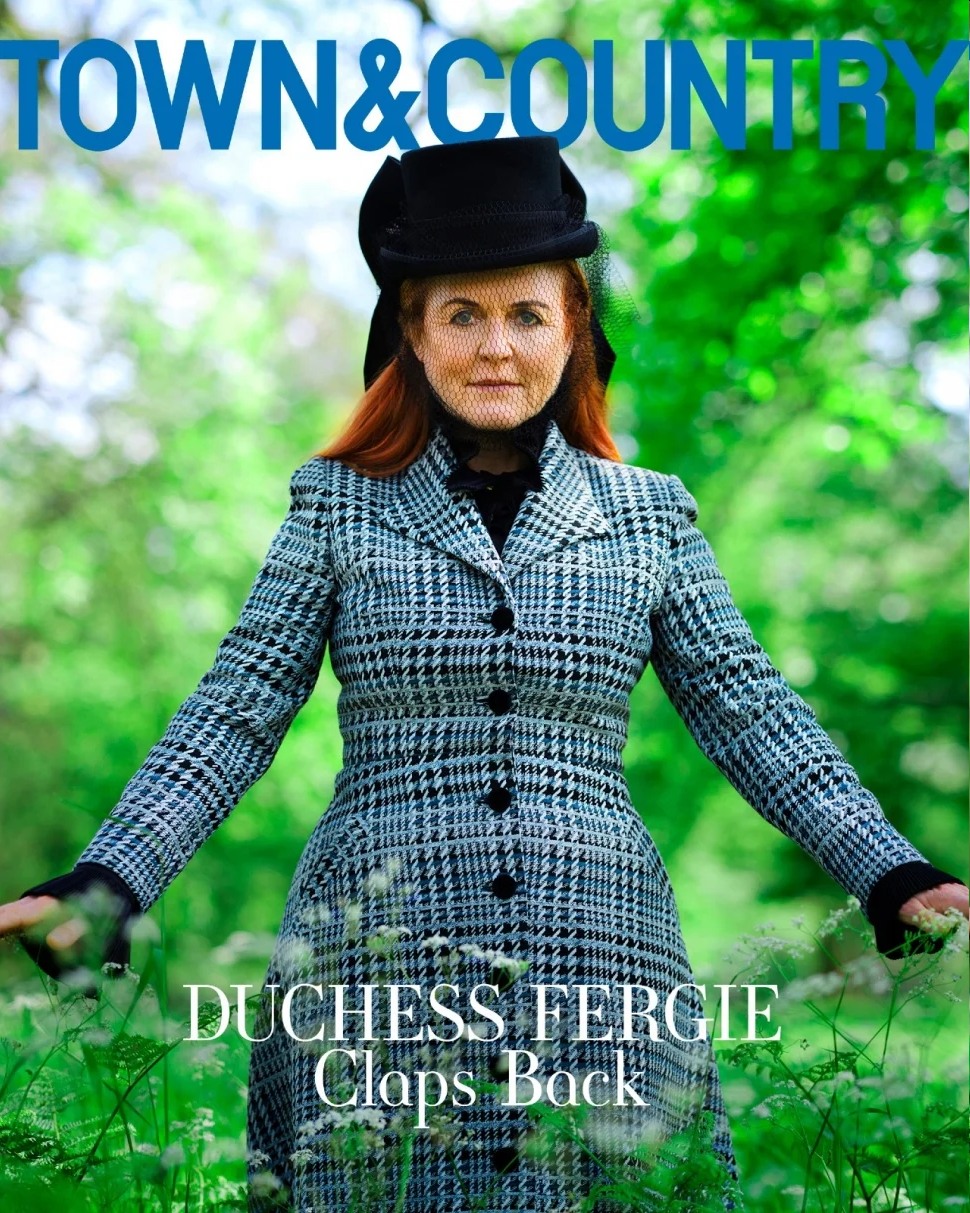 Sarah Ferguson, the Duchess of York, is still promoting her historical romance/drama book, Her Heart For a Compass. That's why she's on the cover of Town & Country, talking about the book and what she's learned and how she's a survivor or something. On one side, I think Fergie got a raw deal about many things back in the day. On the other side, good lord, she brought so much of it on herself. She's a messy trainwreck. At one point in the interview, she proudly declares herself "free of the self-sabotaging Sarah." Which is pretty bold to assume that her self-destructive streak will never raise its head again. Anyway, you can read the full piece here. Some highlights:
She's fit now: "When they say you're the 'Duchess of Pork' or you're 'frumpy Fergie,' you start believing it."

Her media attorney Paul Tweed: Tweed told her, "I think you probably are the woman in the world who has had more bad front pages than any other," which is saying something, considering that Tweed once represented Britney Spears. "I took it as a huge compliment," she says. "I'm really proud that I'm still here."

Free from self-sabotage: "It's a very good moment, because I'm free. She's still with me, that person who thinks she's fat, ugly, and disgusting, and she still has to have her hair done to talk to you, but she's now not so vocal. The truth is, I am 61 years old and I'm free of the self-­sabotaging Sarah."

The press pitting her against Diana: "It was always that Diana was portrayed as the saint and I was portrayed as the sinner. Bad Fergie sold an awful lot of papers."

In 2011 she was excluded from the wedding of William and Kate: It was a decision she neither fought nor resented. "I didn't think I was probably worthy to go to their wedding. I took myself to Thailand, actually, to be far away from it so that I could try and heal."

On being invited to Meghan & Harry's wedding: "It was very kind of them, and I can't thank them enough for doing that because it was nerve-wracking," she said, calling spectator's cheers upon her arrival "quite extraordinary."

On the Sussexit: She refuses to comment directly on Megxit, only offering, "I believe that Diana would be so proud of her boys…and she'd be so proud of her grandchildren."

She watched Bridgerton & The Crown: She watches Bridgerton (which, along with The Bold Type and Riverdale, is among Ferguson's favorite binges) or, for that matter, The Crown, in which she has barely been portrayed. "Hello?" she jokes. "Where is Fergie?" She even wrote to Andy Harries, an executive producer of The Crown, offering input. "I said to him, 'Why can't I help my character?' " she says. Her offer was declined.

She doesn't hold grudges against the people who wronged her: "One day I got up and thought, Mandela forgave his persecutors; surely I can forgive and move forward."

On Prince Andrew: "There is no question that we remain steadfast to each other in loyalty, integrity, honor," she says, haltingly, when asked about his relationship with Epstein. Back in 2011 she dealt directly with the fact that she had accepted $24,500 from Epstein to help restructure her debts, remarking she was "just so contrite I cannot say," a press strategy that might have saved her ex-husband's reputation had he been half as proactive. "The family is everything to me. The most important thing is the girls."
Her "girls" are both adults, they have both gotten married and they're out of the "nest." And she still talks about them like they're five years old. Which just reminds me of several old interviews I've read with Fergie and the York princesses and how the "girls" basically had to raise themselves. Fergie spent their entire childhoods running from man to man, causing problems and self-destructing constantly. That's one of the reasons why my default position is to show Beatrice and Eugenie a little bit of sympathy – they would have been better off being raised by wolves.
Cover and IG courtesy of Town & Country.