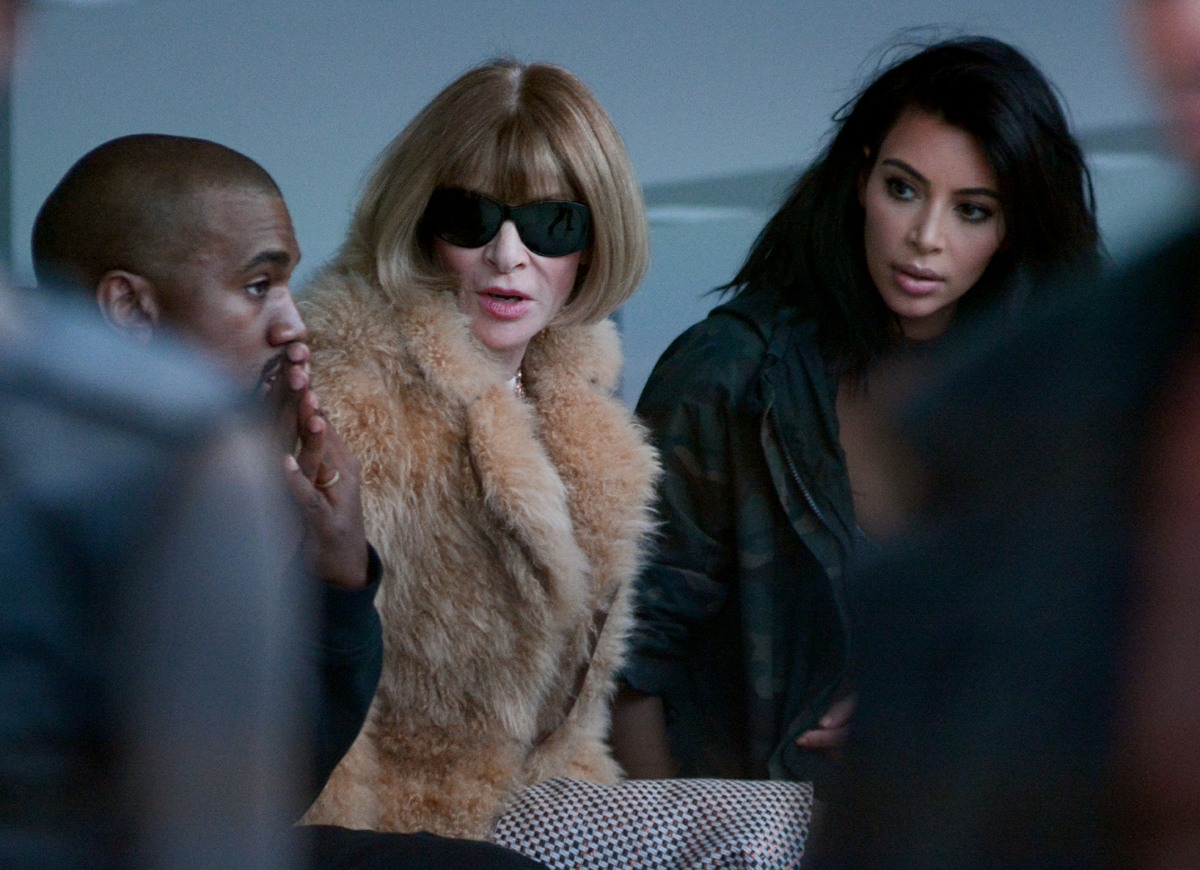 Back in the day, Anna Wintour was a huge Kanye West fan. I'm not sure if she still is, especially since he went full-MAGA in 2016 (and Wintour is a huge Democratic Party fundraiser). But at the start of Kanye's fashion career, Wintour was a huge fan. She was a fan of his music too, hiring him to perform at various Vogue events over the years. I always thought that Wintour's acceptance and promotion of Kanye within the fashion world was more about Kanye's work and connections – he went to Paris, he studied at the ateliers, he befriended Riccardo Tisci and other rising stars in the fashion world. But what if Anna Wintour's promotion of Kanye-the-designer was nothing more than a pay-to-play situation? What if Kanye bought Wintour's good graces?
Kanye West paid Anna Wintour $1million to be accepted in the fashion industry, Janice Dickinson has claimed. Former model Janice alleged that Kanye, 44, "hired" the Vogue editor, 71, to "get him on his feet" when he first launched his Yeezy clothing line. Janie made the wild claims during an appearance on the Behind The Velvet Rope with David Yontef podcast.

"Look what Yeezy did with the clothing line and the footwear," the former ANTM judge, 66, said. "Yeezy hired Anna Wintour. Gave her a million bucks to initially get him on his feet as far as colors and style wise. It sure did."

Anna's spokesperson denied Janice's claims, telling The Sun: "There is no truth to this." The Sun has also contacted Kanye's rep for comment.

Kanye and Anna initially seemed to be on good terms, with Vogue publishing photos of his 2014 wedding to his now-ex Kim Kardashian. However, in 2016, Anna described Kanye's Yeezy season 3 clothing line as "migrant chic". The British journalist came under fire for using the term while explaining how she got lost in the basement at the fashion show. Meanwhile, last summer Kanye claimed Anna treated him "like he was crazy" when he signed a 10-year deal with Gap.
"Gave her a million bucks to initially get him on his feet as far as colors and style wise…" Surely that's just describing a consultation fee for one of the biggest experts and gatekeepers in the fashion industry? It can be both and it probably is both, if what Dickinson says is true. Kanye likely paid Anna Wintour as a "consultant" to help him with the first seasons of his Yeezy lines and that consultation fee covered a lot of other stuff too, like Wintour giving her stamp of approval to all things Kanye. For a time.
Photos courtesy of Avalon Red, Getty.