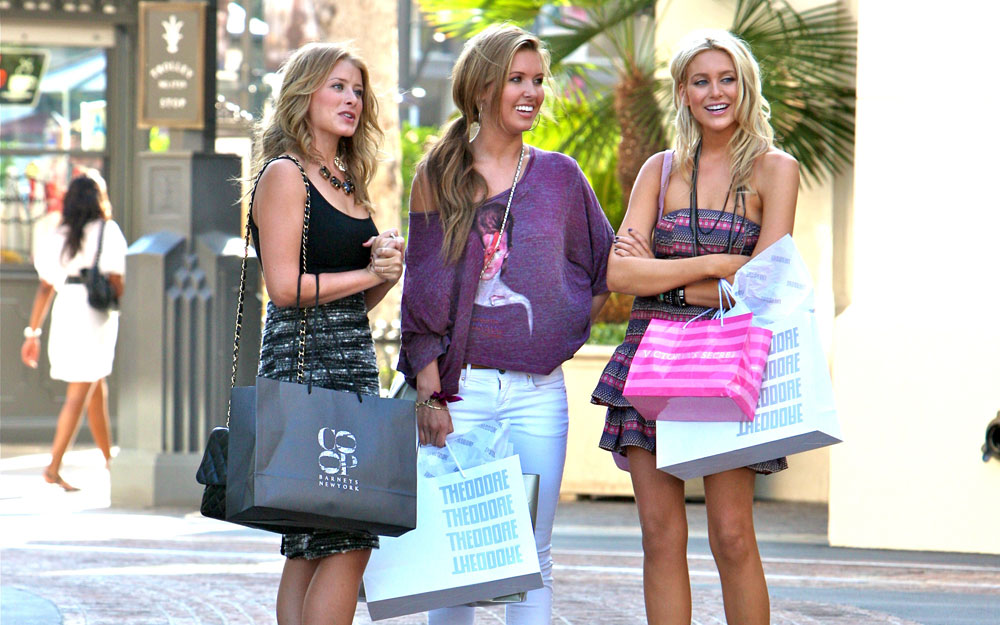 You'll have to excuse my ignorance, but I don't watch The Hills. Whenever I catch a glimpse of it, I'm filled with rage and I end up yelling at the television screen. It's not even that I find Lauren Conrad or Audrina Patridge or any of the other people (whose names I don't want to learn) that disgusting. It's that I find the idea of this kind of faux-reality entertainment disgusting. I watch shows like House (which was really good last night, wasn't it?), NCIS, 30 Rock and The Office – you know, shows with good writing, interesting character development, and a more solid basis in reality than The Hills.
So that's my rant. I don't know why the show is popular, and I don't why The Hills cast members are so popular, and I really don't know why they're getting paid so much to wander around and be vapid. If that makes me an old fart, so be it. But these new revelations about their salaries has my blood boiling. Lauren Conrad is exiting The Hills after making $125,000 an episode. Kristen Cavallari is starting off with a $90,000 an episode salary. Make. It. Stop.
As the hit MTV show returns, Nicole LaPorte exclusively uncovers payday drama: Kristin makes $90,000 per episode compared to Spencer's $65,000 and Audrina's $100,000. Plus, Spencer spills on his co-stars and view our gallery of reality TV salaries.

As of Tuesday, as any tween worth their Juicy Couture jeans will tell you, "The bitch is back"—i.e., Kristin Cavallari is joining the MTV docusoap The Hills as its resident diva. She's replacing Lauren Conrad, who's been the good-girl star of the series until she started complaining of Hills fatigue and decided, after five seasons, to leave.

It won't be Cavallari's first reality-TV stint (hence, why she's "back."). Her fangs were first bared on Laguna Beach, the precursor to The Hills, which followed Conrad and her posse of hot and fabulous friends when they were "regular" high-school students in a town that makes Malibu look like the slums.

The Hills, which debuted in 2006, caught up with Conrad when she moved to Los Angeles and found a new group of hot and fabulous friends—including the infamous, and beyond blond, Heidi Montag and Spencer Pratt, aka "Speidi," as the tabloids have anointed the couple—whose lives are just as surreal: Despite entry-level jobs in fashion and media, they all live in opulent apartments, drive fancy cars, and eat out at chic restaurants. Oh—and they can afford plastic surgery. (Think Sex and the City for the barely legal.)

After Laguna Beach ended, Cavallari tried to leverage her own 15 minutes into something more: becoming a "real" actress. But that didn't pan out as planned—most of the roles she landed were in direct-to-DVD releases, such as Van Wilder: Freshman Year—and so now she's returning to reality TV. Through her publicist, Cavallari declined to comment.

The move may seem counterintuitive, or like a kind of consolation prize. But that's hardly the case, considering that MTV is so desperate to keep The Hills—its highest-rated show by a mile—alive and thriving that it's shelling out major dough to the cast, marking a paradigm shift in the business: Reality TV as the cheap alternative to scripted programming? Not anymore.

Cavallari is being paid $90,000 an episode, which is almost as much as Conrad was making: $125,000 an episode (or $2.5 million a year), according to a person with knowledge of the show's contracts. Conrad's deal stipulated that no other star's salary could match hers while she was on The Hills, but those of supporting cast members Audrina Patridge, Lauren "Lo" Bosworth, and Montag come close: $100,000 a show. As for Pratt, his rate is a slightly less at $65,000 per show, because he only joined as a regular in 2008. (In comparison, the stars of The Real Housewives series receive a reported $30,000 a show.) In the case of Brody Jenner, Conrad's BFFWB (Best Friend Forever With Benefits), he takes in $45,000.

And that's just what they get paid for doing their day job. The Hills and its stars have become such a name brand—in certain circles—that Cavallari and Co. receive between $20,000 and $25,000 for personal appearances—which last no more than two hours—at events such as club and gallery openings, according to Mike Esterman, a celebrity booking agent. When Speidi showed up at a Valentine's Day gala in Las Vegas, Pratt and Montag each took home $30,000. And Montag's recent Playboy cover shoot—she graced the September issue of the magazine—earned her $375,000 plus a generous chunk of royalties, despite the fact that she didn't take it all off.
[From The Daily Beast]
CB wants me to point out that The Hills stars are actually making a lot less than other "primetime stars" like Hugh Laurie ($300,000 an episode), Charlie Sheen ($350,000 an episode) or Ellen Pompeo ($200,000 an episode). Also, the voice talent on a show like The Simpsons get huge salaries, just for their voice work – something like $400,000 per episode. What's interesting about that is when you consider The Hills' advertising demographic – advertisers are probably paying through the nose to get ads on new episodes, just because The Hills' viewership is young, dumb, upper-middle-class, and will buy anything. If you look at it that way, MTV is probably making a bigger profit from their hit show than any network – and perhaps the reality stars deserve even more money. Gah!
Lo Bosworth, Audrina Patridge and Stephanie Pratt are shown filming The Hills on 9/18/09. Credit: WENN.com