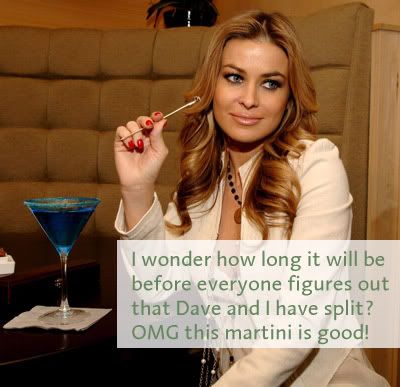 Carmen Electra was on hand to deal the ceremonial first hand at opening of Foxwoods Casino's "World Poker Tour" poker room in Ledyard, CT, yesterday. Electra also enjoyed Foxwoods' "signature $3,000 Sapphire martini" and supervised the handover of a large physical, but small denominational check of $25,000 to the Children's Miracle Network. (That's less than 9 martinis – you think they could spring for more.) Lisa Gastineau was also hired as a per diem spokesperson.
Electra's husband, Dave Navarro, did not come with her to the opening. Egotastic has some juicy news from an insider who claims that the rumors of their marriage being in trouble are sadly true:
Well as far as I am concerned (because I hung out with Dave three weeks ago), he's broken up with Carmen and wasn't wearing his wedding ring.
The producers were like "Oooh, come to the after party, Dave is looking for a night of fun if you know what I mean!" after I asked about Dave and Carmen's status (funny, my boyfriend was standing like 5 feet away haha).
They also kept referring to him and Carmen not being together, and they were trying to recruit girls. He was looking for some girls for the night, but when I was like, "What?! I love Carmen! They aren't together?" Then they'd get all hush hush with funny smiles and say they aren't saying nothing…
There you have it, an anonymous tip to add that extra pinch of credence to the rumors. Chloe Sevigny is shaking her head in an "I told you so" way right now.
Here are pictures of Carmen at Foxwoods yesterday.
Nine more after the jump.