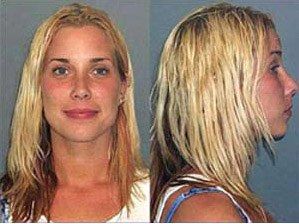 Eminem's estranged wife, Kim Mathers, spoke to a Detroit radio station yesterday morning about the couples second divorce. Eminem filed for divorce from Mathers after just three months. Mathers said she hadn't spoken to him in over six weeks, but that the divorce was unexpected. She also claimed that he is addicted to pills again:
"
He's having problems with, you know, his problem that he had," she said, an apparent reference to the sleep-medication dependency for which Eminem was hospitalized last summer.
"I was hoping we could get counseling and work it out, you know? …
"Right after he came home from his rehab, we started to have a few problems, and I thought it was going to be in our best interest to delay the wedding," said Mathers, who was remarried Jan. 14 to her high school sweetheart.
"But he really pushed it and I thought it was really going to be something that worked this time," she said.
Eminem, however, has not spoken with her in about six weeks, she said, and surprised her by having her served with divorce papers.
"I don't really necessarily want to get divorced," said Mathers, whose first marriage to Eminem lasted from 1999 to 2001. "I was hoping he was going to come home and say, `I got us a counselor, let's go.' But you know it didn't work out that way. I got an attorney at the door instead."
For his part, Eminem has released a statement saying that Kim's claim that he's back on drugs is not true and that she knew he was divorcing her ahead of time:
"First, her allegations regarding my status post-rehab are both untrue and unfortunate. Second, she was aware that I was filing for divorce. We both tried to give our marriage another chance and quickly realized that a wedding doesn't fix the underlying problems."
Mathers has had her own problems with drug addiction and has a lengthy arrest record that includes allegations of assault, cocaine possession, and drunk driving.
Everyone knows that you can't get back together with your ex and expect it to work unless you both get serious therapy. The same problems come up again in different painful ways. His wife realized that they needed counseling, but Eminem was unwilling to do it. It sounds like he was just stubborn, and thought he could get back with Mathers for the sake of his daughter without doing any of the emotional work required. It's ironic that he can tell the world his most intimate problems through his lyrics but is too much of a pussy to talk to a shrink.