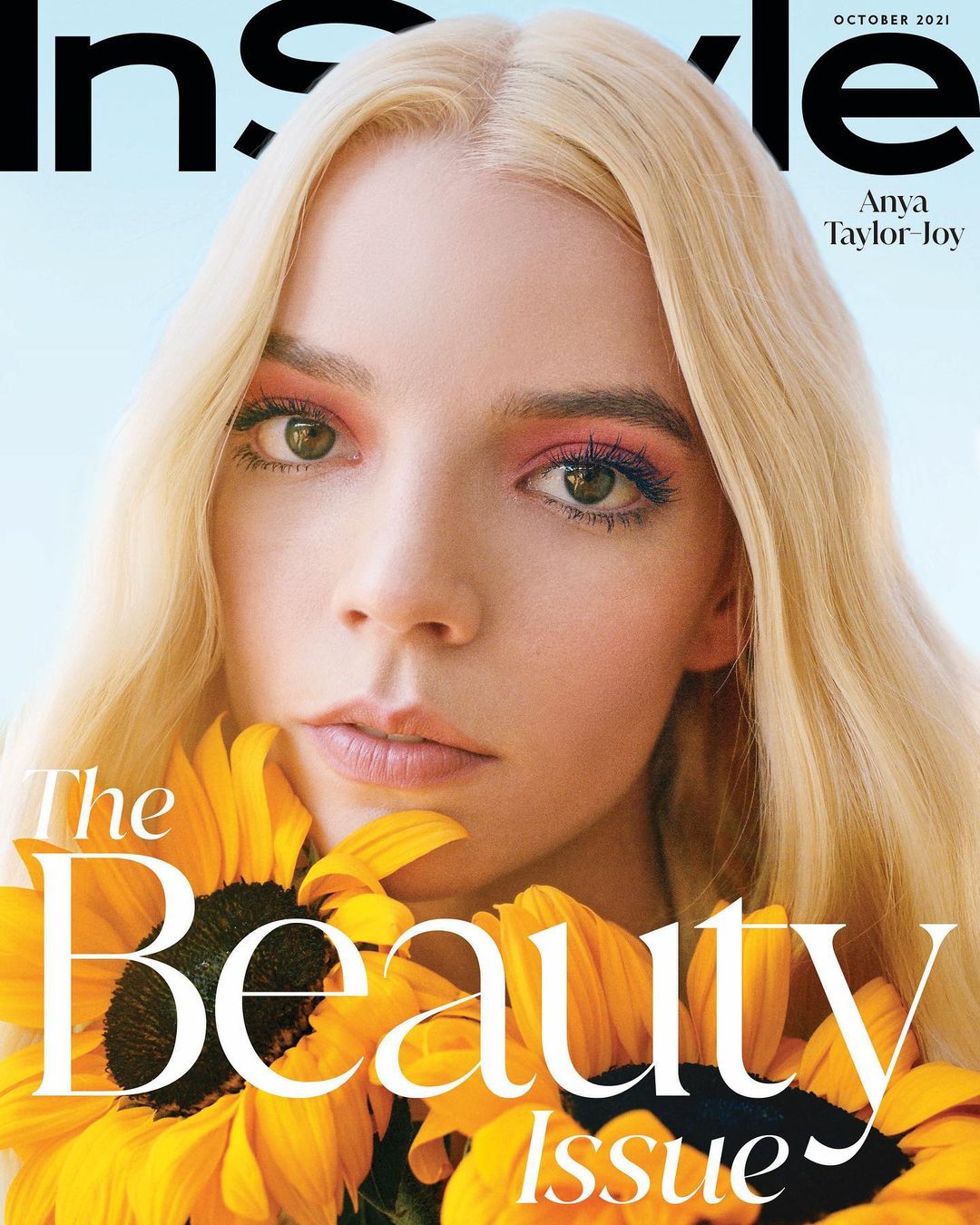 The thing I like about Anya Taylor-Joy's interviews is that she really doesn't hide how neurotic she is. She's kind of a mess and she wears it on her sleeve. In interviews I've read with her in the past year, she's talked honestly about how she's a workaholic with zero social life, how she cries on planes, how obsessed she is with work, how it's taken her years to learn how to take care of herself when she's working, and on and on. She's not some soundbyte-reciting, publicist-driven, manufactured "celebrity." She's really talented and she works constantly and something had to give, and that something was Anya's personal life. She covers the latest issue of InStyle and this piece is similar to all the others.
Playing a mod singer in 1960s London in Last Night in Soho: "The strangest thing about playing Sandy was I had finished Emma the day before. To go from being in a corset, being very prim and proper, to suddenly being in a room where everyone's touching each other and I'm making out with this dude…I had to exorcise Emma very, very quickly."

On her crazy life these days: "I don't think that I could be mentally stable and be walking around and thinking, yes, this all makes sense. I also have great friends who tease me mercilessly if I even hint at being overworked or stressed. They're like, 'Oh yeah, honey, it's so sad that you have to go get on a plane and go do whatever.' It's all in good fun, but they're right, I'm very lucky. I'm very privileged. It's so much, but it's still so bizarre."

She forgets she has laurels: "I tend to forget my accomplishments as soon as I've done them. On the one hand, that's not great for your self-esteem. You need to remind yourself you've done things you can be proud of. But on the other hand, I'm consistently like, 'What's next? What am I doing in this moment in time? How do I do this to the best of my ability?' I never feel like I'm resting on my laurels, because I don't realize I have them yet."

A people-pleaser: "I really struggle with wanting to give everybody everything all of the time. One of the things that I've learned recently is you have to do what makes you feel good, not what other people tell you should make you feel good. If you spend what little time you have off only doing things out of obligation, your soul suffers from it."

Her Argentina-UK-US childhood: "I grew up feeling like people didn't like or trust me because they couldn't put me in a box. I was always the Argentine girl in England. I was the English girl in America. I was the weird blend of both in Argentina, so I never really fully belonged."

She's still learning: "I did this one project where they bleached my hair from root to tip every Sunday for three and a half months. Then I dyed it brunette, and the stylist said, 'Oh, that's so cute. You have an undercut.' She lifted up my hair and the whole bottom was completely fried off. I was like, 'Ah, OK, bleach is bad, good to know.' I grew up as such a tomboy that I had no concept of hair dye, of how to take care of my skin or anything. Now I know some things."
I hate that it's only going to get worse for her – I looked at her IMDB, and not only is she currently promoting Last Night in Soho, she's also filming one movie, with two more in pre-production and two other films in the can, which she'll probably have to start promoting as soon as Last Night in Soho duties are done. Oh, and one of those films in preproduction? Furiosa, the prequel to Mad Max: Fury Road, where she plays the younger version of Charlize Theron's character. This young woman needs a serious break. I've compared her to Jennifer Lawrence before, just because I remember when J-Law worked like this, back-to-back-to-back and she was also pretty confessional in interviews too. J-Law learned how to take a break. Will Anya?
Cover & IG courtesy of InStyle.