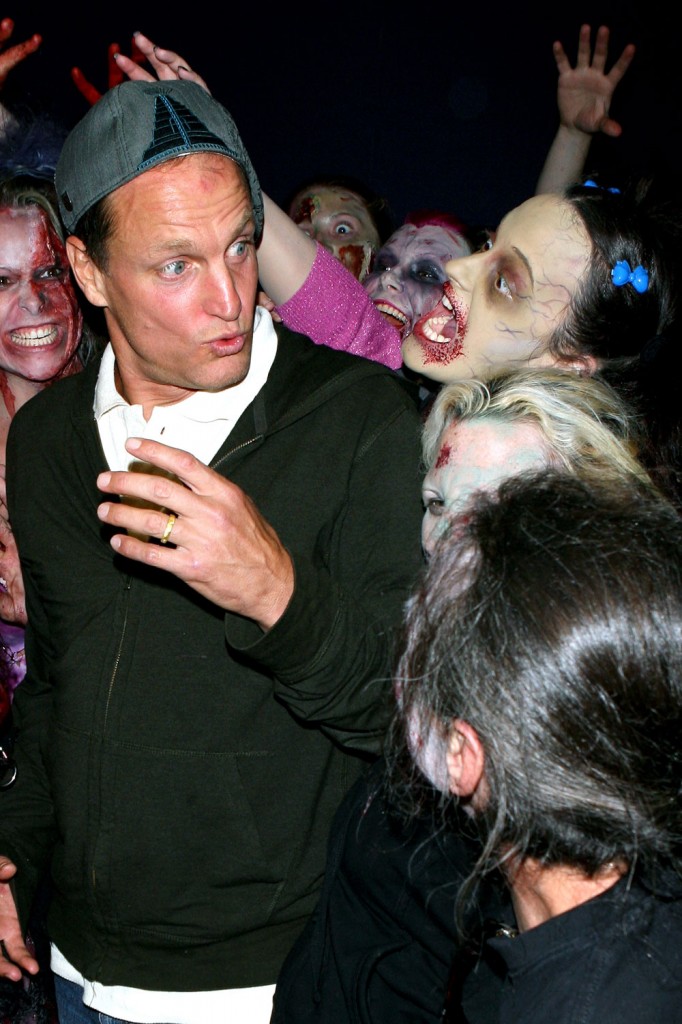 Woody Harrelson stars in the new supernatural comedy Zombieland, out in the US tomorrow, October 2. I watched a couple trailers on YouTube, and laughed out loud several times. It looks like good gory fun. Harrelson plays a renegade zombie killer in a role that's reminiscent of his killer-for-hire in No Country for Old Men. The film also stars newcomer Jesse Eisenberg (Adventureland) as Harrelson's young sidekick.
Harrelson is now promoting the film and has granted several interviews explaining that a horror movie is a departure for him, and that he initially wasn't open to it. When he read the script and saw the excellent character development, he was sold. The director and writers primarily have just television credits, so Harrleson had to take a leap of faith based on the quality of the story.
My favorite interview with Harrelson is with Parade Magazine as it's a little more personal. He briefly touches on his issue with anger management (he's attacked paparazzi in at least two incidents) and explains that he strives to be a pacifist despite it all. Harrelson also makes the amusing observation that zombies are good for the environment because they take care of the biggest polluters. He explains that he's trying to convince his daughters to step away from the Twilight vampires and check out zombies. Zombies are never going to seem like suitable boyfriends, so he's going to have a tough battle there. Harrelson has three daughters with his wife, Laura Louie: Deni, 16, Zoe, 13, and Makani, 3.
On considering himself a pacifist
"I'm a pacifist. I really don't like killing even zombies. I'm a peaceable guy. I just hang out in my bathing suit in Maui and spend a lot of time in the ocean with my kids and surf and stuff. I'm a good worker, hard worker, but a world-class vacationer. Before I started making films again, I took a five-year hiatus just being a bum in Maui and I loved it. But, unfortunately, I had to go back to work."

On his reputation for violence and belief in past lives
"I think I probably went through some bad s— in my past lives or something. I certainly don't doubt that past lives exist. Everything leads you to believe that. I've had to struggle to come to terms with things like violence and my own sexuality. It's like those things are in a bag that you carry behind you and it just keeps getting bigger and bigger. Sooner or later you have to deal with that bag."

On trying to get his daughters interested in zombies
"They're into Twilight, so this is a real opportunity for me, as a parent, to try to get them more into zombies and away from vampires. But seriously, it's hard to be objective but I think I am a pretty good daddy. That's what I am told anyway. I am very understanding with my kids. There's nothing they could do that I haven't done. I like to see them do their thing and I don't like to tell them do this and do that, give advice. I am not the one to give advice. They advise me. In fact they teach me. I try to be just a good friend to my kids."

On the advantages of fame
"When fame came in my direction it was a little bit challenging owing to the fact that I was kind of shy when I was younger, through high school and even into college. I was also very religious and I didn't really care a lot about getting attention. But when I became famous and rich I went to a bit of an extreme. I decided I wanted to experience everything. In a sense, I have no regrets because it shapes who you are. Fame wasted on the famous? I don't know. I still don't really understand fame. It has its ups and downs but it seems mostly up. As they say, you can always get a good table at a restaurant."
[From Parade]
Woody isn't my favorite person, and sometimes it seems like he can't get out of the way of his own ego like a lot of other celebrities, but I like how he's kind of mentioning his issues here and being honest about them. He also seems very committed to his family and to the causes he believes in. No matter how I personally feel about the guy, I find his acting superb and it looks like he really shines in this film. I hope it's a hit.
Here's a segment from Woody's interview with Parade in which he explains how fearless his 13 year-old daughter is:
And the trailer for Zombieland, which is now rated R

Photos are from the LA, Chicago and NY premieres of Zombieland on 9/22, 9/28 and 9/30/09. Credit: WENN.com