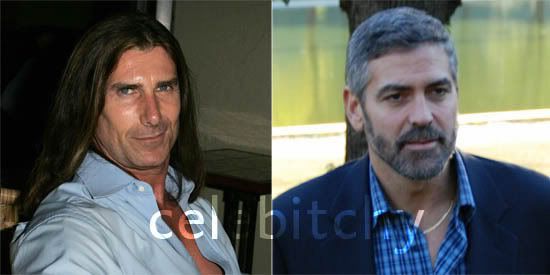 George Clooney was out to dinner with his new cocktail waitress girlfriend and Fear Factor winner, Sarah Larson, in L.A. last Friday. 48 year Italian model Fabio was at the next table with a group of women, and one of them started taking pictures. Clooney got all upset thinking they were taking pictures of him, and Fabio told him not to be a diva. The two started arguing, then Clooney got up, said the F word and started pushing Fabio. Since Fabio is 6'3″ tall and Clooney is 5'11″ it could have ended badly for George:
According to numerous eyewitnesses, Clooney, assuming the woman was taking snaps of him, asked her to stop – prompting Fabio to explain that the shots were of his group, not Clooney, and to tell the superstar, "Stop being a diva." Clooney started arguing back, and he and Fabio then got into a shoving match. "The waiters broke it up before it got out of hand," a witness told In Touch. Clooney then paid his check and left before finishing his meal. According to another In Touch witness, Ron Marotto, "George looked annoyed when Fabio went to his table. George stood up, dropped the F-bomb and then went to push him . . . George was drinking . . . He wasn't drunk, but he certainly wasn't stone sober, either." Fabio's manager told the magazine, "George is lucky he didn't end up in the ER." Clooney's rep declined to comment to Page Six.
I love how Fabio's rep says Clooney could have ended up in the ER, har har. In Touch sheds more light onto why Clooney may have been suspicious of the woman taking pictures – she was a professional photographer and Clooney probably recognized her high end equipment. Fabio is also an AV enthusiast, and Wikipedia quotes him as telling Stuff Magazine this year that he's into gadgets.
As for Fabio's career, he hasn't really become the action hero he was hoping and has had to settle for dabbling in different fields. He was wildly successful with a line of women's outerwear he designed for Sam's Clubs in 2003, and has done plenty of TV talkshow and magazine interviews. Maybe this amusing fight with Clooney will help raise his profile a bit. Fabio certainly comes off as the less aggressive party in reports of the incident.
Fabio is shown on 9/4/07, thanks to WENN. Clooney is shown on 10/31/07 filming Burn After Reading, thanks to Splash News. 48 year-old Fabio still looks hot to me. Clooney is 46, and although he's at a disadvantage in this photo because he's sporting that beard and outfit for a role, I have to declare Fabio the winner in the looks department.