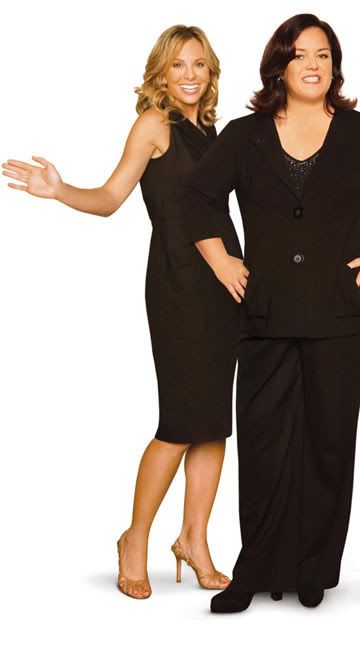 Rosie O'Donnell is said to have attempted to bury the hatchet with former fellow View co-host Elisabeth Hasselbeck. Rosie famously left The View after a shouting match with conservative Elisabeth in May. Rosie had posed the hypothetical question "who are the terrorists?" a few days prior after saying that 650,000 people were dead in Iraq. The news talk shows were all over that, and Rosie wanted Elisabeth to say if she really believed the claim they were making that Rosie called the troops terrorists. She posed a direct question to Elisabeth as to whether she thought that was true. Elisabeth never answered the question and just got loud while Rosie sat there kind of stunned and holding her ground.
I'm no Rosie fan, but I was on her side in that argument because I thought she handled it better. Hasselbeck later denied a feud with Rosie, saying they were friends and that "We are used to debating things there."
Now Rosie is said to have sent Hasselbeck, who is due with her second child this month, a bunch of expensive baby gifts as a peace offering:
According to a source, Rosie dropped almost $600 at L.A. baby boutique Petit Trésor on Oct. 25 on gifts for Elisabeth, who is expecting her second child. "Rosie's assistant called the store and ordered a $290 Lulla Smith white silk Moses basket and a $285 christening gown for the baby. "She asked for the gifts to be wrapped up and sent them to Elizabeth's new address in Arizona."
[From Star Magazine, print edition, November 12, 2007]
That's a nice gesture and although the news got out I doubt that Rosie did it for publicity. She probably just wants Hasselbeck to have a healthy, happy baby and not to dwell on what happened. Rosie blogged before this spat that she wasn't going to fight with Elisabeth anymore because "there is a new life there – inside," so maybe she feels guilty about what happened.
There was a story that we covered that Rosie was in talks for an MSNBC talkshow that would be up against Hanity & Colmes and Larry King Live, but that deal has apparently fallen through.
"We were close to a deal almost done," O'Donnell wrote on her blog. Negotiations continued late into Wednesday, but it was clear by evening that there would be no deal and no show.

"My career as a pundit is over b4 it began," O'Donnell wrote.
[From Reuters.com]
Rosie may have screwed herself out of the show. She revealed at a book fair over the weekend that it was in the works and may have ruined her chances by blabbing about it too early.
Rosie is shown below on 6/3/07 at the 2007 Book Expo in NY, thanks to PRPhotos.