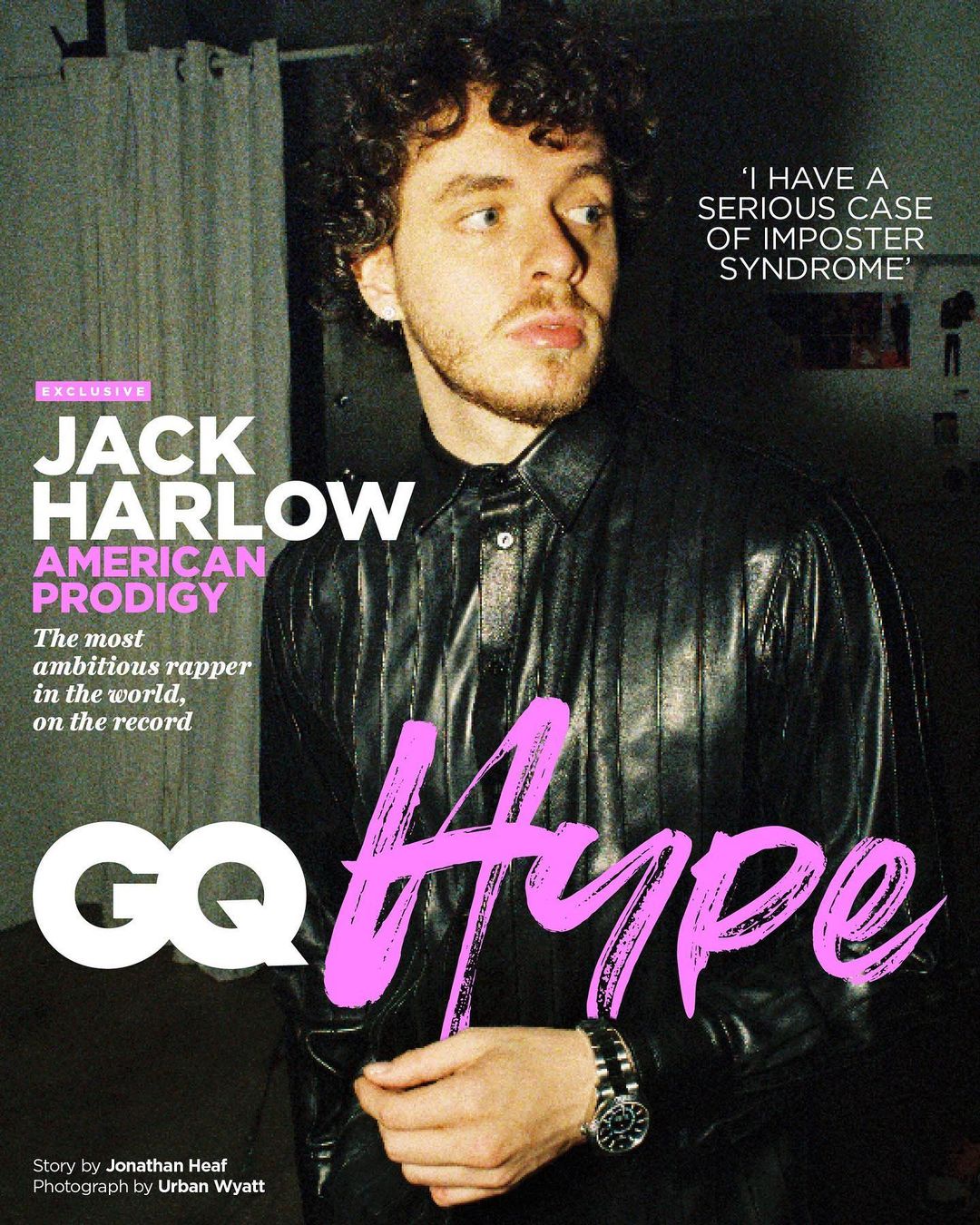 I'm hot for Jack Harlow. I'm glad I admitted it. The boy is talented and he seems like fun. He takes his music seriously but not much else. Jack covered a recent issue of GQ Hype to promote his music and himself – this was done well after Lil Nas X's "Industry Baby" went to #1, helped along by Jack's killer drop-in. And he's only 23 years old! I kind of thought he was older, just given the maturity of his outlook, but sure. The Gen Z rapper. You can read his GQ Hype interview here. Some highlights:
His impression of the UK: "It's interesting because it seems like there's more of a counterculture mix going on here. In Britain, I see a lot more interracial dating. I see a lot more white kids hanging with black kids. It seems a lot more common over here. So the people that are into hip-hop, it's not such a select crowd. I mean it is mainstream over there, too, but it's like there's still so much segregation."

Being a white boy in rap: "I have serious imposter syndrome the whole way through. And then you have to bounce with it and you feel like you are totally where you are supposed to be. Moments of self-doubt combined with moments of I am who I think I am. I think what has worked for me is that my music has never been about the fact that I am white. I don't try to lean into the, 'Hey, I'm the white boy.' I try not to make it a novelty. I rap from the heart, rather than trying to do a white version of the art form."

Growing up in Louisville, Kentucky: "I grew up in an eclectic neighbourhood. It's more white than black, sure, but it was also a melting pot of backgrounds and ideas. The high school I went to had a really big LGBTQ community, so I grew up with a world perspective, for sure. I wasn't sheltered and I wasn't in a bubble."

His influence: "When Drake came out he made it OK not to be from the streets. I saw myself in him. He made it OK not to be that clichéd tough guy persona."

On Kanye West: "I think he sees himself as Mozart or Beethoven. I think he's worried, not about what it looks like now but what it will look like in 100 years. Take what happened with the Taylor Swift situation: at the time it was all pitchforks, but now people treat that as iconic. I am always fascinated to see what he does next. This Donda roll-out, people are going to remember that for years."

He's single: "I am. I love women and dating is good. It's funny, the bigger you get the more opportunities you have. But, ironically enough, you close up a little as the stakes are higher. So a girl I would have invited back to my hotel three years ago, I wouldn't do it now. There's also a stigma around it. I remember when I was younger and seeing artists bigger than me talking about how there were girls that wanted him just because he was a rapper. I thought that was so cool. I couldn't wait till girls wanted me just because I became an artist. Now I have no interest in that."

He really does make women sign NDAs before they do anything: "Before. But sometimes it's just to hang out. And that's solely to establish the idea that, 'Hey, my texts aren't meant for your friends.' Our time together is for us. And I present it, like, 'Hey, listen, if you don't want to sign this you don't have to. This is a unique situation. And if you don't want to do it that's totally fine, but this is what needs to happen for us to be able to hang out. I just want us to hang out; I don't want this to be a thing on the internet.'"
He also talks about getting facials "semi-regularly" on the advice of his manager, whom he describes as a "very smart woman." Dang, he does songs with Lil Nas X and he's managed by a woman? The NDA thing is creepy to me, but then again, I'm from an entirely different generation. The youths document every part of their lives online and Jack uses NDAs to tell women: you can't do that about me, you can't talk about me or brag about me on your social media. Which I understand, I guess, but there are too many stories about men using NDAs to silence their victims. It's a slippery slope. And it does come across as too controlling by Jack, even though I understand his rationale.
.@JackHarlow: "There's more of a counterculture mix going on here. In Britain, I see a lot more interracial dating. I see a lot more white kids hanging with black kids. So the people that are into hip-hop, it's not such a select crowd."https://t.co/NcDrgCPcQH pic.twitter.com/fZc9StooyM

— British GQ (@BritishGQ) October 22, 2021
Cover courtesy of GQ Hype.