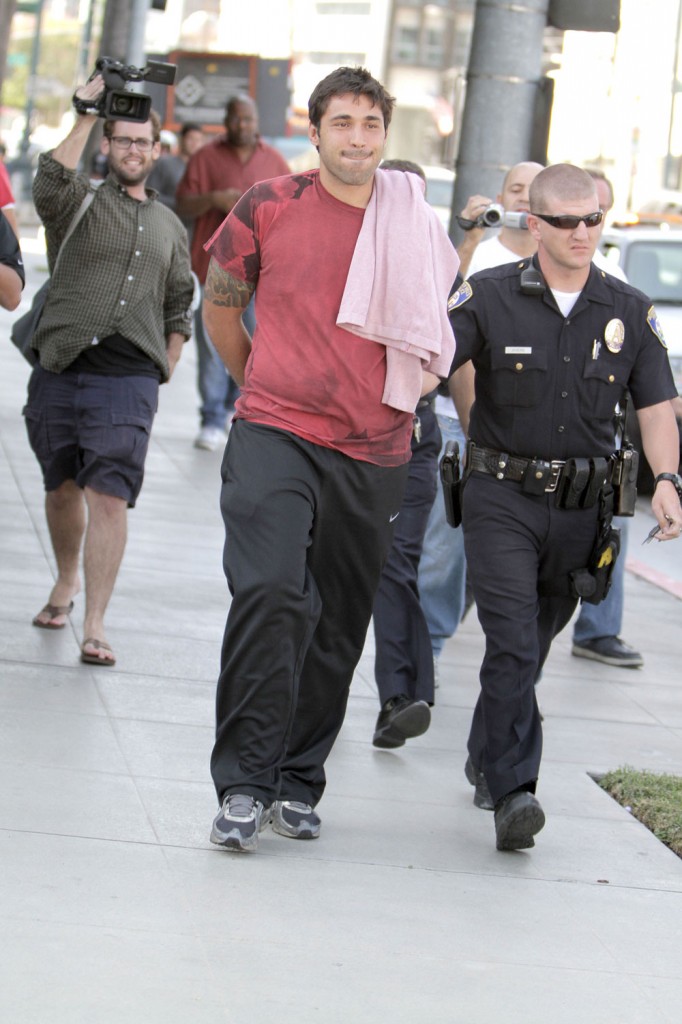 Yesterday we reported that Nicole Richie was involved in a traffic accident involving two tabloid photographers who rear-ended the mother of two while tailing her to snap photos. Celebitchy said that she believed the accident was intentional on the part of the paps – and now, it looks like Richie, who sustained unspecified injuries from the crash, feels the same way. A high-profile lawyer and private investigator were spotted visiting Richie's home after her release from the hospital.
Looks like Nicole Richie may be lawyering up after her car crash yesterday — and the lawyer is none other than Mark Geragos.

We got this shot of Tamar Arminak — a lawyer in Geragos' firm — and master P.I. Scott Ross entering Nicole Richie's property about an hour ago. Ross works for Geragos and the two of them have handled a bunch of celeb cases, including most recently People vs. Chris Brown.

We're told Richie is angry at the photog and may sue him — she thinks he intentionally rear-ended her to create some drama.
People confirmed TMZ's story, adding that Richie's mom, Brenda, also came to visit her daughter and grandkids upon Nicole's release from the hospital.
Sources say Richie spent several hours at Cedars-Sinai Medical Center in Los Angeles Monday following the accident. On Tuesday, according to sources, she was visited by her mother, Brenda Richie, at the home she shares with Joel Madden and their two kids, Harlow, 22 months and 1-month-old Sparrow.

Eduardo Arrivebene, who rear-ended Richie's vehicle while she was driving with a passenger Monday, was arrested for driving without a license. He was later freed on $1,225 bail.

Following the incident, Lt. Tony Lee of the Beverly Hills Police told PEOPLE that Richie "complained of pain" but declined to be taken to the hospital by paramedics, opting instead to take herself there.

A rep for Richie has declined to comment about her condition.

Following the accident, Richie reportedly hired celebrity attorney Mark Geragos.
You know, I hope Nicole not only sues this guy but presses criminal charges as well. If this were just a routine fender bender that would be one thing, but the photographer and his buddy were chasing her and when they didn't get what they wanted out of the encounter they decided to escalate the situation. The other photographer in the car with the driver was seen snapping photos of the accident, of Nicole crying, and even his buddy being led away in cuffs. Seems like a set-up to me. At the very least, Nicole should be able to get an injunction forbidding any profits from being made from these photos. Everyone has said that it was a blessing her little children weren't in the car with her. Something tells me that even if they had been, it wouldn't have stopped these photogs from setting up their "drama shots."
Here are the paparazzi that were in the car that hit Nicole Richie. The guy in the handcuffs is identified as "Bam Bam" and his buddy is called "Ivan." Credit: WENN.com. Nicole Richie is shown on 9/26/09. Credit: Fame Pictures