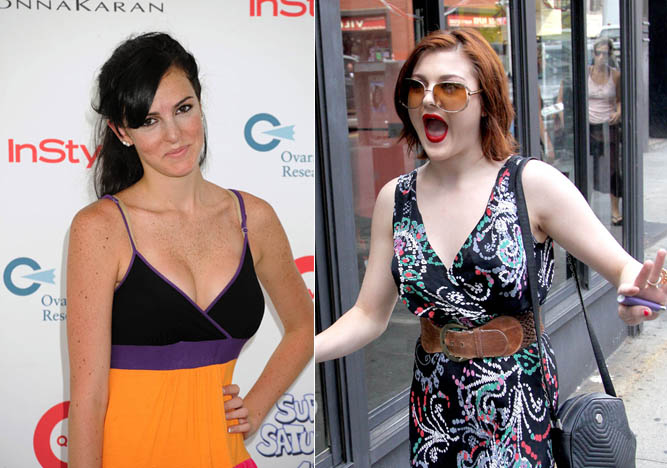 Frances Bean Cobain, 17, the daughter of tragic rock icon Kurt Cobain and crazy trainwreck Courtney Love, has penned an "open letter" to Ali Lohan using a utility that lets you write long blog entries and then re-posts them in the right length segments to your Twitter account. It's called Twerbose, and what is the point of that? Twitter is for status updates and brief musings. Write a blog entry on your Facebook account if you want all your friends to see it.
Frances has since deleted what is claimed to be her Twitter account, but her original very long tweet remains up on Twerbose. Frances' entry makes much more sense than her mother's Internet ramblings, but you can see that she sadly takes after her. She has this kind of pseudo-intellectual style riddled with grammatical errors and full of grand pronouncements about the nature of fame and artistic integrity.
Your not entitled to anything simply because your sister has a recognizable name. Your idea of fame isn't fame. It's infamy. You want to be famous? Work your ass off and make decisions that could potentially catapult your career into a lasting one. Notariety for who you are and notaritey for the work you produce are two completely differnt things. I understand that you have been brought up in an envirtoment where the idea of fame is easily achievable but, that's not an excuse. You lack the talent, social understanding and credibility to be anything other then infamous. Your careere choices, thus far, will transcend a future career as someone who attempted to be famous, but never quite achieved it. And if you do, it will be the formality of fame that puts you on the covers of tabloids, while the public idly watches you plumit into the murky abyss shared with the likes of Spencer Pratt & Jon Gosslin who, i'm sure, will steal your money whilst there. Fortunately for the world, there are people who have and don't have recognizable names, who have obtained artistic integrity and will one day, hopefully, bring that tangible artisticness into light again. Though, its hard to think thats achievable when people like You ali lohan are rendering the world of true talent by attempting to make your entitled ass noticed. How is this fair to the people who HAVE artistic integrity, or a mind? How is it fair to those who truly have something to offer the human race other then a dwindling last name and a few shitty films, both of which, solidified the idea that your just a celebrities sibling. I recognize that i might come across as harsh and no, i don't personally know you, but its the actions that you take, that speak for you. You blatently don't care how your recognized, its the objective to get famous and that is what makes you replaceable and a recycled idea .Well, im ashamed to have to be grouped into the same category of person as you. I would rather die a most painful death the be assoicated with the kind of careere your trying to make for your self. I hope i'm wrong because generally i'm not a very judgmental person, but in the case of you, that is MY entitlement.
[From Frances Bean Cobain's Twerbose account via Gossip Rocks, ONTD]
I would assume that Frances had some run-in with Ali that's causing her to flip out, but she writes that she doesn't "personally know you but its the actions that you take, that speak for you." Frances and Ali are both in NY – I found photos of Frances and Ali out shopping in lower Manhattan on the same day, 8/19/09, so it's possible that the paps were following Ali and Lindsay in that area and that's how they honed in on Frances. She could be annoyed that they were following her due to Ali and Lindsay, but that was weeks ago.
What is Frances rallying against exactly, Ali Lohan or a culture that tries to pigeonhole her into a stereotypical type of fame? Don't hate the player, hate the game. You would think these two would have something to bond over, what with both having erratic, publicly embarrassing family members addicted to prescription drugs. Frances was rumored to have been offered the role of Alice in the new Tim Burton Alice in Wonderland film, but is said to have passed in favor of going to college. She should take a few English classes, that's for sure.
Frances is shown out in NY on 8/19/09 and 8/22/09. Ali is shown on 8/1, 8/19 and 9/6/09. Credit: WENN.com