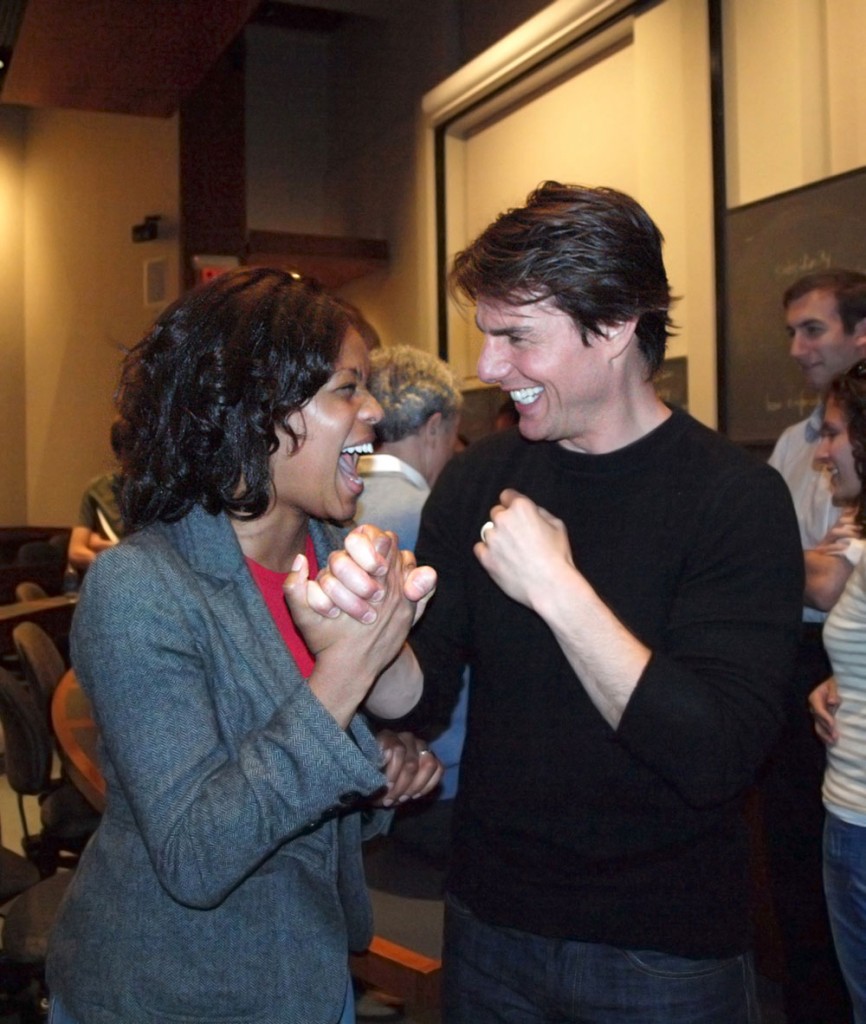 Even though I think there are several terrifying aspects of Tom Cruise and his Scientology "faith", I still have to give the guy credit for some things. First, I totally respect how hard he works, whether he's filming a movie or on promotional duties. He has an amazing work ethic, and I think that's probably one of the biggest reasons he's had a career that's spanning three decades of superstardom, and why people in Hollywood were perfectly willing to give him a "comeback" after the couch-jumping incident. Secondly, I have to give Tom props for always going out of his way to talk to and spend time with his fans. He always appears very gracious and generous on that front, and I have so much respect for that.
So Tom's entertainment lawyer was a guest lecturer at the Harvard Business school yesterday, and guess who showed up? According to sources, Tom chilled out with the students to listen to lawyer Bertram Fields' lecture, and after the talk was over, Tom hung out with the kids and jokes around, being charming. That's really sweet:
Tom Cruise, who's in Boston filming his new rom-com Wichita with Cameron Diaz, swapped the film set for the classroom, when he joined a Harvard law class given by his own lawyer on Monday.

Hollywood legal eagle Bertram Fields was lecturing in the school's entertainment law class Oct. 5, when the father-of-three snuck in, announcing he was there to see Bert speak.

Tom, 46, took his seat among the students, and gazed attentively at the guest lecturer, every so often sharing a joke with the lucky law student sitting next to him.

The Harvard Law Record reports that he interjected with stories about his own experience in entertainment and he "kept students laughing with his jokes."

At one point the entire class yelled out the most famous line from his 1992 movie A Few Good Men, "You can't handle the truth!"

After the lecture Tom, who's been putting wife Katie Holmes through her paces on daily runs, "shared advice, stories, high fives, handshakes, hugs, and even at one point an impromptu dance."
[From OK! Magazine]
See, even though I'm pretty sure Tom is crazy, I'd still like to meet him. I would be one of those people who'd stand in line to shake his hand, and I might even want to get my picture taken with him. He's Tom Cruise! Yeah, he's crazy. But he's also a gifted actor and an outstanding businessman. Plus, if I got the chance to meet him, that might give Katie and Suri enough time to escape! Run, Katie, run!
Tom, Kate and Conner are shown running in Boston on 10/4/09. Credit: Fame Pictures. Other photos are credit Jessica Corsi/Harvard Law Review