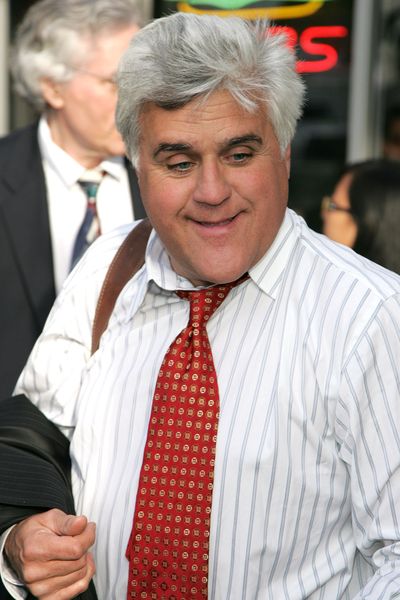 Jay Leno is one of many entertainers who is refusing to cross picket lines while the Writer's Guild is on strike. NBC has essentially stated that if Leno doesn't cross the lines and return to work, they will lay off the rest of the "Tonight Show" non-writing staff. NBC making it clear that they're more than willing to save some money by firing long-time employees that have nothing to do with the strike. It also seems like they're doing some really dirty dealing and putting completely unethical pressure on Leno to return to work to save his staff's jobs. The other alternative is for the "Tonight Show" to use guest hosts – certainly there are entertainers out there that are willing to cross the lines. NBC has also said the same thing to Conan O'Brian's staff.
NBC informed the nonwriting staff of The Tonight Show with Jay Leno that it will be laid off at the end of next week in the wake of the show shutting down for the writers' strike. And with Leno still refusing to cross the picket line, the show is looking at coming back on the air Nov. 19 with guest hosts so that it can save the jobs of the nonwriters. "All sorts of things are being discussed, including guest hosts," Tonight Show executive producer Debbie Vickers said. "Our preference is that we return to production of The Tonight Show with Jay as host as soon as possible."

But Vickers also wants to save the jobs of her nonwriting staffers. "We want to protect the staff, who have been loyal to this show for decades, in the same way that Johnny Carson reluctantly returned without his writers in 1988," she said. Late-night shows have gone into repeats since the strike began Monday as the hosts walked out in solidarity with their writing staffs. With the shows shut down, networks can cut costs by laying off most of the rest of the staff.

And Leno's chief writer doesn't expect Leno back anytime soon. "I talk to Jay every day, and he will not be the first [late-night host] to cross the picket line," said Tonight Show head writer Joe Medeiros, also a strike captain for the Writers Guild of America. "So they are looking at guest hosts as one possibility so all those people don't have to lose their jobs."
[From Broadcasting & Cable]
That is really low of NBC. CBS and FOX have both tried to put similar pressure on many of their employees, by telling people that are producers/writers that they still have to honor their producing contracts and go to work each day, despite the strike. Since most of those people started as writers, they have a lot of sympathy for them – and most of them are still members of the Writer's Guild and can't work during the strike. So they're between a rock and a hard place.
I've heard a lot about all the things the writers are doing, all the talent that's lining up behind them, and how long the strike will likely go on. What I haven't heard much about are the entertainment execs that should be sweating bullets and giving in to their more than reasonable demands.