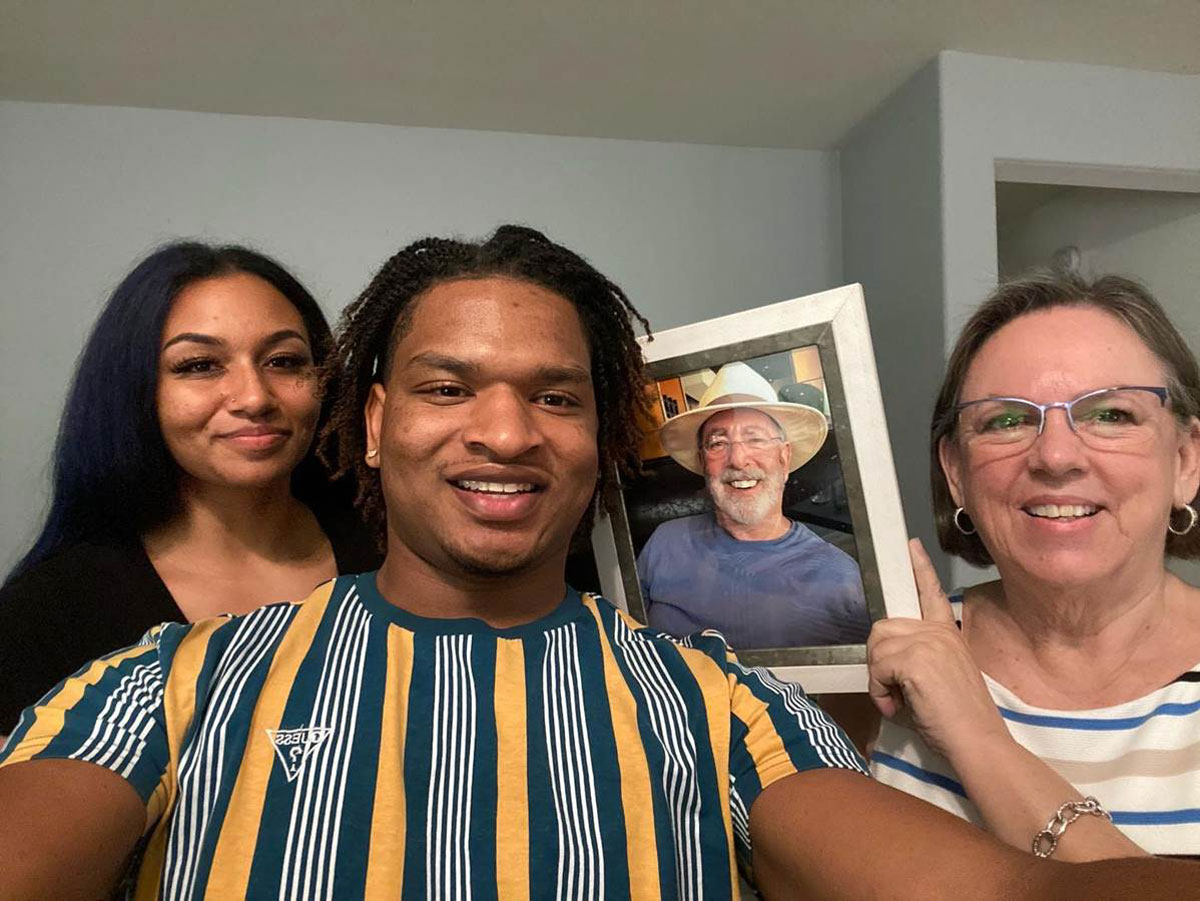 After Cheeto won the presidency in 2016, many Americans needed a great story to lift their spirits. In walks Jamal Hinton, a high school senior who received an accidental text from Wanda Dench, who was inviting her grandson to Thanksgiving. Jamal took her up on the offer. Since that fateful text in 2016, Jamal has returned every year to Wanda's for Thanksgiving. Last year, Wanda invited Jamal's girlfriend and family to the festivities. Sadly it was the last year they all had with Wanda's husband, Lonnie, who passed from COVID in April. But inviting a perfect stranger to Thanksgiving dinner and sort of making them an honorary family member wasn't the end of this fantastical story. Now, Netflix is developing the "mistaken Thanksgiving text invitation," into a feature film. Jamal made the announcement about the deal on Twitter and he and Wanda did a joint statement about the news. Abdul Williams, who wrote the Salt N Pepa biopic and The Bobby Brown Story, will develop the screenplay for Thanksgiving Text. We don't have casting news yet and a director has not yet been tapped. Here is more on this story from NPR.
Now, weeks after celebrating Thanksgiving together this year, Hinton tweeted an announcement about an upcoming Netflix film based on their story of an unlikely friendship.

The feature film The Thanksgiving Text will follow the true story of strangers becoming friends after a text mishap.

"We are excited to share our story with the world," Hinton and Dench said in a joint statement. "We hope it inspires more people to reach out and make connections that they wouldn't ordinarily make."

Abdul Williams, whose works include Lottery Ticket, Salt-N-Pepa, and The Bobby Brown Story, will write the film. Robert Teitel and George Tillman Jr. will produce the film; their works include The Hate U Give, The Barbershop franchise and Men of Honor.
This was one of my favorite stories of 2016. Even though I wasn't that shocked about the 2016 presidential results, 2016 just felt like such a heavy year. When I read the story about Jamal, Wanda, and Lonnie, somehow I felt hopeful about the next few years. I was sad to find out that Wanda's husband Lonnie died from COVID last year. It was sweet to see that despite her loss, Wanda still continued her family's new tradition of having Jamal and his girlfriend over for Thanksgiving. It was also not lost on me that we have yet to see a picture of Wanda and her actual grandson. I am so glad that Netflix has decided to make this sort of meet cute into a movie. We are all in need of a feel good story. The fact that the movie is based on a true story makes it that much more endearing.
This sort of story encourages others to do things outside of their comfort zone. Wanda could have easily apologized to Jamal and rescinded her accidental invitation but her giving heart and open mind helped her create a sort of second family with Jamal. I hope the film also includes everyone's backstory. Wanda and Lonnie had been married 42 years when Lonnie passed away last year. I wonder how they met and started a family. It's sad that we lost Lonnie to COVID but hopefully this film will immortalize his life and generosity. I want to place bets on who will star. I would love to see Diane Keaton (I know she is much older than Wanda but still) as Wanda and Kevin Costner as Lonnie. Jamal reminds me of John Boyega in a way but John is too old to play Lonnie since he was a high school senior at the beginning. I am totally looking forward to tracking the development of this film. I hope Netflix does this act of kindness justice.
Today marks our 6th Thanksgiving together💛 pic.twitter.com/6xas8EVsiM

— Jamal Hinton (@Jamalhinton12) November 25, 2021
I am very excited to announce our new partnership with Netflix. We thank every single one of you for your love and support in our journey the last 6 years. We can't wait to tell our story on the big screen! 🎥🍾 pic.twitter.com/0heCmEWMDM

— Jamal Hinton (@Jamalhinton12) December 2, 2021
Looking forward to getting together with family and friends for Thanksgiving. Jamal said he'll bring the pumpkin pie. pic.twitter.com/KQO9P8WMTZ

— Wanda D (@wandadench) November 25, 2021
For the first time since her husband Lonnie died of COVID-19, Wanda Dench sits down for an interview.

Wanda is the viral "Thanksgiving grandma" who sent the mistaken text to @kingjamal08 in 2016. Now, Jamal has made all the difference helping her heal❤️https://t.co/5wLyW51qCE pic.twitter.com/hMobqOaKYG

— Briana Whitney (@BrianaWhitney) May 21, 2020
photos via Netflix and social media