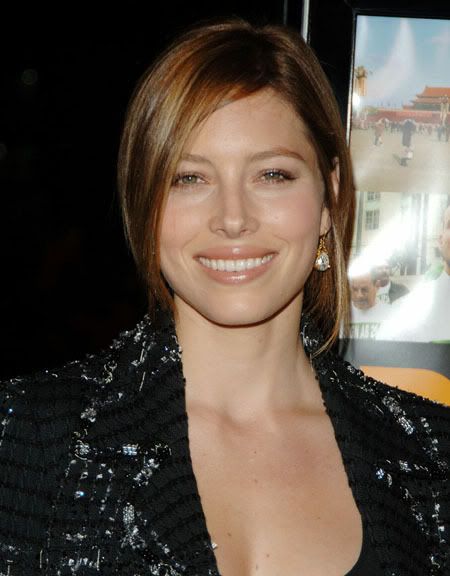 Justin Timberlake recycled a gift idea for a present for his girlfriend, Jessica Biel. Not only did he give the same gift to Biel that he once presented to Cameron Diaz back when they were together, it's one of those gifts that's more for the giver than the recipient. It wasn't a power tool, but it was close. Timberlake gave Biel a customized surfboard and a year's supply of surfboard wax because he wants to teach her how to surf. On the surface, that sounds sweet and all, but when you consider that she doesn't know how to surf it's just about as thoughtful a gift as a set of golf clubs for a non-golfer.
Justin Timberlake is planning to surprise his sweetie – with a customized surfboard! Justin, 26, telephoned Evolution Surf and ordered a longboard with a blue, yellow and gold design for his girlfriend, Jessica Biel, 25. According to a pal of JT, "He also put in an order for a year's supply of Sex Wax. He thought it'd be fun to surprise her with a board and a trip to Hawaii to teach her how to surf!" Talk about déjá vu dating: JT gave the same gift to his ex Cameron Diaz four years ago.
[From OK! Magazine, print edition, November 19, 2007]
I guess if it's a gift to announce an unexpected trip to Hawaii it's not as bad as a toolbox, but it did strike me as a bit of a "guy gift," especially considering that he did the same thing for Cameron a few years ago.
Jessica Biel was recently announced as the lead in the upcoming film Nailed opposite Jake Gyllenhaal. She plays a shy secretary who is accidentally injured with a nail gun, which results in uncontrollable sexual urges. When she goes to Washington to campaign for others with odd injuries, she meets up with a randy congressman, played by Gyllenhaal. It is being created by I Heart Huckabees director David O. Russell and was co-written by Al Gore's daughter, Kristen Gore. It could be oddly humorous.
Jessica Biel is shown on 10/30/07 at a screening of "Darfur Now help" at the Directors Guild of America. Thanks to WENN and Splash News for these photos.