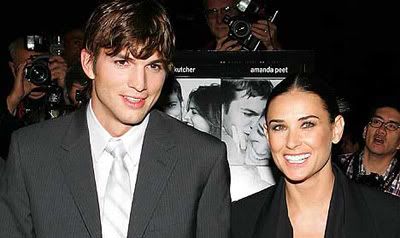 We have a problem with cult members as you can probably tell, and we haven't been keeping up with the Moore-Kutcher family like we should. People have been guessing that Moore is pregnant, and now the gossip rags have all-out announced that it's (probably) true.
Moore may have had a miscarriage last year, but the dates and details are sketchy at best.
Best wishes to Demi Moore, 43, and her doofus husband Ashton Kutcher, 28. We anticipate more plastic surgery in her future – whether or not this latest news is true.
Here she is with her daughter, Scout. Moore looks like she's covering up her stomach with her large purse.