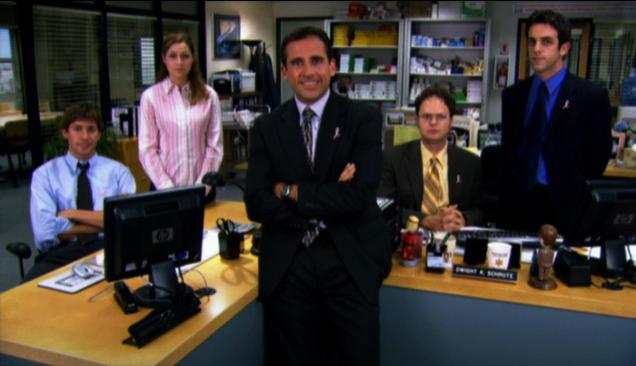 Not surprisingly (and yet still a little shockingly), it turns out NBC wasn't bluffing when they said they'd start firing the staffs of shows that weren't filming due to the strike. They originally said they'd fire the non-writing staff of "The Tonight Show" and "Late Night" if Jay Leno and Conan O'Brien didn't cross the picket lines and return to work. Perhaps to show they mean business, NBC has fired 102 crew members from "The Office" – which shut down filming last week after Steve Carell wouldn't cross the picket lines. About half the actors on the show are also writers and members of the WGA (along with Carell). I doubt the show could have continued filming since all the writer/actors were striking, but Steve Carell is the one that got all the press, since he's the lead actor and the biggest name.
Dale Alexander, a key grip on "The Office" wrote an email to the Los Angeles Times explaining what happened and his point of view, which helps balance the writers' perspective.
"Our show was shut down and we were all laid off this week. I've been watching the news since the WGA strike was announced and I have yet to see any coverage dedicated to the effect that this strike will have on the below the line employees.

"I respect the WGA's position. They probably do deserve a larger percentage of profit participation, but a lengthy strike will affect more than just the writers and studios. On my show we had 14 writers. There were also 2 cameramen, 2 camera assistants, 4 hair stylists, 4 makeup artists, 7 wardrobe people, 4 grips, 4 electricians, 2 craft service, 4 props people, 6 construction, 1 medic, 3 art department, 5 set dressers, 3 sound men, 3 stand-ins, 2 set PAs, 4 assistant directors, 1 DGA trainee, 1 unit manager, 6 production office personnel, 3 casting people, 4 writers assistants, 1 script supervisor, 2 editors, 2 editors assistants, 3 post production personnel, 1 facilities manager, 8 drivers, 2 location managers, 3 accountants, 4 caterers and a producer who's not a writer. All 102 of us are now out of work.

"I have been in the motion picture business for 33 years and have survived three major strikes. None of which have been by any of the below the line unions. During the 1988 WGA strike many of my friends lost their homes, cars and even spouses. Many actors are publicly backing the writers, some have even said that they would find a way to help pay bills for the striking writers. When the networks run out of new shows and they air repeats the writers will be paid residuals. The lowest paid writer in television makes roughly twice the salary than the below the line crewmember makes. Everyone should be paid their fair share, but does it have to be at the expense of the other 90% of the crewmembers. Nobody ever recoups from a strike, lost wages are just that, lost.

"We all know that the strike will be resolved. Eventually both sides will return to the bargaining table and make a deal. The only uncertainty is how many of our houses, livelihoods, college educations and retirement funds will pay for it."
[From the Los Angeles Times]
A lot of people (myself included) were fairly critical of Ellen DeGeneres for crossing the picket lines and continuing to film her show. This puts the dilemma in a larger context. I'm not sure that it still excuses crossing the picket lines – especially if you were or are a writer like Ellen is. But it does accurately show how many people are negatively impacted by the strike. Sure a lot of the actors can get out there and picket with the writers, because their livelihoods aren't going to be so drastically impacted. A lot of the crews make regular – and sometimes very little – money. They're not raking it in, and they rarely go home to multi-million dollar mansions. It's a noble cause, but some people who have nothing to gain are losing everything.
I think the fault ultimately lies with NBC – it's inexcusable to fire crews. You can't fire striking workers (generally speaking) and they shouldn't. But to punish these poor people that have nothing to do with it is unconscionable. Especially after just five days of striking. It's not like we're talking about months on end (at this point) and the networks are losing so much money they have no choice. They very much have a choice at this point, and they aren't firing people to save money. They're doing it to prove a point, and keep as much of their profits for themselves. Talk about hardball.