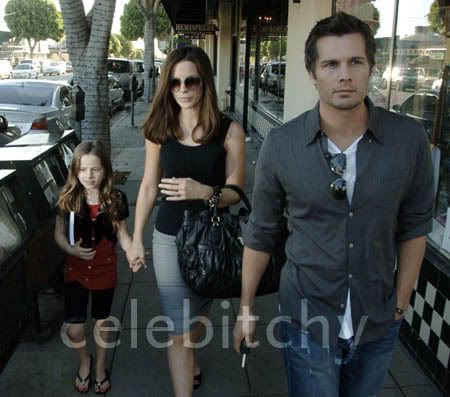 It took me a couple readings to understand this story, so I will explain it. Kate Beckinsale was in Memphis, Tennessee shooting a movie when her assistant sprained her ankle. Beckinsale took her assistant to the ER to have her ankle checked and while she was there Kate asked a doctor about the one-sided numbness she was feeling in her left arm and leg. A doctor told her it was "exhaustion," which could be true, but it's likely they only did basic bloodwork, didn't consider spinal compression or another cause, and it's one of those dismissive diagnoses that is common in the ER.
British movie star Kate Beckinsale was hospitalized in Memphis, Tennessee over the weekend after complaining of numbness in her left arm and leg.

The actress was shooting the drama 'Nothing But The Truth' with Matt Dillon and David Schwimmer when she took her assistant to the hospital after she sprained her ankle.

While there, Beckinsale sought her own check-up and was told she was suffering from exhaustion.
[From Newswatch50 via GossipRocks]
It's not true that "Beckinsale was hospitalized for exhaustion," as is being reported by other news outlets. She has one-sided numbness, was taking her assistant to get her ankle checked, and asked about her own condition and was dismissed by the doctor. She may have stayed overnight, but it's not really clear from this story if she did.
Commentor Rosamund on Gossip Rocks, where we found this story, notes that Beckinsale is 34 and that her father, Richard Beckinsale, died of a heart attack at 31. It's possible her numbness is stress or exhaustion-related, but it sounds worrying that it's just on one side like that. It could be a serious condition or something as simple as a pinched nerve. Hopefully Kate is ok and that everything will be fine with her health. Either way, to call one-sided numbness "exhaustion" seems irresponsible. If doctors don't know what something is immediately they should say so and avoid jumping to dismissive diagnoses in the ER. It may not have happened that way because this story is very short on detail, but it sure sounds like it to me. Where is House when you need him?
Beckinsale will not appear in the third Underworld film. The first two films were directed by her husband Len Wiseman, but he will only serve as producer, not director, for the third. The third film is a prequel and doesn't seem like it will include Beckinsale's character. Unfortunately the script has already been written and won't be shelved by the writers' strike.
Beckinsale was filming "Nothing But the Truth" in Nashville, TN when she visited the ER with her assistant. It also stars Matt Dillon and David Schwimmer. She has two other films in the can that will also come out next year.
Here is Beckinsale out with her family getting a manicure and pedicure on 10/22/07, thanks to Splash News and at the Die Hard 4 premiere on 6/22/07, thanks to PRPhotos. I included a larger version of her husband, Len Wiseman, from the one photo as he's just so cute.