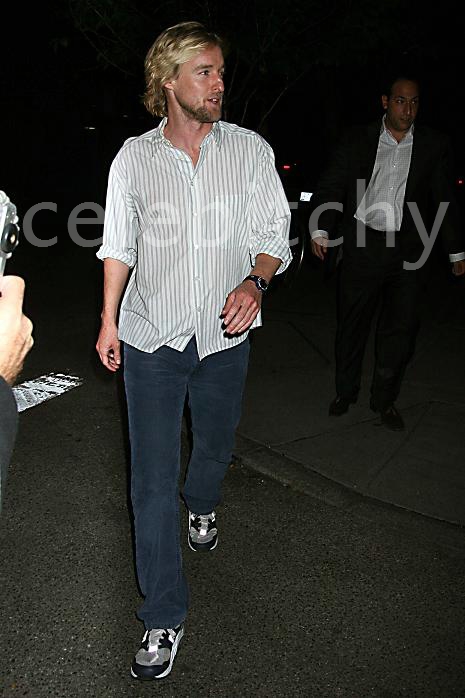 In October it was reported that Owen Wilson was reunited with an ex girlfriend, Carolina Cerisola, a burlesque dancer who is also said to be an excellent vegan chef. The two were even rumored to be moving in together after they were spotted out several times.
Then Owen was rumored to be dating Jessica Simpson after getting reacquainted with the ditsy blond at a shoot for a Willie Nelsen video on October 17. Everyone was buzzing that they were a new couple after being spotted out on dates on both the west and east coast. People Magazine reports that both of those supposed dates were group outings, though, and that they aren't serious. In Touch described their date in NY and made it seem more like they ran into each other randomly and were just hanging out:
They became friends in Texas, met for drinks in California and now, Jessica Simpson and Owen Wilson have hit New York for their second date. The blond pair met for drinks at the Rose Bar at the Gramercy Park Hotel on November 3. Jessica, 27, showed up after dinner at the Waverly Inn with her mother, Tina, and assistant… Owen, 39, arrived with a group of friends but spent the night talking and laughing with Jessica.
[From InTouch, print edition, November 19, 2007]
Meanwhile Jessica Simpson made a dumb statement last week that suggests she's single and looking. She told Extra! "I think Boston has cute boys. I need a Boston man. A Boston man is closest to a Southern man, I believe." She went on to explain that Boston men were like Southern men due to their loyalty.
There's a photo of Owen out biking with a pretty "friend" in New York on November 1 in this week's issue of OK! Magazine. He is also said to have had lunch with her that day.
People Magazine identifies Owen's mystery friend as model Le Call. They went to an event together, were out biking, took a yoga class, and were photographed on another occasion looking flirty. Despite her ridiculous stage moniker American Le Call is said to be "overwhelmed by all of this attention" and plans to escape the paparazzi and speculation that go along with a budding relationship with Wilson:
The mystery woman seen around New York with Owen Wilson has now been identified: She is model Le Call.

"She is dating him," an insider tells PEOPLE.

When asked about a possible relationship between Wilson and Le Call (who, despite the name, is American born), a rep for One Model Management told PEOPLE, "Le Call has no comment."

But, a source close to the couple said on Monday, "Le Call is totally overwhelmed by all of this attention. She isn't used to it. So they will be leaving town tomorrow to escape – and traveling a great distance."
[From People.com]
This is the same woman who is said to be involved in a stupid feud with a restaurant owner over a $1,000 umbrella he once lent her. The whole argument sounded so petty to me that I wouldn't be reporting it if she wasn't dating Wilson, but Page Six has this as their cover story yesterday. It's weird, so bear with me.
A restaurant owner who probably bribed Page Six for the mention, as Jossip notes, lent Le Call or whatever her name is an umbrella worth four figures. It was leather and a limited edition model by John Paul Gaultier. She didn't return it for a while, and when someone finally did on her behalf it was broken. So the guy wants to sue her, big deal.
Le Call commented on the feud, telling Page Six "It is pretty funny, though. An umbrella that I didn't ask for or want and refused to take two or three times from a man who if he is so ridiculously upset about an overpriced, ostentatious umbrella, he probably shouldn't own one that expensive . . . Nello is desperate for attention, I guess."
Meanwhile Le Call told NY Magazine this August that another restaurant owner and reality tv star, Rocco DiSpirito, gave her and a friend bikes when he learned they were going to rent some. She also bragged about getting free trips and vacations from guys "who want to have girls around." I wonder what that entails:
Nice bikes.
LE: This guy we don't even know just gave them to us!

What?
LE: We made this dinner for, like, twelve people, and this guy we don't even know came. He's a chef, and he's on TV. His name is Rocco. Anyway, he was asking us what we were going to do the next day, and we said, "Rent bikes." He said, "Oh, that's so sad," and the next day, he came over with these bikes!

As a gift?
LE: Yeah. I wish I could say it's an unusual situation, but stuff like that happens not infrequently. CIARA: We don't usually get gifts like that! We mostly get offered trips, because they want to have girls around. LE: Last weekend, we went to Croatia. We went to Sardinia the weekend before that. We went to the Bahamas six or seven times this winter. But the bike is a first. It's cute, you know? Not presumptuous or lech-y.
[From NY Magazine]
Somehow this model who doesn't want attention is dating a high-profile actor, bragging to the press about the free trips guys take her on, and giving long statements to Page Six. Maybe she'll start showing up on the red carpet with Wilson, fluffing her hair while declaring that she just wants to stay out of the spotlight.
Photo below is from NY Magazine. Le Call is on the left. Header image is of Wilson out in NY at the beginning of this month, thanks to Splash News.