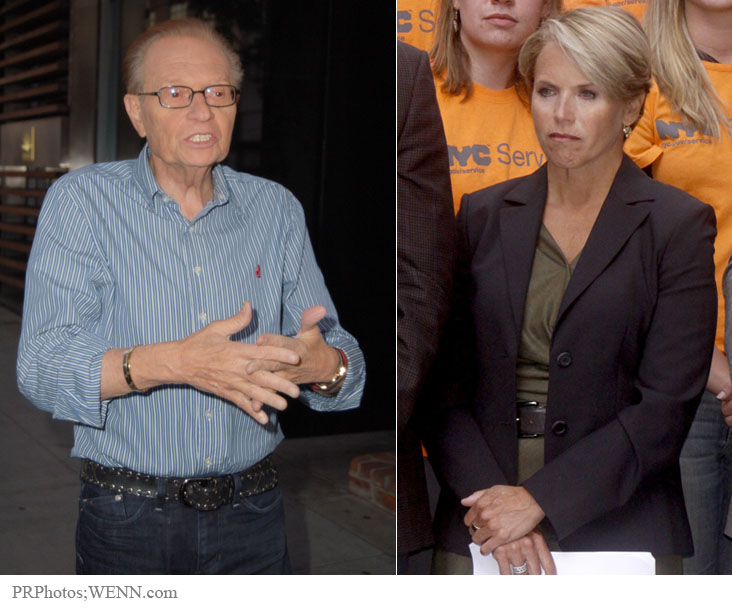 CBS anchorwoman Katie Couric is reportedly fuming at Larry King. Couric considered herself a candidate to replace the 75-year-old when he retires in 2011, but instead, King is looking at either Anderson Cooper or "The View" co-host Joy Behar as his likely successor.
An angry Katie Couric is insulted that Larry King refuses to consider her as a top candidate to replace him on his popular CNN talk show, say sources.

Katie learned "through channels" that the 75-year-old interviewer admires her greatly, but didn't select her as his No. 1 replacement candidate, or even his No. 2, disclosed a friend a friend of the "CBS Evening News" anchorwoman. King is widely expected to retire after his contract expires in 2011.

Katie, 52, is third on Larry's wish list – behind CNN anchorman Anderson Cooper and King's surprising second-place choice, Joy Behar, divulged a source close to Larry.

"Katie's actually pretty angry," revealed her friend. "While she respects Anderson Cooper, she regards him as something of a lightweight. When she heard Larry favored Anderson, it bothered her a little bit. When she heard Larry thought Joy would be a better choice, she really flipped out!

"She thinks the world of Joy, but believes she is an entertainer first and certainly not in her league as an interviewer."

Joy received rave reviews for the Sept. 29 debut of "The Joy Behar Show," which a New York Post columnist said "could turn out to be the smartest show on television."

Despite buzz that "American Idol's" Ryan Seacrest might be in line for the job, Larry has turned thumbs down for the television host.

Confided the King source: "Larry likes Ryan and calls him 'a super-talented kid,' but doesn't think he has a news background to do his job the right way."
[From The National Enquirer print version, Oct. 19, 2009]
I think there's only one way to settle this: news anchor rumble! Seriously, though, the only one of those people I'd watch is Anderson Cooper, and even then, I would rather see him on location than sitting at a desk every night. I love how Katie Couric considers Cooper a lightweight! Like she's any different. Personally, I'd rather have gum surgery than listen to that harpy, Joy Behar. She's already got two shows! And don't even get me started on that hyperactive chipmunk known as Ryan Seacrest. He's way too busy producing hideous reality shows for E! to take a job that would give him some credibility.
Anyway, this whole feud sure marks a change in broadcasting. Remember when all the news anchors wanted to be on the network evening news, and getting a job on a cable channel was considered a bad career move? In other news: Larry King can't retire fast enough for me.