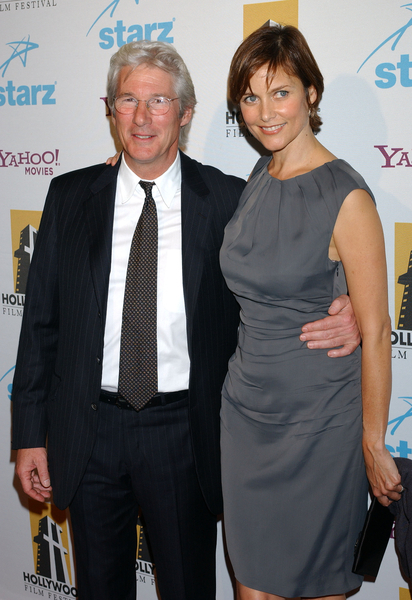 It's been a while since we've done a "Good Celebrity" article. No I don't blame myself, I blame the celebrities as a whole for doing nothing good or worthwhile for a few weeks. And there's a chance I forgot about the "Good Celebrity" thing. But it's mostly their faults, nonetheless.
Richard Gere has gotten our Good Celebrity nomination a couple of times. He was one of those celebrities that was an activist long before it was the trendy thing to do. In fact he used to get teased for it a good deal. Look at how everyone's following his lead? Yesterday Gere was given the prestigious Marian Anderson Award by the city of Philadelphia in recognition of his charitable, political, and philanthropic work.
Richard Gere, who has donated time and money to the causes for Tibetan independence and HIV/AIDS care, on Monday accepted a prestigious humanitarian award given by the city of Philadelphia. The actor was given the Marian Anderson Award, named after the black American opera singer who achieved international acclaim by the mid-1930s but faced racial segregation at home. Gere, 58, accepted the honor and its $100,000 honorarium at a gala at the Kimmel Center for the Performing Arts.

"I'm not worthy of this award in any way whatsoever," Gere said. "I can't tell you how this makes me feel. My heart is so wide open." Gere, a Buddhist, has advocated Tibetan independence from Chinese rule since 1978. He co-founded the Tibet House and is board chairman of the International Campaign for Tibet. He established Healing the Divide, a public charity for improving care for HIV/AIDS patients, and a philanthropic foundation bearing his name helps humanitarian organizations.
[From the Associated Press]
I'm assuming the $100,000 will be donated to one of his charities. Gere has stayed pretty much under the radar lately and been focusing most of his time and attention on various charities, especially Tibet and AIDS. You'll remember that he got in trouble after kissing actress Shilpa Shetty at an HIV/AIDS awareness summit. It was unfortunate because that debacle completely took the attention away from the organization they were there to promote. Gere eventually apologized, and has continued focusing more on charity than acting lately. Good celebrity! I feel like I should start giving out cookies or something.