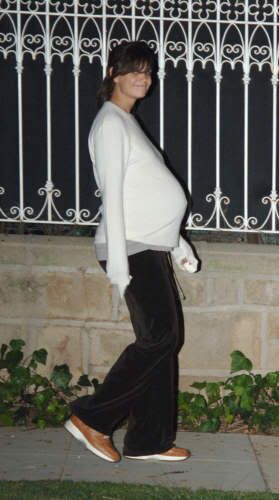 Katie Holmes was photographed going for a walk in Beverly Hills last night after her baby shower at the Scientology Center earlier that day. She was walking with her mother and Tom's mother and told a photographer that her baby shower was "Lovely."
An unsubstantiated report that Katie gave birth in Toledo, OH on Friday shows the press' obsession with the pregnant star. The media is now said to be on "baby alert" and is anxiously awaiting the newborn that the cult of Scientology likens to the second coming.
You know the Scientologists did some freaky initiation rite for Tom's spawn at her "baby shower." We just hope that the poor thing isn't traumatized for life after it's left alone for a day then cared for by the brainwashed automatons for the first three days of its life. It's probably a lot easier to stay silent during childbirth than it is to hand over your newborn.
Picture [via]