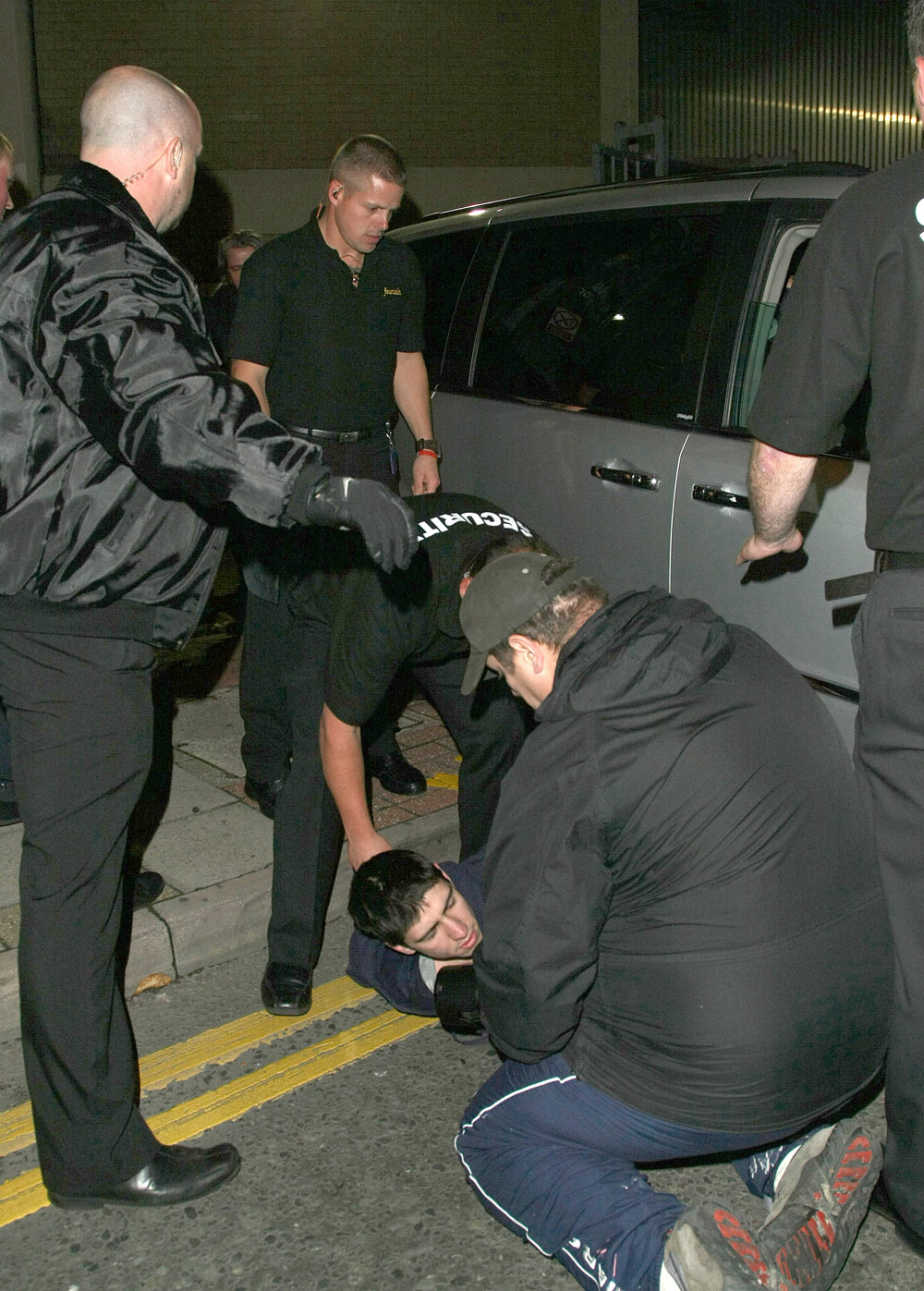 British singer Robbie Williams was in tears last night after his driver accidentally ran over an 18-year-old paparazzo. The young man, known only as Steven, was pulled under the wheels of the car before he was rescued by security guards. Amazingly, the kid walked away with only minor injuries. But Williams was very shaken and upset, and emerged from the car with tears streaming down his face.
If you thought Robbie Williams' somewhat shambolic X Factor performance was controversial, wait until you see his exit – we've got an exclusive video of the moment his chauffeur-driven car hit a photographer.

Robbie waved at paparazzi who were waiting outside The X Factor studios to catch a glimpse of him, but one young photographer got a bit too close, and ended up being struck by the car as it pulled away with Robbie inside. Luckily, the 18 year old, known only as Steven, only received minor injuries.

After the initial chaos had died down, Robbie himself got out of the car and appeared to be crying.
[From 3am.com]
At first I thought his reaction was a bit extreme, but then I realized, in the moment, you don't know that it's only resulted in minor injuries. A kid just got pulled under your car; that's upsetting. 3am mentions that Robbie's "X Factor" performance was "somewhat shambolic," but I read ten articles about it, none of which painted it in the same light. They did all make it sound like Robbie was rather emotional throughout his song, since it was his first UK performance in three years.
Fans of Britain's two biggest reality shows were in for a real treat this weekend with notable musical comebacks from not one but two high profile stars. Causing great excitement among both the contestants and the audience on the X Factor was Robbie Williams, who stepped back into the spotlight to perform his new single Bodies. And judging by the former Take That star's enthusiasm and energy on stage it was as much a chance to reconnect with his fans as it was to promote his new song.

The charismatic 35-year-old pop star, who at times appeared overwhelmed by the warm response, was certainly on form. He shook hands and welcomed members of the crowd during his live rendition, at one point shouting out "It's good to be back." And after giving his first performance in the UK since 2006, the Angels singer went out of his way to thank everyone for the opportunity.
[From Hello Magazine]
Robbie also mentored the contestants this past week – a full quarter of whom named him as their musical idol. It sounds like Robbie was already in a pretty emotional place for most of the night – so the crying doesn't seem that extreme everything considered. That young paparazzo is very lucky – not too many people wind up under a car and walk away with only minor injuries. He was taken to the hospital merely as a precaution. You can see a video of the incident here – it's a little upsetting to watch but not too graphic.
Images thanks to WENN.com .