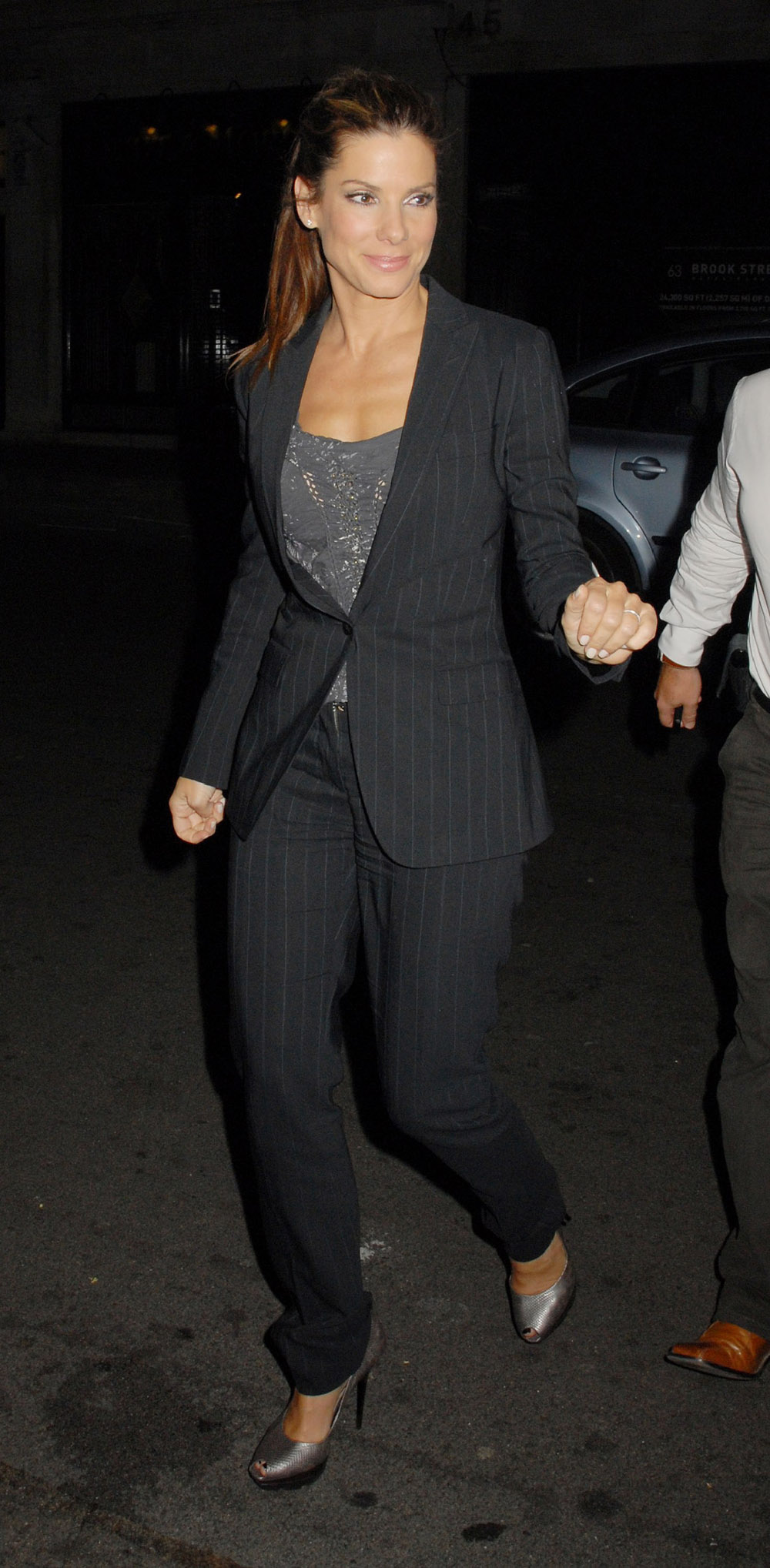 I'm doing this one because I know Sandra Bullock is beloved in many quarters around here. Sandra is doing a few interviews to promote the DVD release of The Proposal, her hit summer film with Ryan Reynolds and Bette White. While Sandy was talking to Fox News' Pop Tarts, she was asked about the message of her other summer film All About Steve (costarring Bradley Cooper), which bombed at the box office.
Sandra has talked about the "message" of All About Steve before, using very similar language. So similar, I think Fox News has combined some old quotes from Sandy's interview with Parade a few months ago with a new interview. In Parade, Sandra told the interviewer: "Why is it that men are called 'unique' and 'eccentric' and 'mavericks' when they're different, but women are labeled as 'odd' or just plain 'weird?' It's about being unconventional and being true to who you are. Not fitting in often means you're really standing out. If I can do anything in this time of my career, it's to make it easier for girls who are growing up not to feel they have to wind up with someone to complete them. You know, I complete me. I'm just lucky that after I completed myself, I met someone who could tolerate me." Sandra had some new stuff to say to Fox, you just have to get through the older quotes:
Sandra Bullock played the sexually pent-up, over-informed nerd Mary in the comedy "All About Steve," and the experience of being ridiculed onscreen made her remember her own childhood difficulties.

"Why is that young boys and men are unique and eccentric and mavericks when they're different but women are 'odd' when we are eccentric or different? Would I have wished someone would have said to me when I was 12 or eight when I had my speech impediment? Uniqueness is something my mother pounded it into me," Bullock recently told Tarts. "She said be unique and I didn't understand it then, now I look at it and I go I wouldn't want to be like anyone else and I know I'm off. I had a lisp as a child, it's all these things that made me different and I tried to squelch and then once I realized I had squelched them I didn't feel like myself anymore."

Bullock is so upset with the unwritten rules and regulations in today's world she wants to spread a strong message to young girls.

"Don't change, be who you are. Society is really strong in their opinions so I made peace with the fact that the things I thought were weaknesses or flaws were just me," she added.

"Why are we forcing people to follow another person's path in life taking away their real happiness? What is about us that is a culture that tries to get rid of what we consider the runt? Sometimes the runt turns out to be the best of the litter."

Meanwhile Bullock's co-star, man-of-the-moment Bradley Cooper, played coy when it came to questions about his personal life and romantic affiliations with the likes of Jennifer Aniston and Renee Zellweger.

"My imaginary personal life," Cooper said. "There is a lot other worse things that could be happening than (the press) talking about stuff like that."

Bullock, on the other hand, was quick to reveal what it is that has Hollywood hotties falling at their feet for Mr. Cooper.

"Innocent yet not. There is a real innocence to Bradley and a kindness. He is a girls' guy and a guy's guy," she said. "He will come hang out with all of us girls. Then you forget he is there as a guy. Not in a bad way, in a very good way. He is very attractive to the ladies it's a nice balance to have. No wonder all the girls are crazy about him."
[From Fox News Pop Tarts]
Aw, I had a little lisp when I was a kid too. It still comes out when I'm drunk, tired or excited and not paying attention. Just some softening of the "S". She sells seashells by the seashore. That was my Iwo Jima, that one. I also had problems with "hiss". Or, as I used to say it, "hith". Anyway, I totally love what Sandra is saying, and I hope more parents do teach their little girls that it's totally cool and great to be unique and weird and special and say "hith" damn it.
Here's Sandra in London on July 2nd. Images thanks to WENN.com .